I have come to three somewhat contradictory conclusions in thinking this weekend about the unexpectedly reasonable conclusions announced in the final Mueller report, stating that, despite two years of intense investigation which at times bordered on a witch hunt, there was no collusion between Trump and the Russians to win the election.
1. Robert Mueller is a hack who works hard for the liberal Washington swamp, doing their bidding whenever he can. The summary letter of his report by Attorney General William Barr inadvertently reveals this.
In the first paragraph of Barr's letter he describes Mueller's report has entitled "Report on the Investigation into Russian Interference in the 2016 Presidential Election." This would imply that Mueller's goal was to investigate all possible aspects of Russian interference, including collusion that might have also taken place in the Clinton campaign.
However, in the very next paragraph Barr states,

The report explains that the Special Counsel and his staff thoroughly investigated allegations that members of the presidential campaign of Donald J. Trump, and others associated with it, conspired with the Russian government in its efforts to interfere in the 2016 U.S. presidential election, or sought to obstruct the related federal investigations.
In other words, Mueller didn't look into the Russian interference to see where it led, but focused his investigation entirely on Trump. He made zero attempt to investigate the actions of the Clinton campaign. None. The liberal Washington swamp wanted Trump ousted, and Mueller was glad to help them do it.
It is also important in this context to note that the "allegations" came totally from the Clinton campaign and from a fake "dossier" that was stuffed with nothing more than rumors and innuendos paid for and created by Clinton campaign and its allies. Mueller's investigation was thus solely a Democratic operation. A fair-minded and non-partisan prosecutor would not have restricted his investigation to just these allegations. He would have opened it up to look at whatever the Russians did, in connection with both campaigns.
Mueller's report thus illustrates both the allegiance of that Washington community to the Democratic Party, but Robert Mueller's own allegiance to that Democratic Party. They wanted their allegations pursued, and Mueller was glad to do this work for them.
2. Mueller's investigation was clearly a witch hunt and a fishing expedition, based on those rumors and innuendos. Once again Barr's letter inadvertently reveals this:

In the report, the Special Counsel noted that, in completing his investigation, he employed 19 lawyers who were assisted by a team of approximately 40 FBI agents, intelligence forensic accountants, and other professional staff. The Special Counsel issued more than 2,800 subpoenas, executed nearly 500 search warrants, obtained more than 230 orders for communication records, issued almost 50 orders authorizing use of pen registers, made 13 requests to foreign governments for evidence, and interviewed approximately 500 witnesses.
Along the way, Mueller used these tactics to find crimes where none had existed before, all of which had little to do with those initial rumors and innuendos. Some witnesses were bullied into lying, and then prosecuted for this. Others had their homes and businesses raided and picked through until something could be found to send them in prison. Both tactics are the hallmark of prosecutorial abuse of power.
The whole basis of Mueller's investigation was a fraud. Yet, he had to show something for his work, so he used these resources to dig up that something up, even if it had nothing to do with the basis of his work. So what if this witch hunt ended up destroying people's lives. In the end all that mattered was that Robert Mueller looked good.
3. Finally, and maybe most important, this whole story suggests that — despite how this report reveals some obvious partisan corruption in the Department of Justice and the FBI — there still is hope for the free American nation. Despite their concerted effort to find evidence that could be used to overthrow the legal election of a president they did not like, Mueller and those 19 lawyers (most of whom were Democratic operatives) and 40 FBI agents (many of whom have been now exposed as Democratic operatives as well) all eventually realized that if they tried to pin collusion on Trump, the lack of evidence would end up biting them inside.
They apparently realized that there are still enough honest people left in the legal system, and if they tried to indict Trump and his associates without evidence, they would lose.
So, they had to bite the bullet and admit that their whole investigation was a "nothing burger," to use a quote from one of the most radical Democratic operatives in the media in referring to this investigation. This admission has caused real damage to the entire leftist mainstream media, as it discredits practically everything they have reported on this subject for the past two years
The admission however also tells us that within the increasingly corrupt legal system in Washington, a foundation remains of our previously glorious and just legal system, and it still acts to prevent such corruption to rule.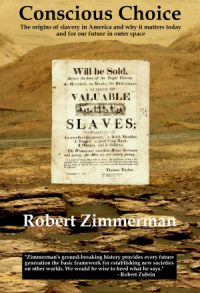 Now available in hardback and paperback as well as ebook!
From the press release: In this ground-breaking new history of early America, historian Robert Zimmerman not only exposes the lie behind The New York Times 1619 Project that falsely claims slavery is central to the history of the United States, he also provides profound lessons about the nature of human societies, lessons important for Americans today as well as for all future settlers on Mars and elsewhere in space.
Conscious Choice: The origins of slavery in America and why it matters today and for our future in outer space
, is a riveting page-turning story that documents how slavery slowly became pervasive in the southern British colonies of North America, colonies founded by a people and culture that not only did not allow slavery but in every way were hostile to the practice.
Conscious Choice
does more however. In telling the tragic history of the Virginia colony and the rise of slavery there, Zimmerman lays out the proper path for creating healthy societies in places like the Moon and Mars.
"Zimmerman's ground-breaking history provides every future generation the basic framework for establishing new societies on other worlds. We would be wise to heed what he says." —Robert Zubrin, founder of founder of the Mars Society.
All editions are available at Amazon, Barnes & Noble, and all book vendors, with the ebook priced at $5.99 before discount. The ebook can also be purchased direct from my ebook publisher, ebookit, in which case you don't support the big tech companies and I get a bigger cut much sooner.
Autographed printed copies are also available at discount directly from me (hardback $24.95; paperback $14.95; Shipping cost for either: $5.00). Just email me at zimmerman @ nasw dot org.