Capitalism in space: According to a New Yorker story today, the suborbital flight of Richard Branson in July experienced several flight anomalies that the article suggests should have caused it to end early before reaching space.
The rocket motor on Virgin Galactic's ship is programmed to burn for a minute. On July 11th, it had a few more seconds to go when a red light also appeared on the console: an entry glide-cone warning. This was a big deal. I once sat in on a meeting, in 2015, during which the pilots on the July 11th mission—Dave Mackay, a former Virgin Atlantic pilot and veteran of the U.K.'s Royal Air Force, and Mike Masucci, a retired Air Force pilot—and others discussed procedures for responding to an entry glide-cone warning. C. J. Sturckow, a former marine and nasa astronaut, said that a yellow light should "scare the ["#$%#] out of you," because "when it turns red it's gonna be too late"; Masucci was less concerned about the yellow light but said, "Red should scare the crap out of you." Based on pilot procedures, Mackay and Masucci had basically two options: implement immediate corrective action, or abort the rocket motor. According to multiple sources in the company, the safest way to respond to the warning would have been to abort. (A Virgin Galactic spokesperson disputed this contention.)

Aborting at that moment, however, would have dashed Branson's hopes of beating his rival Bezos, whose flight was scheduled for later in the month, into space. Mackay and Masucci did not abort.
Virgin Galactic's response, including the FAA's statement, can be found here. The company noted that the flight deviation occurred because of unexpected high altitude winds. The FAA's comment I think provides some reasonably perspective:

Although the flight's ultimate trajectory deviated from our initial plan, the Unity 22 flight did not fly outside of the lateral confines of the protected airspace. As a result of the trajectory adjustment, the flight did drop below the altitude of the airspace that is protected for Virgin Galactic missions for a short distance and time (1 minute and 41 seconds) before re-entering restricted airspace that is protected all the way to the ground for Virgin Galactic missions. At no time did the ship travel above any population centers or cause a hazard to the public. FAA representatives were present in the control room during the flight and in post-flight debriefs. We are working in partnership with the FAA to address the airspace for future flights.
In other words, the yellow and red light indicators did not indicate there was any immediate danger to anyone, including the crew, and so the pilots chose the first option, taking corrective actions that successfully brought the ship back into a correct flight path. Thus, much of this to-do today is a bit overblown.
Nonetheless, that the flight had an issue that caused it to deviate from its proscribed flight path illustrates how relatively untested the SpaceShipTwo design is. When Branson first hyped this spaceship back in the 2000s, he promised they would do dozens to hundreds of test flights before flying humans. Instead, they have done barely a handful.
Moreover, Virgin Galactic's track record on safety issues is simply not good. This analysis lists the numerous examples. Safety at the company has too often been given a lower priority than it should. This quote sums it up nicely:
There have been questions about SpaceShipTwo's safety culture ever since Virgin Galactic and Scaled Composites announced the program in 2004. Four people have died in two separate accidents, there have been at least four close calls, and safety officials have come and gone with regularity. The most recent departure was Vice President of Safety Todd Ericson, who lost confidence in the company's safety culture after VSS Unity's near-fatal second suborbital flight n February 2019. [emphasis mine]
If nothing changes soon at Virgin Galactic, it sure looks like it is most likely going to be the first private commercial space company to kill someone in flight. I sure wouldn't pay to fly on it.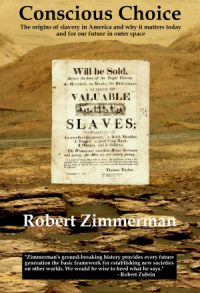 Now available in hardback and paperback as well as ebook!
From the press release: In this ground-breaking new history of early America, historian Robert Zimmerman not only exposes the lie behind The New York Times 1619 Project that falsely claims slavery is central to the history of the United States, he also provides profound lessons about the nature of human societies, lessons important for Americans today as well as for all future settlers on Mars and elsewhere in space.
Conscious Choice: The origins of slavery in America and why it matters today and for our future in outer space
, is a riveting page-turning story that documents how slavery slowly became pervasive in the southern British colonies of North America, colonies founded by a people and culture that not only did not allow slavery but in every way were hostile to the practice.
Conscious Choice
does more however. In telling the tragic history of the Virginia colony and the rise of slavery there, Zimmerman lays out the proper path for creating healthy societies in places like the Moon and Mars.
"Zimmerman's ground-breaking history provides every future generation the basic framework for establishing new societies on other worlds. We would be wise to heed what he says." —Robert Zubrin, founder of founder of the Mars Society.
All editions are available at Amazon, Barnes & Noble, and all book vendors, with the ebook priced at $5.99 before discount. The ebook can also be purchased direct from my ebook publisher, ebookit, in which case you don't support the big tech companies and I get a bigger cut much sooner.
Autographed printed copies are also available at discount directly from me (hardback $24.95; paperback $14.95; Shipping cost for either: $5.00). Just email me at zimmerman @ nasw dot org.