Five years ago, before Donald Trump had even announced he was running for president, before Elon Musk had proposed his Starship/Superheavy rocket, and even before SpaceX had successfully begun to dominate the launch market, Jerry Hendricks at the Center for for New American Security (CNAS) asked me to write a policy paper on the state of the American launch industry, providing some background and more importantly, some recommendations that policy makers in Washington, dependent on that launch industry, could use as guidance in the coming years.
CNAS is a Washington, D.C., think tank that was founded in the middle-2000s by two political Washington insiders, one a Democrat and the other a Republican, with a focus on foreign policy and defense issues and the central goal of encouraging bi-partisan discussion. Hendricks' area of focus was defense and aerospace matters, and at the time he thought the changes being wrought by SpaceX's with its partly reusable Falcon 9 rocket required in-depth analysis. He had heard my many reports on this subject on the John Batchelor Show, and thought I could provide him that analysis.
The result was my 2017 policy paper, Capitalism in Space: Private Enterprise and Competition Reshape the Global Aerospace Launch Industry. In it I reviewed and compared what NASA had been getting from its parallel rocket programs, the government-designed and owned Space Launch System (SLS) rocket versus the privately-designed commercial rockets of SpaceX and Orbital ATK (now part of Northrop Grumman). That review produced this very simple but starkly revealing table:

From this data, combined with my extensive knowledge as a historian of American history and culture, resulted in the following fundamental recommendations:

1. The private builders should own what they build
2. Let those private companies design what they build, and let them keep things as simple as possible
3. Use fixed-price contracts and insist companies partly finance what they build
4. Award contracts in a manner that will encourage private competition
5. Reduce the overhead, transferring the bulk of the spending to the companies actually doing the work
When the paper was released in 2017, Hendricks made a focused effort to have it delivered to as many policymakers as possible in both the Trump administration and in Congress. He made sure it was personally handed to Vice President Mike Pence. I later received phone calls from people in the Office of Management and Budget (OMB) and in NASA who had read it and wanted more details.
Did the paper have any influence? For a long time I was not sure. It seemed the Trump administration was interested, but initially at least it seemed they were more focused on recreating a Kennedy-like space program, aimed at establishing a new Apollo-like government program for putting American boots on the Moon by 2024. Moreover, my sense of the think tank culture of Washington was that it was not interested in these types of recommendations, as they all took power and money from that Washington community and gave it to private companies operating independently and freely.
With time the direction of both Trump and NASA seemed to shift in the direction of my recommendations, though it seemed that many people in those government bodies did it with some reluctance. For example, during the development period for the manned capsules built by both SpaceX and Boeing (contracts that clearly followed the first four recommendations above), there was a strong effort for a long time by NASA's safety panel and others in NASA's management to slow SpaceX and hinder its success, while favoring Boeing because Boeing had been a partner with NASA for decades.
Later, under NASA administrator Jim Bridenstine the agency appeared to embrace these recommendations more wholeheartedly, canceling a number of NASA-built projects, such as NASA's homebuilt Lunar Resource Prospector, and instead awarding multiple smaller contracts to many different private companies. Still, there was a sense that much of this was being done not to encourage private enterprise but to create vested interests who would be tied to NASA and its goals.
Last week's decision by NASA, under the Biden administration, to award SpaceX the contract to use its Starship as the lunar lander for NASA's Artemis program clearly signaled that our federal government now embraces the first four of these recommendations quite strongly. Though they did not award two competing contracts, they explained that the main reason was that Congress had appropriated less than half of what they had requested. They simply did not have the money to pay for two landers. NASA officials also stated bluntly that they do not want to be dependent on only one company, and fully desire other companies to come forward in the future with new competitive ideas that cost less and that can beat out SpaceX is price and quality.
More important, this decision was made under a different president. The shift toward favoring private enterprise that had started in NASA during the Trump administration is clearly continuing under the Biden administration. NASA's management now appears eager to give private independent companies the job of building rockets and spacecrafts, using their own designs and not NASA's.
In fact, that decision prompted me to reread my 2017 recommendations in Capitalism in Space. In doing so I was startled how completely the first four of my recommendations above have been embraced by Washington. That swamp has now accepted the idea of private enterprise and capitalism, based on that often forgotten concept called freedom. For Americans, this bodes very well for our country's future in space.
For a dose of reality however it is important to also note how little that swamp has done when it comes to my fifth recommendation, calling for it to reduce its overhead. Despite shifting power and ownership to the private sector, neither the Trump and Biden administrations nor NASA has made the slightest effort to cut expenses within government. With private companies now doing the bulk of all design and construction, there really isn't that much for the manned space bureaucracy in NASA to do. The agency could likely eliminate entire centers, such as Marshall in Alabama, while reducing significantly the size of many others, in Kennedy in Florida, Stennis in Mississippi, and Johnson in Texas, and the entire space industry would hardly notice at all. In fact, the savings of money and the elimination of many interfering bureaucrats would probably improve things enormously.
Instead, the Biden administration has called for an increase in NASA's budget. While much of this money will likely go to these new private companies and the work they will do to get the government's space objectives accomplished, just as much if not more will go to expanding the NASA bureaucracy, for no real good purpose.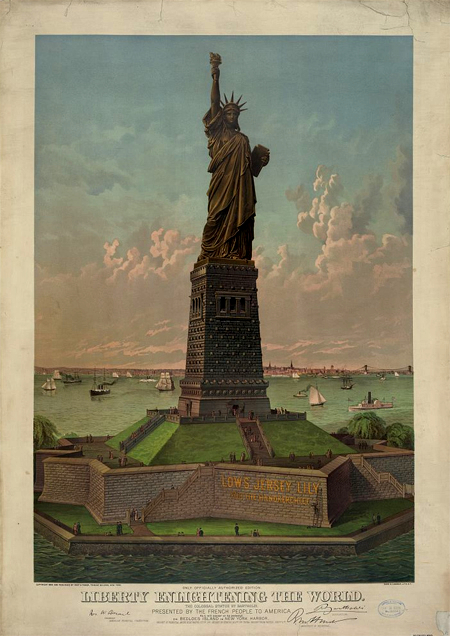 A light to change the entire universe.
Nonetheless, this one dark cloud does not ruin what looks like the possibility of a very bright future. While terrible things might be happening within America's culture on Earth, the foundation for a robust, free, independent, and competing aerospace industry in space appears to be moving forward.
And just as the success of the United States in North America in the 1700s and 1800s forced a reformation and revolution in Great Britain and Europe, ending monarchy and bringing freedom to millions, a similar success in space in the coming century could bring the same reformation to the United States of today, returning this nation to its fundamental principles of liberty, law, and the right of every citizen, no matter their race, religion, or creed, to pursue their happiness, wherever it takes them.
As Democrat politician Adlai E. Stevenson Jr. said in 1952, "My definition of a free society is a society where it is safe to be unpopular." A free society in outer space might teach Americans to once again treasure that ideal, and allow unpopular ideas the right to be spoken, if only because you can't have freedom if such ideas are squelched.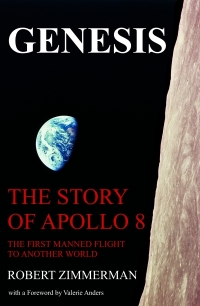 On Christmas Eve 1968 three Americans became the first humans to visit another world. What they did to celebrate was unexpected and profound, and will be remembered throughout all human history. Genesis: the Story of Apollo 8, Robert Zimmerman's classic history of humanity's first journey to another world, tells that story, and it is now available as both an ebook and an audiobook, both with a foreword by Valerie Anders and a new introduction by Robert Zimmerman.
The ebook is available everywhere for $5.99 (before discount) at
amazon
, or direct from my ebook publisher,
ebookit
. If you buy it from
ebookit
you don't support the big tech companies and the author gets a bigger cut much sooner.
The audiobook is also available at all these vendors, and is also
free with a 30-day trial membership to Audible.
"Not simply about one mission, [Genesis] is also the history of America's quest for the moon... Zimmerman has done a masterful job of tying disparate events together into a solid account of one of America's greatest human triumphs."--San Antonio Express-News