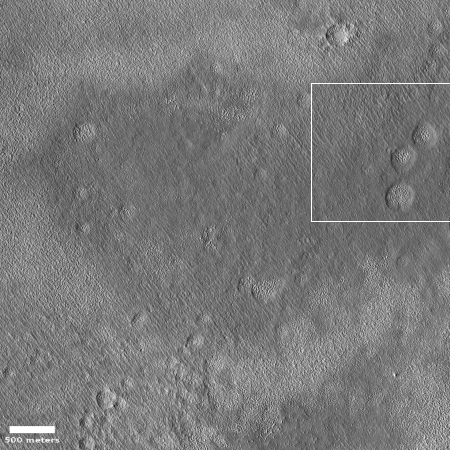 Click for full image.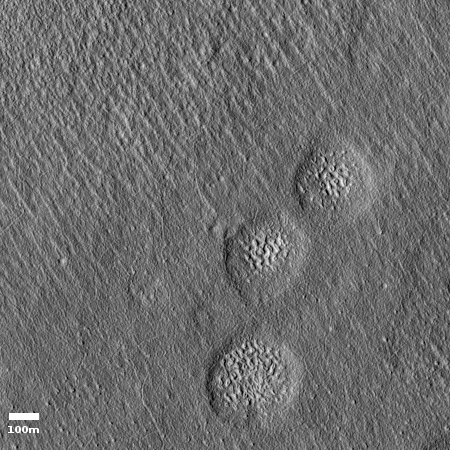 Cool image time! Even though it appears that SpaceX has completed its first round of images of its candidate landing sites surrounding the Erebus Montes mountains in the Arcadia Planitia plains in the Martian northern lowlands, this does not mean that other planetary scientists are not asking for more images of this region, for their own scientific research.
The photograph on the right, cropped and reduced to post here, was released in the early November image download from the high resolution camera of Mars Reconnaissance Orbiter (MRO). Uncaptioned but dubbed "Beginning of Possible Glacial Unit," it shows what appears at first glance to be a relatively featureless area south of Erebus Montes, out in the flat plains.
A closer look suggests otherwise. For one, the full image shows darker and lighter areas. The close-up to the right, its location indicated by the white box in the wider image above, also shows several intriguing depressions that appear to be revealing a knobby lower layer. In fact, in the full image it appears that the darker areas are areas where material has covered that knobby lower layer. Where it is bright the ground resembles the floors of these depressions, knobby and complex.
I do not know why they label this the "beginning" of a glacial unit. What I do know is that the research of this region has consistently found evidence of a lot of buried ice. To quote Donna Viola of the University of Arizona noted, "I think you could dig anywhere to get your water ice." The knobby features to me suggest a surface that is showing signs of sublimation, where the exposed ice is slowly eroding. Think of what happens to a block of ice when you spray warm water on it. As it melts it leaves behind just these kinds of strange formations.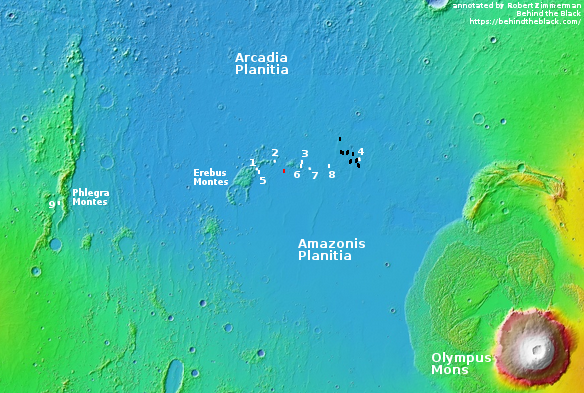 The red box in the map on the right shows the location of this photograph relative to the other images taken for SpaceX. The white boxes are the company's images taken for Starship. The black boxes are the images it obtained in 2017 when it was thinking of sending a Dragon capsule to Mars.
This map does not show all images taken by MRO's high resolution camera in this area, but the coverage is very scattered, with many gaps. Over time I suspect these gaps will be filled more quickly than other northern plain regions, because the scientists know that SpaceX has an interest in this area. That interest means there is an increased chance that a mission will fly here in the relatively near future, which in turn is going to generate more scientific interest as well.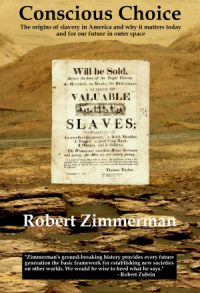 Now available in hardback and paperback as well as ebook!
From the press release: In this ground-breaking new history of early America, historian Robert Zimmerman not only exposes the lie behind The New York Times 1619 Project that falsely claims slavery is central to the history of the United States, he also provides profound lessons about the nature of human societies, lessons important for Americans today as well as for all future settlers on Mars and elsewhere in space.
Conscious Choice: The origins of slavery in America and why it matters today and for our future in outer space
, is a riveting page-turning story that documents how slavery slowly became pervasive in the southern British colonies of North America, colonies founded by a people and culture that not only did not allow slavery but in every way were hostile to the practice.
Conscious Choice
does more however. In telling the tragic history of the Virginia colony and the rise of slavery there, Zimmerman lays out the proper path for creating healthy societies in places like the Moon and Mars.
"Zimmerman's ground-breaking history provides every future generation the basic framework for establishing new societies on other worlds. We would be wise to heed what he says." —Robert Zubrin, founder of founder of the Mars Society.
All editions are available at Amazon, Barnes & Noble, and all book vendors, with the ebook priced at $5.99 before discount. The ebook can also be purchased direct from my ebook publisher, ebookit, in which case you don't support the big tech companies and I get a bigger cut much sooner.
Autographed printed copies are also available at discount directly from me (hardback $24.95; paperback $14.95; Shipping cost for either: $5.00). Just email me at zimmerman @ nasw dot org.