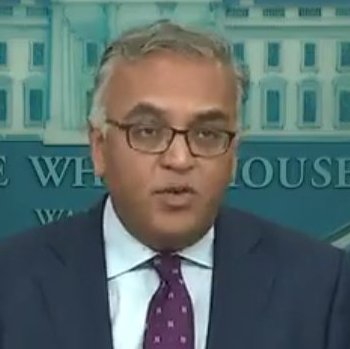 Dr. Ashish Jha, government liar.
On November 23, 2022, the very same day White House COVID-19 Response Coordinator Dr. Ashish Jha stated unequivocally that "If folks get their updated vaccines and they get treated … we can prevent essentially every COVID death in America," the Washington Post reported a CDC-financed study showing that by August 2022 more people were dying from COVID who had gotten the jab than those who had not.
For the first time, a majority of Americans dying from the coronavirus received at least the primary series of the vaccine.

Fifty-eight percent of coronavirus deaths in August were people who were vaccinated or boosted, according to an analysis conducted for The Health 202 by Cynthia Cox, vice president at the Kaiser Family Foundation.

It's a continuation of a troubling trend that has emerged over the past year. As vaccination rates have increased and new variants appeared, the share of deaths of people who were vaccinated has been steadily rising. In September 2021, vaccinated people made up just 23 percent of coronavirus fatalities. In January and February this year, it was up to 42 percent, per our colleagues Fenit Nirappil and Dan Keating.

"We can no longer say this is a pandemic of the unvaccinated," Cox told The Health 202.
In other words, Jha was lying, and he was doing so in plain defiance of the data that has been accumulating exponentially in the past year. The COVID shots do nothing to prevent you from getting COVID, and the data now shows that these shots also do nothing to prevent the virus from killing you. (This ineffectiveness is why the shots are not a vaccine, and why legitimate journalists, doctors, researchers, and politicians should stop calling them that. At best, the jab is the equivalent of a flu shot, which might help but often does little to prevent the flu.)
Unlike flu shots, which have been administered to older people for decades and have been found to cause little harm, the jab is increasingly being linked to serious chronic health problems, and now should not be taken without very careful consideration. Below are just three stories in the past two weeks:
This quote from the third story should send chills up the spine of everyone who has gotten the jab, either by choice or under duress:
The vaccine makers' belated research follows research that finds heart inflammation is two to three times more likely following second doses of Moderna than Pfizer.

The Journal of the American College of Cardiology study by Canadian researchers, which used the British Columbia COVID-19 cohort, found the strongest association with men and people 18-39 years old. This echoes earlier research reviewed by the CDC's Advisory Committee on Immunization Practices.
These stories only reinforce numerous others that I have linked to in the past year, including one Swiss study that found that the COVID shots injured the heart in all recipients.
Above all the evidence now strongly suggests that no one under 60 should get the jab, ever!
And yet, government officials like Jhu are still demanding that everyone get jabbed, while lying about the jab's effectiveness. Nor is Jhu alone. Only one day earlier Anthony Fauci continued his long string of lies about COVID and the jab by stating bluntly at a press conference that the "striking data … overwhelmingly show[s] the effectiveness of vaccines."
The data only shows this in the imagined delusions of Anthony Fauci. Actual data says instead that the shots have been largely useless, and increasingly could have caused tens of thousands of unnecessary deaths in young people.
Meanwhile in California, school districts statewide are still trying to impose COVID shot mandates in a willful blindness to this data. Even when a federal court rejected such mandates, stating unambiguously that the San Diego school district "does not have the authority to establish its own mandate," the school district pushes on, refusing to abandon its policy.
San Diego Unified is examining the appeals court ruling and "will consider its next steps," district spokesperson Mike Murad said in an email to the Los Angeles Times.
Other California school districts are following San Diego's lead, imposing mandates when the law clearly does not permit them to do so, and the facts should tell them that this policy is actually harmful.
These lies and bad policy are proof of what Lord Acton said, "Power tends to corrupt, and absolute power corrupts absolutely." These government officials have become addicted to their ability to order people around, and now do not want to give up that addiction, even though the facts prove it to be utterly wrong. Rather than admit wrong and shift paths, they'd rather push big lies in order to justify their right to more power.
In a free society of citizens, it is the citizen's responsibility to recognize these lies, and to reject them utterly. Sad to say, too many Americans are no longer doing that. Instead, they are credulous, and easily led by such lies.
And thus, these corrupt power-hungry leaders wield more and more power, becoming more and more corrupt in the process.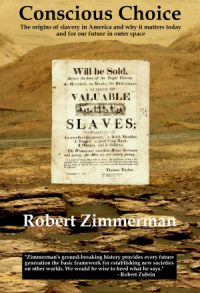 Now available in hardback and paperback as well as ebook!
From the press release: In this ground-breaking new history of early America, historian Robert Zimmerman not only exposes the lie behind The New York Times 1619 Project that falsely claims slavery is central to the history of the United States, he also provides profound lessons about the nature of human societies, lessons important for Americans today as well as for all future settlers on Mars and elsewhere in space.
Conscious Choice: The origins of slavery in America and why it matters today and for our future in outer space
, is a riveting page-turning story that documents how slavery slowly became pervasive in the southern British colonies of North America, colonies founded by a people and culture that not only did not allow slavery but in every way were hostile to the practice.
Conscious Choice
does more however. In telling the tragic history of the Virginia colony and the rise of slavery there, Zimmerman lays out the proper path for creating healthy societies in places like the Moon and Mars.
"Zimmerman's ground-breaking history provides every future generation the basic framework for establishing new societies on other worlds. We would be wise to heed what he says." —Robert Zubrin, founder of founder of the Mars Society.
All editions are available at Amazon, Barnes & Noble, and all book vendors, with the ebook priced at $5.99 before discount. All editions can also be purchased direct from the ebook publisher, ebookit, in which case you don't support the big tech companies and the author gets a bigger cut much sooner.
Autographed printed copies are also available at discount directly from me (hardback $24.95; paperback $14.95; Shipping cost for either: $5.00). Just email me at zimmerman @ nasw dot org.