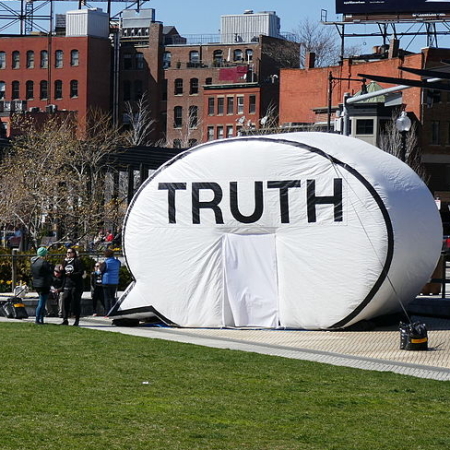 When it comes to the COVID lie, we are all being forced
to enter that door.
This update will be a relatively short one, but it will once again demonstrate, with data, that the claims by politicians and government health officials that COVID required draconian restrictions on the lives of Americans were utterly wrong, and they were so wrong it proved those politicians or officials were either filled with malice or were completely incompetent.
This report by the way merely supplements earlier reports, of which just a few can be found here, here, here, here, here, here, and here. And these are only my reports since July. If you search Behind the Black going back to 2020 you will find many more stories backing up this new evidence.
All in all, the panic over COVID has simply provided more damning evidence that the so-called elites who run our society are generally bankrupt, have incredibly poor judgment, and should be fired as soon as possible.

The claim: The COVID shots protect you from COVID!
Nope. The jab apparently does nothing to stop you from getting the Wuhan flu, and Dr. Rochelle Walensky, director of the Centers for Disease Control and Prevention (CDC), recently proved it. Despite getting five different COVID jabs, she still came down with COVID for the second time. Note too that she got the Wuhan flu this second time after also undergoing a full course of the antiviral Paxlovid, also recommended by CDC.
Nor is this oft seen anecdote the only evidence. A new study also found that the most recent version of the mRNA jab actually did a worse job protecting patients from the newer variants of COVID.
The new shots work no better than the original mRNA shots to produce antibodies specifically targeting the Omicron variant.

And the Omicron shots are even WORSE than the original boosters in producing T-cells that target Omicron, according to the researchers, part of a group led by Dr. Dan Barouch, a highly respected virologist. This finding is of particular concern because T-cells, the second line of the immune system, keep infections from becoming too severe.
Nor is this all. Despite doing little to prevent COVID, another study in Switzerland found that the jab injures the heart in all recipients.
A Swiss study found elevated levels of the protein troponin in all of the mRNA COVID-19 vaccine recipients it analyzed, indicating the shots are routinely causing heart injury.

Further, up to 1 in 27 of the vaccinated people in the study showed levels associated with subclinical myocarditis, the British website Daily Sceptic reported.

Similarly, a Thai study published in August found elevated troponin levels or cardiac symptoms after COVID vaccination indicative of myocarditis or pericarditis in seven (3.5%) of 200 boys. A study published in January by the Journal of the American Medical Association based on data from the CDC's Vaccine and Adverse Events Reporting System, or VAERS, found 1,991 reports of myocarditis after receipt of at least one shot and 684 separate reports of pericarditis.
The story also relates a number of other research studies, all of which show that getting the jab is very very risky. While for the majority of patients, it does no visible harm — in the short run — for a sizeable minority it immediately causes serious health problems, some of which lead immediately to death.
What consequences millions will face in the long run due to getting the jab remains utterly unknown, though the dreadful possibilities remain terrifying.
Oh boy! What would have done without this great government leadership, mandating the jab on millions!?
The claim: COVID was the cause of millions of deaths of healthy ordinary people
This claim was always bogus. From the beginning of the panic the evidence consistently showed that COVID was harmless to the young and the healthy, that it generally only killed those who were old, in poor condition, or sick with other chronic illnesses. However, a new study in Finland has provided more evidence, finding that up to 40 percent of the deaths reported in that country during the panic as COVID-caused were actually fraudulent.
Finland has become one of the first countries to uncover evidence that state agencies around the world committed fraud in their Covid deaths reporting during the pandemic.

The blockbuster report sheds light on how public health agencies around the world overhyped 'Covid-related deaths' in order to drive mass hysteria. According to Sirkka Goebeler, chief specialist at the Finnish Institute for Health and Welfare (THL), Covid-19 has not been the actual cause of death in up to 40 percent of fatalities attributed to the illness in Finland. As a result, they will not end up in Statistics Finland's official data as coronavirus deaths.
In other words, health officials in Finland had been overhyping the danger of the virus. In this they can be proud, as they were simply doing the same thing as corrupt health officials in most countries worldwide, feeding into the fear and panic to make people more afraid and panicky.
The claim: COVID overloaded emergency rooms in 2020, which is why care was denied to others
Nope. Though there was ample evidence at the time that emergency rooms were not being overloaded, the charts at this report show without doubt that in New York City at least the number of emergency room patients actually plummeted in the spring of 2020.
Not only were tens of thousands of New Yorkers denied emergency room care (with many dying needlessly) so as to leave room for imaginary COVID patients who never materialized, tens of thousands of others died in nursing homes because then-governor Andrew Cuomo sent sick COVID patients into those nursing homes in order to keep more space available in the hospitals and emergency rooms.
Once again, our government leaders do the worse possible thing. We must all be grateful.
The claim: We need to close schools and lock down the economy to save lives!
This in many ways might be the vilest claim of all. The lockdowns and school closures bankrupted millions and did great harm to children, facts that were obvious at the time. The evidence however is now pouring in to confirm these obvious common sense facts.
For example, a new study has found that the school closures did nothing to protect young children from COVID. In fact, the research strongly suggests the school closures might have actually increased the number of child-related COVID deaths, probably because isolated children had no opportunity to build up their immune systems and were thus more vulnerable to the virus.
The District of Columbia had the highest number of children who died with coronavirus per capita (12 deaths equating to 95 deaths per million children), even though its schools were almost completely closed for the 2020-2021 school year, with its school coronavirus policies arguably the most draconian in the nation. Wyoming, which has a nearly identical population size to D.C. and whose schools remained open more than any other state, had the fewest deaths per capita (zero).
Nor are these locations the only ones that demonstrate how useless the school closures were. Across the nation, the states that kept the schools open routinely experienced fewer deaths than the schools that shut down.
And then there is Sweden, which imposed no lock downs, no mask rules, no social distancing, no school closures, and no serious quarantine efforts. Instead, it treated COVID as simply another variation of the flu, and focused on protecting the old and sickly while letting everyone else live their lives normally. The result?
Sweden did much, much better – ten times better than Chile, in fact, notorious for having the strictest lockdowns 'despite' also having one of the most 'successful' vaccination campaigns.

As of reporting date June 19th 2022, of all the countries analysed by the OECD, Sweden has the lowest overall cumulative excess deaths tally.
The data at this link is striking. Sweden had the fewest excess deaths, nine times less than the U.S.
Once again, we must thank our government and health officials in the U.S. for this striking result. You panicked, and thus killed millions for no reason, while destroying the lives of millions of others for less reason.
I could go on but why belabor the point. Almost all the leaders who set policy during the Wuhan panic got it wrong. And in most cases, they got it wrong despite ample evidence at the time, showing them they were getting it wrong. Worse, even now, two years later, these same officials refuse to admit to error, and continue to insist they are the alpha and omega of all knowledge when it comes to science. In fact, they are "The Science," as Anthony Fauci insisted at one point. How dare anyone criticize them?!
But they were wrong, and that many remain in positions of power speaks ill not of them, but of ourselves for allowing it.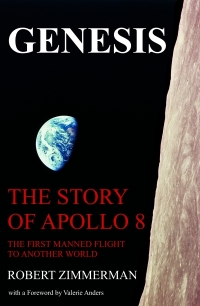 On Christmas Eve 1968 three Americans became the first humans to visit another world. What they did to celebrate was unexpected and profound, and will be remembered throughout all human history. Genesis: the Story of Apollo 8, Robert Zimmerman's classic history of humanity's first journey to another world, tells that story, and it is now available as both an ebook and an audiobook, both with a foreword by Valerie Anders and a new introduction by Robert Zimmerman.
The ebook is available everywhere for $5.99 (before discount) at
amazon
, or direct from my ebook publisher,
ebookit
. If you buy it from
ebookit
you don't support the big tech companies and the author gets a bigger cut much sooner.
The audiobook is also available at all these vendors, and is also
free with a 30-day trial membership to Audible.
"Not simply about one mission, [Genesis] is also the history of America's quest for the moon... Zimmerman has done a masterful job of tying disparate events together into a solid account of one of America's greatest human triumphs."--San Antonio Express-News