Several stories in the past week suggest that cracks might finally be appearing in the leftist/Democratic/media smear machine that since 2008 has used lies and slanders to destroy the reputations of its opponents.
What makes the first five stories above different from everything I have seen in the past two decades, since Bill Clinton's perjury and impeachment in the late 1990s, is the willingness of people on both the right and left, within the entertainment community, to come out publicly and condemn the leftwing blacklisting efforts that have normally been supported blindly and in mass by those same communities.
In the past the support for such blacklisting threats against conservative entertainers would have been monolithic, and any conservatives in Hollywood would have been silent, out of fear they own careers would have been destroyed.
Now we not only have a number of conservative entertainers fearlessly blasting this fascist blacklisting, they are being joined by many liberal entertainer icons.
The last story is similar, but instead of the entertainment community the story involves a rebellion by a Democratic politician. Since Bill Clinton's presidency I have practically never seen a Democratic politician resist this blacklist culture. Yang might be the very first. And I say that despite the fact that I definitely oppose his politics.
We are also seeing some of the same thing with this week's New York Times slander of Supreme Court Justice Brett Kavanaugh. While the right has justly blasted the newspaper for its partisan lying and incompetence, so have some liberal outlets.
It could be that the leftist smear machine has finally gone too far, and has become so vile and despicable that even many ardent leftists can no longer tolerate it.
Then again, I am a forever optimistic person, and sometimes see hope where none exists. These might merely be the exceptions that prove the rule. Only time will tell us whether this is a new positive trend, or a minor blip in left's never-ending quest to persecute its opponents.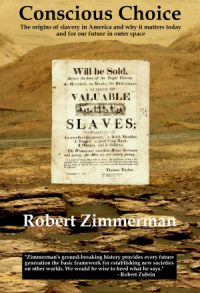 Now available in hardback and paperback as well as ebook!
From the press release: In this ground-breaking new history of early America, historian Robert Zimmerman not only exposes the lie behind The New York Times 1619 Project that falsely claims slavery is central to the history of the United States, he also provides profound lessons about the nature of human societies, lessons important for Americans today as well as for all future settlers on Mars and elsewhere in space.
Conscious Choice: The origins of slavery in America and why it matters today and for our future in outer space
, is a riveting page-turning story that documents how slavery slowly became pervasive in the southern British colonies of North America, colonies founded by a people and culture that not only did not allow slavery but in every way were hostile to the practice.
Conscious Choice
does more however. In telling the tragic history of the Virginia colony and the rise of slavery there, Zimmerman lays out the proper path for creating healthy societies in places like the Moon and Mars.
"Zimmerman's ground-breaking history provides every future generation the basic framework for establishing new societies on other worlds. We would be wise to heed what he says." —Robert Zubrin, founder of founder of the Mars Society.
All editions available at Amazon, Barnes & Noble, and all book vendors. The ebook can be purchased direct from my ebook publisher, ebookit, in which case you don't support the big tech companies and I get a bigger cut much sooner. Note that the price for the ebook, $3.99, goes up to $5.99 on September 1, 2022.
Autographed printed copies are also available at discount directly from me (hardback $24.95; paperback $14.95). Just email me at zimmerman @ nasw dot org.