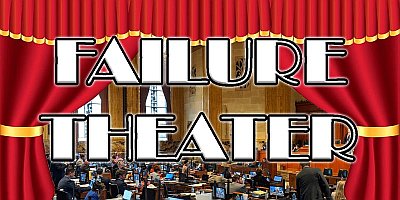 Failure theater? This week the Texas legislature passed a proposed ban on race-based "Diversity, Equity, and Inclusion" (DEI) programs at its public colleges, requiring all such offices be closed within six months with the staff of such offices terminated.
The final legislation says universities cannot create diversity offices, hire employees to conduct DEI work, or require any DEI training as a condition for being hired by or admitted to the university. All hiring practices must be "color-blind and sex-neutral." The bill would also prohibit universities from asking job candidates to provide written answers about how they consider diversity in their work or sharing how they would work with diverse populations, commonly known as diversity statements. Critics have equated diversity statements with ideological oaths, while supporters say they help ensure job candidates are prepared to support students from all backgrounds.

The legislation says university governing boards must adopt policies to discipline employees who violate these rules. Under the final version of the draft, university leaders cannot spend state money until they have declared to the state they are in line with the new law.
The bill still has to be signed by Texas' Republican governor Greg Abbott, but that signature is expected.
Will this ban work? Maybe. It has the advantage over many similar but weak bills passed by other Republican state legislatures in that it actually appears to cut funding, in a sort of indirect way. By directly terminating the staff of DEI offices while insisting these offices be shuttered, the legislature is telling the colleges they can no longer spend any of their funds for them. In addition, an earlier version of the bill allowed the colleges to reassign such DEI employees. The final bill forbids this. The whole DEI political game is ordered to stop, and its perpetrators removed.
I remain doubtful however whether this bill will achieve anything at all. For example, it does not appear to decrease the funding to the colleges. The universities have simply been told the money they formally spent on DEI can no longer be spent on such racist operations. Since they have the cash anyway, what will prevent college administrators to create a new office with a new name, let's call it the "Openness and Support Office", and hire the fired DEI staffers that have been terminated from a different college. By simply rearranging the chairs, these administrators — who apparently all enthusiastically support DEI's Marxist and racist program — can recreate it without making it obvious. And the legislature has agreed to give them the funds for doing so.
Moreover, changing the name of a leftist agenda is par for the course. The left used to embrace the name "socialists." When its communist-inspired policies became obvious the left than said they weren't socialists, they were "progressives." They didn't change their policies, they simply hoped the nicer sounding name would help fool people about their goals.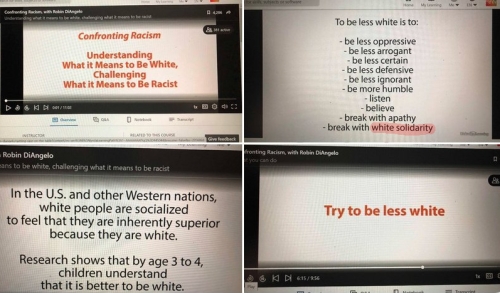 Examples of Critical Race Policy materials that were being used at Coca-Cola
in 2021.
Similarly, only two years ago DEI was called critical race theory by academics. Have you noticed how that latter term has disappeared since it was exposed — as shown on the right — as a racist, anti-white program designed to favor minorities, based merely on their race? College officials simply changed it to DEI instead, and continued the same racist policies favoring minorities and discriminating against whites.
Since the Texas legislature has not cut any funding, I fully expect the DEI offices to disappear but be quickly replaced by another office with some innocuous-sounding name tasked however with exactly the same goals. Its administrators and staff will simply be hired from the terminated DEI staff of another Texas public college.
The real solution, to actually reduce funding to any college that has such programs, remains untried by Republican-controlled legislatures, on both the state and federal level. It seems Republican politicians are still afraid to take firm action, out of a misguided fear they will be called names.
It is long past time to tell the name-callers: "We don't care!" and proceed with real action. Until this happens, every so-called "ban" passed by Republicans will simply be a Potemkin village fraud, accomplishing nothing.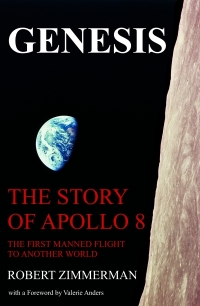 On Christmas Eve 1968 three Americans became the first humans to visit another world. What they did to celebrate was unexpected and profound, and will be remembered throughout all human history. Genesis: the Story of Apollo 8, Robert Zimmerman's classic history of humanity's first journey to another world, tells that story, and it is now available as both an ebook and an audiobook, both with a foreword by Valerie Anders and a new introduction by Robert Zimmerman.
The ebook is available everywhere for $5.99 (before discount) at
amazon
, or direct from my ebook publisher,
ebookit
. If you buy it from
ebookit
you don't support the big tech companies and the author gets a bigger cut much sooner.
The audiobook is also available at all these vendors, and is also
free with a 30-day trial membership to Audible.
"Not simply about one mission, [Genesis] is also the history of America's quest for the moon... Zimmerman has done a masterful job of tying disparate events together into a solid account of one of America's greatest human triumphs."--San Antonio Express-News