The nation's police are supposed to be there to serve and to protect, to defend our laws and the Constitution, and to protect the ordinary innocent citizens pursuing life, liberty, and happiness — as declared in our Declaration of Independence — from criminals hostile to those fundamental rights.
In the past six weeks, however, too many cops have instead become storm troopers, thugs with no common sense who also seem to relish the sudden power they have been given by fascist governors and local officials who have arbitrarily and irrationally imposed lock downs and social distancing rules in their panic over the Wuhan flu.
Below are some examples, all of which show police either harassing, arresting, or pursuing individuals who are clearly in circumstances that make them no threat to anyone. Moreover, they are often alone or somewhat isolated, meaning there is no way for them to help spread the Wuhan flu. Yet the police move in aggressively, in a very obscene manner.

In Texas the police sent our a SWAT team to shut down a restaurant, even though the owner spoke with the police beforehand and was told there would be no police action if the owner made sure no guns were in the restaurant, since it serves liquor. The owner complied. The police still showed up, guns drawn
In Arizona two cops entered a man's jewelry store and arrested the owner because he hadn't closed it as ordered by the governor. The store was empty other than the owner. The owner had also changed his business license and some of the products he sold to make it an essential business. Didn't matter to the cops, who handcuffed him and treated him like a criminal. Watch the video here. It will make you sick.
In Pennsylvania a woman was driving alone in her car. She had decided to do this because she was going stir crazy at home due to her governor's panicked lock down order. A cop pulled her over, gave her a $200 citation for violating that lock down order, claiming he had pulled her over because she had a non-working tail light.
He was lying of course. When she got home the tail light was working fine. This thug cop simply wanted to harass an innocent solitary woman, showing her that he's a big boss who can push little people around.
In Idaho a cop arrested and handcuffed a mother because she was in a playground with her children.
And then there's video of a solitary runner on a beach in California, closed by fiat by Gavin Newsom, the fascist Democratic governor. A policeman attempts to apprehend him for daring to violate Newsom's order, even though his action is completely harmless, he is totally alone, and the beach closure was arbitrary and would do nothing to prevent the spread of the Wuhan flu. The added background music illustrates nicely the dumbness of this police chase.
How idiotic does that cop have to be to go after this runner? What is that jack-booted storm trooper going to accomplish if he tackles the runner, other than to make himself look like a thug while increasing the chances that either he or the runner will actually catch coronavirus? Has he lost his ability to think and become like the fools in 1930s Germany, a robot who simply follows orders, no matter how vile or stupid?
These examples are only a small sampling. In the past six weeks we've seen a large percentage of our law enforcement community go as insane as our political leaders. They have become brain-dead power-hungry totalitarians, interested only in enforcing the orders of their superiors, without thought or common sense, while bullying innocent and very harmless citizens.
I don't want to give the impression that all the police have behaved in this ugly manner. Fortunately the chiefs for a number of police departments have publicly come out and told their governments that they will not enforce these pig-headed lock downs. I am also sure that a large number of ordinary cops have simply looked the other way when they saw a "violation." Such decent actions of course are not recorded, so of course we can't document them.
Nonetheless, it is the bad apples that we do see, and they truly leave me with a very very bad impression of the police. I also suspect that I am not alone in this, and that many ordinary Americans will no longer view the police as allies but as enemies. If anything, they have confirmed the accusations of many black leftist activists in the past decade, that many police abuse their power.
So what should the police have done when faced with unconstitutional and irrational orders from their superiors? Well, listen to the words of this Marine veteran, haranguing a line of police blocking a lock down protest in Sacramento, California.
In the military we are trained to ask, 'What's a lawful order?' You've got to check your nutsack when you're given an order and you've got to say, 'Is this a lawful order or is this a [obscenity] order?' And when something's a [obscenity] order and it doesn't pass the sniff test, that's when you say, 'Sergeant,' that's when you say, 'Colonel,' that's when you say 'General,' that's when you say, 'Governor, I'm not doing that.'
Watch the whole tape. That line of riot police slowly stands down as they listen to this Marine vet. They suddenly wake up and realize they are doing something that is wrong.
We need more police to do the same thing. Fast. And loudly.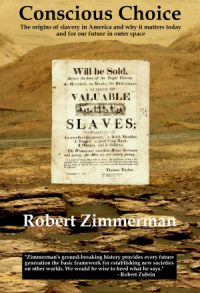 Now available in hardback and paperback as well as ebook!
From the press release: In this ground-breaking new history of early America, historian Robert Zimmerman not only exposes the lie behind The New York Times 1619 Project that falsely claims slavery is central to the history of the United States, he also provides profound lessons about the nature of human societies, lessons important for Americans today as well as for all future settlers on Mars and elsewhere in space.
Conscious Choice: The origins of slavery in America and why it matters today and for our future in outer space
, is a riveting page-turning story that documents how slavery slowly became pervasive in the southern British colonies of North America, colonies founded by a people and culture that not only did not allow slavery but in every way were hostile to the practice.
Conscious Choice
does more however. In telling the tragic history of the Virginia colony and the rise of slavery there, Zimmerman lays out the proper path for creating healthy societies in places like the Moon and Mars.
"Zimmerman's ground-breaking history provides every future generation the basic framework for establishing new societies on other worlds. We would be wise to heed what he says." —Robert Zubrin, founder of founder of the Mars Society.
All editions are available at Amazon, Barnes & Noble, and all book vendors, with the ebook priced at $5.99 before discount. The ebook can also be purchased direct from my ebook publisher, ebookit, in which case you don't support the big tech companies and I get a bigger cut much sooner.
Autographed printed copies are also available at discount directly from me (hardback $24.95; paperback $14.95; Shipping cost for either: $5.00). Just email me at zimmerman @ nasw dot org.