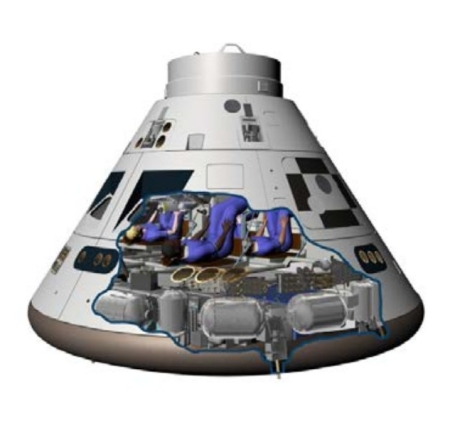 In a report [pdf] released today, NASA's inspector general confirmed unequivocally what I have been saying for years, that the agency's project to build the Orion capsule has been built on lies, from the beginning.
First of all, the report slams NASA for purposely excluding from its public budget almost 60% of the total cost for the entire Orion project.

The total projected Life Cycle Cost for the Orion spacecraft through FY 2030 is $29.5 billion.

…We found that NASA's exclusion of more than $17 billion in Orion‐related costs has hindered the overall transparency of the vehicle's complete costs. Both federal law and NASA policy call for a Life Cycle Cost estimate for all major science and space programs costing more than $250 million, and for the Agency Baseline Commitment (ABC) to be based on all formulation and development costs. The Orion Program received approval from the NASA Associate Administrator to deviate from those requirements, resulting in exclusion of $17.5 billion in Orion‐related costs from fiscal year (FY) 2006 to FY 2030 due to the Agency's tailored approach to program management and cost reporting. Although these exclusions have been approved, the tailoring of these cost reporting requirements significantly limits visibility into the total amount spent on development and production efforts. [emphasis mine]
In other words, since 2006 NASA has been illegally mislabeling 59% of Orion's cost to hide this from the public. Through 2030 it expects Orion to cost almost $30 billion, but it has been advertising the cost as only $12 billion.
It appears that to Congress NASA has been more honest, though they and Congress have worked together to try to keep this fact quiet. In writing my 2017 policy paper, Capitalism in Space, I had reviewed all Congressional appropriations for Orion since 2004 in order to determine the true cost of the program. I did not trust NASA's numbers, because I had found them to change from report to report, and appear inconsistent. I found the total appropriated by Congress through 2021 equaled about $18 billion. Since appropriations per year averaged slightly more then $1 billion, extending the Orion project to 2030 would add about $10 billion to this appropriation estimate, bringing my total to $28 billion, quite close to the total estimate of the inspector general.
When Orion finally launches its first crew in 2023, it will have taken NASA twenty years to build and fly one manned Orion mission, for a total cost through that year of more than $20 billion. To repeat, NASA will have flown one manned capsule for $20 billion and taken 20 years to do it.
And yet, even these numbers do not detail the entire cost of that single manned mission. As absurdly high as they are, this estimate does not include the cost for the capsule's service module, the section that will provide all of its life support, fuel, power, and its main engine. This is being built by the European Space Agency, with a cost for future service modules still under negotiation.
For comparison, SpaceX's manned Dragon capsule, already flying, cost NASA less than $6 billion total, and that cost includes about a dozen manned flights, not one. It also took SpaceX 13 years to build and fly it, with much of that time consumed by delays imposed on the company by NASA.
Secondly, the IG report finally admits something I have also been saying for years, that Orion has never been the interplanetary spaceship that NASA has been claiming. The report has a section titled "Orion's Limited Utility as a Deep Space Vehicle," which states this:
The current crew module can accommodate up to four astronauts for 21 days in its 316 cubic feet of habitable space—similar in size to a minivan—and thus will not be suitable on its own for Mars missions. In contrast, NASA's notional Mars architecture, called Deep Space Transport—similar in size to a large two-bedroom apartment—will support a crew of four in 3,500 cubic feet of habitable space for a 3-year mission, with private and public crew spaces, a galley, medical and exercise systems, and research stations. Orion's involvement in a Mars mission would thus be limited to transport of astronauts to and from the Gateway at the beginning and conclusion of the mission. [emphasis mine]
In other words, Orion is really nothing more than an over-priced and over-designed ascent and decent capsule that can provide ferrying services to lunar orbit. It is not the interplanetary spaceship that NASA has been touting publicly for years. SpaceX could provide NASA the same capability, do it now, and do it for far less.
The report also outlines the on-going cost overruns and schedule delays at Lockheed Martin. Despite being giving ungodly amounts of money, the company continues to go over budget and deliver late. Moreover, NASA awarded Lockheed Martin the follow-on contract to build future Orions (assuming Congress approves the full Artemis program) without competitive and open bidding, despite these cost overruns and scheduling delays.
Overall this IG report is quite damning. It illustrates the corruption and failure of our leaders and their bureaucracy in Washington, going back almost twenty years. They can't get the job done, and they lie about it continually. It is past time for these people to be fired, with the work given to someone else.
And that someone else should be free Americans, in the private sector, doing what they wish to do.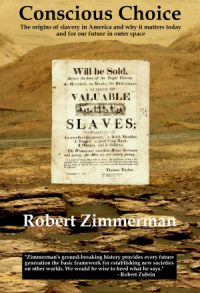 Now available in hardback and paperback as well as ebook!
From the press release: In this ground-breaking new history of early America, historian Robert Zimmerman not only exposes the lie behind The New York Times 1619 Project that falsely claims slavery is central to the history of the United States, he also provides profound lessons about the nature of human societies, lessons important for Americans today as well as for all future settlers on Mars and elsewhere in space.
Conscious Choice: The origins of slavery in America and why it matters today and for our future in outer space
, is a riveting page-turning story that documents how slavery slowly became pervasive in the southern British colonies of North America, colonies founded by a people and culture that not only did not allow slavery but in every way were hostile to the practice.
Conscious Choice
does more however. In telling the tragic history of the Virginia colony and the rise of slavery there, Zimmerman lays out the proper path for creating healthy societies in places like the Moon and Mars.
"Zimmerman's ground-breaking history provides every future generation the basic framework for establishing new societies on other worlds. We would be wise to heed what he says." —Robert Zubrin, founder of founder of the Mars Society.
All editions are available at Amazon, Barnes & Noble, and all book vendors, with the ebook priced at $5.99 before discount. The ebook can also be purchased direct from my ebook publisher, ebookit, in which case you don't support the big tech companies and I get a bigger cut much sooner.
Autographed printed copies are also available at discount directly from me (hardback $24.95; paperback $14.95; Shipping cost for either: $5.00). Just email me at zimmerman @ nasw dot org.