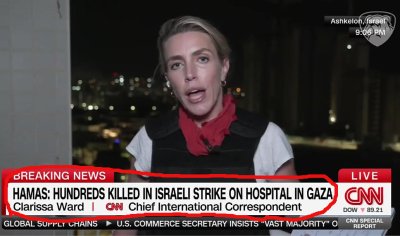 Lies from CNN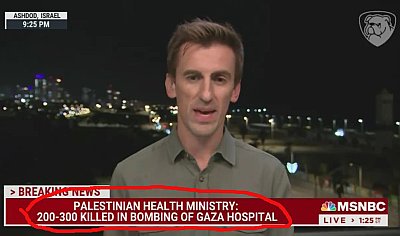 Lies from MSNBC
Before Israel began its full scale ground assault on Gaza and the Hamas tunnels two weeks ago, the general consensus from practically every expert interviewed or writing about the attack assumed it would be long, hard, and difficult, taking many months before Israeli troops were able to take control of the Gaza strip and render Hamas impotent.
A good example of that analysis can be seen in this October 13, 2023 article. To quote:
When the huge force Israel has amassed is finally given the orders to enter Gaza and destroy Hamas, they will face a deeply dug-in, well-armed enemy with thousands of anti-tank weapons, drones, and small arms on the most complex battlefield there is. Hamas will be fighting from tunnels, sewers, and strong points set up in high-rise buildings and rubble. They will rake incoming troops with machine guns from alleyways and windows, as well as employ heavier weapons from rooftops and prepared cover, and then melt into the urban maze that makes up much of the Gaza Strip. There will be no element of surprise for this sojourn into deeply hostile territory.

Israeli troops "will face the greatest challenge of their lifetime," John Spencer, chairman of urban warfare studies at the Modern War Institute (MWI) at West Point told The War Zone. "Attacking a defended city like this will be combat in hell. I do believe they can do it, but the cost will be high in urban warfare like this, since they will be attacking multiple cities."
All the experts generally predicted the offensive would take months, and would involve huge casualties on the Israeli side.
I however predicted that the offensive, though not easy, would unfold far faster than these predictions.
This invasion will not be easy, but I also suspect it will not be as hard as many have suggested. Hamas's power is mostly that of a bully, all threats and violence against the weak and helpless, with little real military capabilities. Israel now enraged is neither weak nor helpless. It will steadily but implacably work its way through Hamas's tunnel system, but I think it will do so within a month.
Based on this report today, the experts now admit their pessimistic assessments were all wrong, and my analysis was right.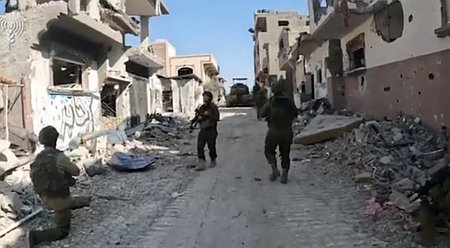 Israel soldiers move through a Gazan street
The IDF's tactical success so far in its nearly two-week-old ground incursion into Gaza – cutting the north from the south and entering Gaza City with limited troop casualties – has surprised some observers. There have been 32 Israeli troops killed during the incursion, according to The Times of Israel, which is far fewer than anticipated. The IDF said it is killing fighters and destroying scores of tunnel shafts and other Hamas infrastructure during its advance that has reached the Mediterranean Sea coast. Still, the mounting casualty toll and displacement of civilians remains a grave cause for concern as outrage grows and calls for a ceasefire increase.

"I am surprised by their advancements," John Spencer, chairman of urban warfare studies at the Modern War Institute (MWI) at West Point told The War Zone Wednesday. "They are using good tactics and good teaming of combined arms – engineers, armor, mechanized and dismounted enemy." The IDF is "destroying tunnels as they go and methodically clearing up to their fighting positions, which isolates objectives effectively," he said.

Hamas "is surprisingly not good at resisting," said Spencer, who was one of the experts we spoke to in our assessment of the challenges Israel would face in a ground incursion. [emphasis mine]
The article then quotes several more respected Middle East experts, all of which expressed the same surprise that the offensive has been so successful with so few casualties.
Why did I get it right, and these military experts get it wrong?
Before I answer that question we must also look at one other fact. Since the start of the offensive the mainstream media, including the links above, have consistently accepted on face the high and terrible casualty numbers — numbering so far over 10,000 with 40% claimed to be children — given to them by the same Hamas health organization that had falsely claimed Israel had bombed a hospital and killed 500 people (Israel didn't bomb the hospital, it was a Hamas rocket. It also didn't hit the hospital but its parking lot. The casualties from the rocket are now estimated to be between 10 to 50.)
No reliable news source should even repeat any further claims made by such demonstratively unreliable source, and if they do, the claims should be carefully framed as very unreliable.
That distrust should be underlined by the general absurdity of these Hamas casualty claims. Based on the fighting and the number of Israel casualties and the various reports, it appears no more than 1,000-2,000 people have so far died — from both sides — and it is very likely almost none have been children considering Israel's never-ending relentless effort to avoid civilian deaths.
The media however has routinely shown little if any skepticism of Hamas's claims. For example, this is how Reuters reported the numbers yesterday:
Palestinian officials said 10,569 people had been killed as of Wednesday, 40% of them children. Israel says 33 of its soldiers have been killed.
No caveats, no sense of any skepticism of the Hamas claims. In fact, the entire Reuters article depends highly on Hamas sources, and takes them all at their word, despite the fact that we know they lie, and their claimed numbers make no sense if you spend even a few seconds thinking about them.
And it is here you have the answer to my question above. Even if we assume the experts and these news sources are trying to do an honest job, they themselves have either been conned or have fooled themselves into accepting Hamas's claims in all things. Hamas says Israel killed thousands? It must be true! Hamas claims it is a powerful fighting force well prepared to maintain a guerrilla war against Israel for years. It must be true! Hamas has a noble cause and Israel is an occupier. It. must. be. true!
While good analysis of any major news story should not accept on face value any claims by the participants, it most certainly must not accept the claims of a source known to lie. And yet, the mainstream press and the experts it has relied on have accepted and continue to accept what Hamas tells them, with no skepticism, to the point that several media sources (Reuters, CNN, AP, and the New York Times) allowed themselves to be used by Hamas as propaganda outlets. Their blind passion to get the story combined with their willingness to repeatedly accept the words of an organization not only known to repeatedly lie but to rape, torture, and slaughter women, children, and babies caused them to misread the situation badly.
Others might not be so kind, and will instead say this poor analysis was because many of these news organizations and the experts they relied on have taken sides. They see Hamas as the good guy and victim, and Israel as the bad guy and oppressor. Thus, their analysis is warped because they assume Israel is lying and Hamas is telling them the truth.
This conclusion is certainly possible with some news organizations and some experts, but it is a mistake to rely on it entirely. For example, many of the military experts quoted in the articles above were from Israel itself. Yet they too were fooled, and thought Hamas was stronger than it is.
The bottom line remains: If you want to understand what is going on it is essential you try with all your might to remain skeptical of everyone, but in the end you also have to factor in who lies most, and the nature of the participants themselves. Leave these essential factors out and you will miss the target every time.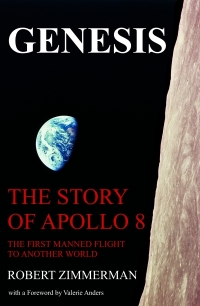 On Christmas Eve 1968 three Americans became the first humans to visit another world. What they did to celebrate was unexpected and profound, and will be remembered throughout all human history. Genesis: the Story of Apollo 8, Robert Zimmerman's classic history of humanity's first journey to another world, tells that story, and it is now available as both an ebook and an audiobook, both with a foreword by Valerie Anders and a new introduction by Robert Zimmerman.
The ebook is available everywhere for $5.99 (before discount) at
amazon
, or direct from my ebook publisher,
ebookit
. If you buy it from
ebookit
you don't support the big tech companies and the author gets a bigger cut much sooner.
The audiobook is also available at all these vendors, and is also
free with a 30-day trial membership to Audible.
"Not simply about one mission, [Genesis] is also the history of America's quest for the moon... Zimmerman has done a masterful job of tying disparate events together into a solid account of one of America's greatest human triumphs."--San Antonio Express-News