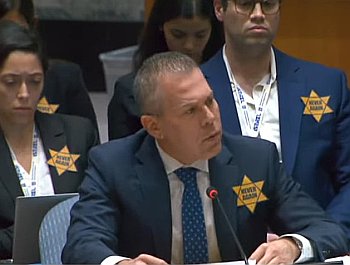 The Israeli UN ambassador and his staff wearing
yellow stars to shame the world's diplomatic com-
munity for its willingness to appease mass murderers.
For Israel, it is now quite apparent that the mass murder by Hamas of more than a thousand Israeli civilians, including women, children, and babies, was not perceived as just another terrorist attack requiring a measured and surgical response.
No, in this case the entire nation of Israel, from the secular left to religious right, has finally recognized that Hamas had long ago declared war on the Jewish people, and the massacre on October 7th was its way of underlining that state of war.
Israel is now responding in kind, just as the United States did after Pearl Harbor. After that attack on December 7, 1941, American were resolved that they were in a war of survival that could not end until the Axis powers of Germany and Japan were utterly obliterated. There would be no ceasefire or negotiations, as had happened at the end of World War I.
For the Israelis, October 7th is their day of infamy. It is for this reason that the Israeli ambassador put on a yellow star yesterday, similar to the Star of David the Nazis forced Jews to wear, but with the words "Never Again" emblazoned thereon. He then bluntly told the appeasers at the United Nations:

Israel has made its choice. We were attacked by the Hamas Nazis. We were shown that genocide and Jew hatred did not die with Hitler. It bubbled and grew until it invaded our homeland. But the difference between 1939 and today is that today Jews have a strong state and a powerful military. We are not defenseless. We are Lions of Judah and we will defend ourselves against those that seek to annihilate us.
Israel's defense minister underlined this point himself yesterday, "Hamas has two choices, either to die fighting the IDF, or to surrender with no terms."
These words ring with the same moral authority of Roosevelt, Churchill, and Eisenhower at the start of World War II. The Nazis were brutal murderous savages. So is Hamas. To such people it is pointless to negotiate. They must surrender, or die.
Thus, the Israeli invasion of Gaza has now truly begun. The delay at the start was not to placate the pleas of Joe Biden and others to temper or delay it, but to prepare properly for an aggressive no-holds-barred military attack.
Israel no longer cares what the world thinks, especially if the world is willing to look the other way when mass murders take place. For decades Hamas has demanded that Israel surrender and die. It proved to the world this was its position on October 7th. Israel has decided to take Hamas at its word, and give it the same or more. It is going into Gaza, and it will do it aiming for total victory and nothing less.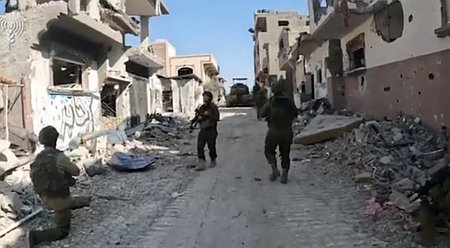 The slow start was instead designed I think for tactical reasons that had both military and political components. By beginning slowly, first with only a short in-road that pulled back immediately, then to longer incursions that were permanent but only on the outskirts of Gaza, and finally to the full invasion now, Israel was making sure it was on solid military ground. Rather than rush forward and possibly leave snipers or insurgents in its rear, it has gained ground with strength and completion. Wherever it has moved it has done so with thoroughness. This careful action has also worked to minimize civilian deaths in Gaza. Note the lack of anyone but Israeli soldiers in the picture to the right, released by the Israel military. They have fled, or they are in hiding ready to surrender if surrounded.
Politically the slow roll-out of the invasion has helped muffle the guaranteed screams of outrage from Hamas's supporters in the UN and the Democratic Party in the U.S. These backers of genocide and mass murder did not have a single sudden military action of violence to react to. Thus, they did not have the right visuals to use against Israel, and so their protests were muted.
At the very start of the American Civil War, William Tecumsah Sherman was the superintendent of the Louisiana State Military Academy where he was surrounded by hot-headed southerners calling for secession and war. His response still rings true, and is something that Hamas's hate-filled leaders should have considered.
You people of the South don't know what you are doing. This country will be drenched in blood, and God only knows how it will end. It is all folly, madness, a crime against civilization! You people speak so lightly of war; you don't know what you're talking about. War is a terrible thing.

He added, "You are rushing into war with one of the most power, ingeniously mechanical and determined people on earth — right at your doors. You are bound to fail."
Sherman himself demonstrated that "terrible thing" to the South when he marched from Atlanta to the sea in 1864.
Israel is about to do the same to Gaza. It has no choice, because Hamas — and the people of Gaza — have left it none. And in the end, it will be Gaza, not Israel, that will suffer the most. They wanted war, and now they have it.
One last point: This invasion will not be easy, but I also suspect it will not be as hard as many have suggested. Hamas's power is mostly that of a bully, all threats and violence against the weak and helpless, with little real military capabilities. Israel now enraged is neither weak nor helpless. It will steadily but implacably work its way through Hamas's tunnel system, but I think it will do so within a month.
Israel will then begin the careful process of rebuilding a Gaza that is under its control. It will carefully let its residents return, bit by bit, even as it identifies and captures every person who was an active member of Hamas.
It will then try to return Gaza to the much more prosperous and peaceful place it was prior to 2006, when the Israeli's left and Hamas took over. Before Hamas the people in Gaza routinely entered Israel to work, and had a similar standard of living as the Arabs have inside Israel, which also happens to be the highest for Arabs across the Middle East. Israel's goal then had been to live together as neighbors. It is still its goal.
All it requires is a willingness of the Gazans to join them in achieving it.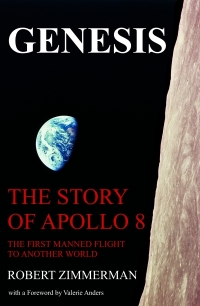 On Christmas Eve 1968 three Americans became the first humans to visit another world. What they did to celebrate was unexpected and profound, and will be remembered throughout all human history. Genesis: the Story of Apollo 8, Robert Zimmerman's classic history of humanity's first journey to another world, tells that story, and it is now available as both an ebook and an audiobook, both with a foreword by Valerie Anders and a new introduction by Robert Zimmerman.
The ebook is available everywhere for $5.99 (before discount) at
amazon
, or direct from my ebook publisher,
ebookit
. If you buy it from
ebookit
you don't support the big tech companies and the author gets a bigger cut much sooner.
The audiobook is also available at all these vendors, and is also
free with a 30-day trial membership to Audible.
"Not simply about one mission, [Genesis] is also the history of America's quest for the moon... Zimmerman has done a masterful job of tying disparate events together into a solid account of one of America's greatest human triumphs."--San Antonio Express-News