The fascist Democratic Party mayor of Los Angeles, Eric Garcetti, issued an edict last month shutting down all restaurants, including all outdoor dining. Yet, he allowed a movie company to set up its outdoor catering services that offer the same service, in the parking lot in front of the shuttered restaurant, about-to-become bankrupt because of his edict.
But according to Angela Marsden, owner of Pineapple Hill Saloon & Grill in Sherman Oaks, local officials permitted a TV production to skirt the rules. Shockingly, the Hollywood crew had set up outdoor eating areas just feet from Marsden's restaurant.

In her blistering rant, Marsden blasted Garcetti and Newsom for prioritizing Hollywood over small businesses like hers. "So this is my place, the Pineapple Hill Grill & Saloon. If you go to my page you can see all the work I did for outdoor dining, for tables being seven feet apart," Marsden said. "And I come in today because I'm organizing a protest and I came in to get stuff for that."

"And I walk into my parking lot — and obviously Mayor Garcetti has approved … this," she continued, pointing to the production setup, including tables for outdoor dining to be used by the production crew, "has approved this being set up for…this being set up for…for a movie company."
You must watch her video here. As she says in tears, pointing at her patio, "This is dangerous!" She then points to the movie catering area, which looks exactly the same, if not larger, less than thirty feet away. "And that is safe?" As she notes, "It's a slap in my face!"
Remember too that this is all part of a lockdown in March that was only supposed to last 15 days, in order "to flatten the curve." A lie, of course, as have been almost everything coming out of the mouths of government health officials since day one of this epidemic. But then, lying has become standard practice from almost every establishment official in Washington, elected or not, for the last four years, on almost every subject. Trump was colluding with Russia! He colluded with Ukraine! No one in the Obama administration ever spied on him! Trump put kids in cages (built by Obama based on Obama's policy)! And of course, endlessly: Trump is a racist!
I could go on. They lie, and they lie again, and then they top it off with more lies.
And we are supposed to believe them when they say the vote wasn't rigged? By this time only fools and children should accept the words out of anyone in government.
If the petty dictators in state governments don't reconsider and stop destroying so many people's lives, they shall soon see a lot of blood, and it will be their blood, because those same people will have no choice but to shed it in desperation. Politicians be warned.
I don't wish it. I only know, as a historian, that this is what will happen if things don't change soon. And if you don't believe me you need only read a little bit of history.
Let me add that Julie Kelly says much the same in this essay: Shut up and take it. And I think she says it more thoroughly.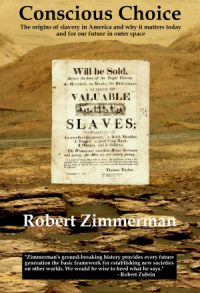 Now available in hardback and paperback as well as ebook!
From the press release: In this ground-breaking new history of early America, historian Robert Zimmerman not only exposes the lie behind The New York Times 1619 Project that falsely claims slavery is central to the history of the United States, he also provides profound lessons about the nature of human societies, lessons important for Americans today as well as for all future settlers on Mars and elsewhere in space.
Conscious Choice: The origins of slavery in America and why it matters today and for our future in outer space
, is a riveting page-turning story that documents how slavery slowly became pervasive in the southern British colonies of North America, colonies founded by a people and culture that not only did not allow slavery but in every way were hostile to the practice.
Conscious Choice
does more however. In telling the tragic history of the Virginia colony and the rise of slavery there, Zimmerman lays out the proper path for creating healthy societies in places like the Moon and Mars.
"Zimmerman's ground-breaking history provides every future generation the basic framework for establishing new societies on other worlds. We would be wise to heed what he says." —Robert Zubrin, founder of founder of the Mars Society.
All editions are available at Amazon, Barnes & Noble, and all book vendors, with the ebook priced at $5.99 before discount. The ebook can also be purchased direct from my ebook publisher, ebookit, in which case you don't support the big tech companies and I get a bigger cut much sooner.
Autographed printed copies are also available at discount directly from me (hardback $24.95; paperback $14.95; Shipping cost for either: $5.00). Just email me at zimmerman @ nasw dot org.