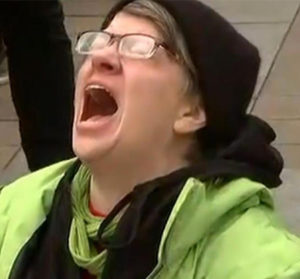 This is an actual Democrat's
respond to Trump's 2016 victory
For four years, since his election, Donald Trump has been met with a never-ending wave of hatred, hostility, and downright total opposition by the Democratic Party and its many very partisan supporters in the mainstream press, the academic community, and in the general public.
If you are conservative, I am sure you've all seen it. Not only has it been impossible these past four years to have a reasonable conversation with Democrats about Donald Trump, your opinions and thoughts are routinely treated with insulting contempt and scorn when you tried. Trump was a racist and evil, despite there being no credible evidence to that effect, and if you tried to find out what the evidence was for such a slander you were immediately slandered and called the same.
Trump himself has faced this same level of irrational hate continuously since his election. And it is irrelevant that he often descends to the same tactics. In the climate created by the left since the Obama administration legitimized the use of slander in political discourse, what other choice did he have if he wished to survive?
Lies in fact has too often comprised the only tactic used by the Democratic Party and the left since Trump's arrival. They lied when they claimed he was an agent of Russia. They lied when they claimed Russia was working to get him re-elected.
They lied when they said no one in the Obama administration spied on Trump's campaign, when in fact that spying was pervasive and continuous, even before Trump took office.
They lied when they claimed Trump had built cages to put illegal immigrant children in cages, when in fact those chain-link enclosures had been built by the Obama administration.
They lied when they claimed Trump had expressed support for neo-Nazis in Charlottesville, when he had instead repeatedly condemned such positions, clearly and forcefully. One only had to read or listen to his remarks to see this..
They used lies and slanders in their effort to prevent the confirmation of Brett Kavanaugh.
Democrats have even gone so far as try to blame every single COVID-19 death on Trump, a ridiculous and disgusting accusation on its face.
And they lied when they tried to impeach Trump, claiming he was trying to instigate a fake investigation into his political opponent, Joe Biden, when in fact Trump's concerns were valid, Biden had used his position as vice president to garner payoffs from Ukrainian business interests.
This list is only a sampling. I am sure my readers can cite numerous other examples.
In every case, the lies and slanders thrown out by Democrats since 2016 have been proved to be exactly that, lies and slanders. Never once did any of their absurd charges stick. Even their own hand-picked investigators in the Mueller investigation could find nothing.
Worse, even after every one of these accusations was unequivocally proven to be a bald-faced lie, Democrats and their supporters continued to spout them. The proven facts meant nothing. Their hatred of Trump was all that mattered.
These lies were all rooted in one basic fact: From the day Trump won the 2016 election, the Democratic Party and its partisan supporters in the press, academia, and the general public have refused to accept the results of that election. Granted Hillary Clinton won the popular election, but that is not how our presidents are chosen. They must win a majority in the electoral college, and Democratic support is heavily concentrated in the high population coastal states. It does not matter if their presidential candidate wins in a big landslide in those states. The larger victory margin there gets them no additional electoral votes.
To win, you have to convince the entire country, geographically. Hillary Clinton did not do this, and lost legally.
And yet, from the moment the votes were counted the Democrats made a concerted effort to discredit the count. The problem wasn't that the Democrats were questioning the results. All candidates and their political parties have that right. The problem was that when it was clear there was no evidence the votes were illegitimate at no time ever did they accept this fact. For example, this is Hillary Clinton in May 2019: "You can run the best campaign, you can even become the nominee, and you can have the election stolen from you." And again in September 2019: "[Trump] is an illegitimate president."
Clinton reflected the intellectually dishonest attitude of the entire Democratic Party and its supporters. Time and again I would come across Democrats who bluntly told me they thought the 2016 vote was stolen, and Clinton should be the president. None could ever cite any evidence. All would become insulting when I asked for it.
Failing to find evidence that the count was wrong, Democrats then banded together to resist the Trump presidency. For the past four years the only real policy position expressed by Democrats has been simply to oppose anything Trump proposed, completely and utterly.
This why this Babylon Bee satirical post rang true and was also so funny: In Genius Move, Trump Supports Impeachment, Forcing Democrats To Oppose.
The Democratic Party opposition to Trump had almost gotten that ridiculous.
What has made this opposition especially harmful is that it has now expanded beyond Trump to an outright hatred of all his supporters. It has now been used as a justification for violence, looting, and doxxing of those ordinary Republicans, including sometimes even attacks on children.
The Democrats are now reaping what they sowed. Their lies for the past four years has destroyed any trust by Republicans of anything Democrats do. It is perfectly reasonable today for Republicans to doubt the results of this election, to suspect a fraud perpetuated by the Democrats. Those same Democrats have demonstratively shown their willingness to lie and cheat about almost every political issue for years. That they are also now fighting any investigation or audit of the election count only increases that distrust.
The increasingly dismal future
I have made it somewhat clear a number of times that I am in great despair about this situation. I however am not in despair of the possibility of a Trump loss (though I admit I do not wish for such a loss). I can accept a Biden presidency, especially if the vote is reviewed and recounted properly.
What fills me with despair is that it is now impossible to have a fair election that both sides will accept. Everyone has become angrily partisan, which means that everyone has stopped thinking. The only thing that matters is to win, by any means necessary.
If people were thinking fairly — especially the Democrats — there would be little or no resistance from anyone in trying to clear up today's doubts about the 2020 election. Democrats, in good will, would respect the Republicans doubts and work to ease them. They would also be willing to accept the possibility of a Biden loss should the evidence require it.
They do not. They have no good will. Instead the Democrats respond with anger, hate, and attacks. This is the same treatment Trump received for four years, and like him, Republicans are now responding in kind.
Thus, I can predict that come inauguration day on January 20, 2021 half the country is going to be spitting mad, no matter who ends up taking the oath of office.
In such a situation rational thought and the rule of law are both abandoned, and the only option is war, violence, and endless hate. We can already see this occurring during protests. Routinely violence now breaks out. And though that violence has so far always been instigated by Democratic Party partisans, it is increasingly forcing Republicans to respond in the same manner.
The nation is descending into a McCoy-Hatfield-type feud, that will last generations, accomplish nothing positive, and lead to the decline of civilization.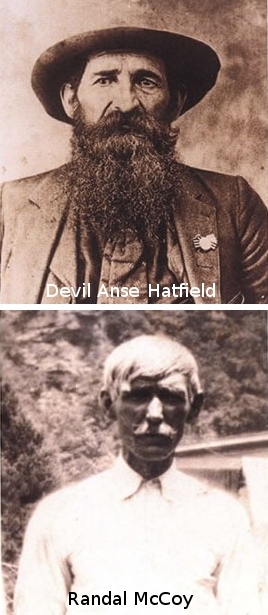 The worst part of this is that I can see no way out. The only way this can change is if the Democrats and their partisan supporters finally admit that in a open and free society you don't always get what you want, and the opposition party has a right to exist.
I see no evidence of this happening. It remains impossible to have a rational and civilized conversation about these issues with almost every Democratic Party supporter. At no time do they ever admit that they might be mistaken, that there might indeed be issues with the vote count, and these issues should be addressed.
Instead, they dismiss the evidence with a wave of the hand, and have turned to censorship, persecution, blackballing, and the silencing of dissenting views, rather than open debate.
And it appears that in self defense, Republicans are increasingly responding in turn with fury, anger, and mindless passion, which can only lead to a worsening of the situation. And because of the intransigence of the Democrats, they have no choice.
In his play Caesar and Cleopatra, George Bernard Shaw ably captured this terrible state of affairs, and how foolish it is. Cleopatra has had an enemy assassinated, thinking that will cement her place on the throne. A mob of the murdered man's supporters storm the palace.
[The uproar in the streets again reaches them.]
Caesar: Do you hear? These knockers at your gate are also believers in vengeance and in stabbing. You have slain their leader: it is right that they shall slay you. If you doubt it, ask your four counselors here. And then in the name of that right [he emphasizes the word with great scorn] shall I not slay them for murdering their Queen, and be slain in my turn by their countrymen as the invader of their fatherland? Can Rome do less then slay these slayers, too, to show the world how Rome avenges her sons and her honor.

And so, to the end of history, murder shall breed murder, always in the name of right and honor and peace, until the gods are tired of blood and create a race than can understand.
This is the path we are traveling, and until I find one Democrat partisan willing to admit to the possibility they might be wrong, and is willing to sincerely look at the data I and other Republicans present, I do not expect that path to deviate much from this dark road.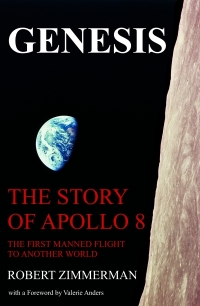 On Christmas Eve 1968 three Americans became the first humans to visit another world. What they did to celebrate was unexpected and profound, and will be remembered throughout all human history. Genesis: the Story of Apollo 8, Robert Zimmerman's classic history of humanity's first journey to another world, tells that story, and it is now available as both an ebook and an audiobook, both with a foreword by Valerie Anders and a new introduction by Robert Zimmerman.
The ebook is available everywhere for $5.99 (before discount) at
amazon
, or direct from my ebook publisher,
ebookit
. If you buy it from
ebookit
you don't support the big tech companies and the author gets a bigger cut much sooner.
The audiobook is also available at all these vendors, and is also
free with a 30-day trial membership to Audible.
"Not simply about one mission, [Genesis] is also the history of America's quest for the moon... Zimmerman has done a masterful job of tying disparate events together into a solid account of one of America's greatest human triumphs."--San Antonio Express-News