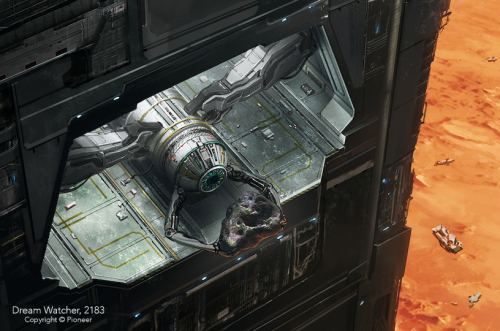 From Pioneer: The asteroid mining ship Dream Watcher docked
on the Mars space station Landville, c2183.
Back in January, 2021 I wrote an essay, Pioneers and the Future, touting the coming Kickstarter campaign for a digital game based on my science fiction book, Pioneer, that we then expected to start in only a few short weeks. As I concluded,
Very shortly a crowd-funding project will launch, based on my book Pioneer itself. An adventure video game using a graphic novel style has been under development for the past two years and will launch as a crowdfunding project in just a matter of weeks. Both illustrations in this essay come from that project. The producers will be offering some exclusive and limited rewards for supporters, both from themselves and from me personally, so keep an eye on Behind the Black for announcements. You will want to be the first through the door when this project launches.
Not surprisingly, a number of ongoing issues related to COVID as well as casting forced a delay in that campaign.
No more! On January 18, 2022, the Kickstarter campaign for this new video game, Pioneer 2140CC, based on my science fiction book Pioneer, will begin.
The webpage for the game and the campaign can be found at PioneerSpaceGame.com. The press release can be read here.
Tokyo, Japan – Enterstellar Studios is excited to announce that Pioneer 2140CC, a visual novel style, sci-fi space video game, will launch on Kickstarter January 18th, 2022. Pioneer 2140CC is based on the book Pioneer, written in 1983 by famed space historian, radio personality, and cave explorer Robert Zimmerman, who writes about space, science, and culture at his website Behind the Black. The Kickstarter campaign will run from January 18th until February 24th and offer unique physical and rare NFT (non-fungible token) rewards. A minimum funding goal is set at $73,000 USD
The press release outlines many of the game's planned highlights, as well as the limited and exclusive rewards available for those who donate to the campaign.
The creator of the game, Aaron Jenkin, has worked with me tirelessly for the past four years developing the game so that it will not only be a great video game, it will also faithfully capture accurately Pioneer's story, characters, ideas, and fast-paced action. I have been endlessly impressed with the quality of Aaron's work, as well as the top-notch artists he had brought into the project from day one.
So, if you like video games as well as science fiction, this game is for you! Give it a look, and when January 18, 2022 rolls around please consider donating generously so that Aaron can make Pioneer 2140CC a reality!
Readers!
I must unfortunately ask you for your financial support because I do not depend on ads and rely entirely on the generosity of readers to keep Behind the Black running. You can either make a one time donation for whatever amount you wish, or you sign up for a monthly subscription ranging from $2 to $15 through Paypal or $3 to $50 through Patreon.
Your support will allow me to continue covering science and culture as I have for the past twenty years, independent and free from any outside influence.
Your support is even more essential to me because I not only keep this site free from advertisements, I do not use the corrupt social media companies like Google, Twitter, and Facebook to promote my work. I depend wholly on the direct support of my readers.
You can provide that support to Behind The Black with a contribution via Patreon or PayPal. To use Patreon, go to my website there and pick one of five monthly subscription amounts, or by making a one-time donation. For PayPal click one of the following buttons:

If Patreon or Paypal don't work for you, you can support Behind The Black directly by sending your donation by check, payable to Robert Zimmerman, to


Behind The Black
c/o Robert Zimmerman
P.O.Box 1262
Cortaro, AZ 85652


Or you can donate by using Zelle through your bank. You will need to give my name and email address (found at the bottom of the "About" page). The best part of this electronic option is that no fees will be deducted! What you donate will be what I receive.