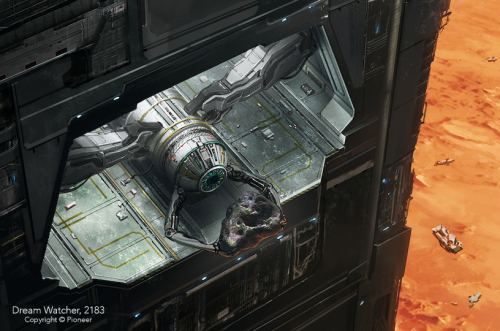 From Pioneer: The asteroid mining ship Dream Watcher docked
on the Mars space station Landville, c2183.
Back in January, 2021 I wrote an essay, Pioneers and the Future, touting the coming Kickstarter campaign for a digital game based on my science fiction book, Pioneer, that we then expected to start in only a few short weeks. As I concluded,
Very shortly a crowd-funding project will launch, based on my book Pioneer itself. An adventure video game using a graphic novel style has been under development for the past two years and will launch as a crowdfunding project in just a matter of weeks. Both illustrations in this essay come from that project. The producers will be offering some exclusive and limited rewards for supporters, both from themselves and from me personally, so keep an eye on Behind the Black for announcements. You will want to be the first through the door when this project launches.
Not surprisingly, a number of ongoing issues related to COVID as well as casting forced a delay in that campaign.
No more! On January 18, 2022, the Kickstarter campaign for this new video game, Pioneer 2140CC, based on my science fiction book Pioneer, will begin.
The webpage for the game and the campaign can be found at PioneerSpaceGame.com. The press release can be read here.
Tokyo, Japan – Enterstellar Studios is excited to announce that Pioneer 2140CC, a visual novel style, sci-fi space video game, will launch on Kickstarter January 18th, 2022. Pioneer 2140CC is based on the book Pioneer, written in 1983 by famed space historian, radio personality, and cave explorer Robert Zimmerman, who writes about space, science, and culture at his website Behind the Black. The Kickstarter campaign will run from January 18th until February 24th and offer unique physical and rare NFT (non-fungible token) rewards. A minimum funding goal is set at $73,000 USD
The press release outlines many of the game's planned highlights, as well as the limited and exclusive rewards available for those who donate to the campaign.
The creator of the game, Aaron Jenkin, has worked with me tirelessly for the past four years developing the game so that it will not only be a great video game, it will also faithfully capture accurately Pioneer's story, characters, ideas, and fast-paced action. I have been endlessly impressed with the quality of Aaron's work, as well as the top-notch artists he had brought into the project from day one.
So, if you like video games as well as science fiction, this game is for you! Give it a look, and when January 18, 2022 rolls around please consider donating generously so that Aaron can make Pioneer 2140CC a reality!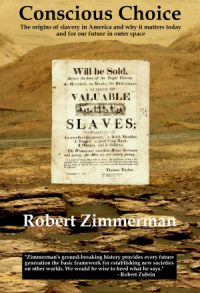 Now available in hardback and paperback as well as ebook!
From the press release: In this ground-breaking new history of early America, historian Robert Zimmerman not only exposes the lie behind The New York Times 1619 Project that falsely claims slavery is central to the history of the United States, he also provides profound lessons about the nature of human societies, lessons important for Americans today as well as for all future settlers on Mars and elsewhere in space.
Conscious Choice: The origins of slavery in America and why it matters today and for our future in outer space
, is a riveting page-turning story that documents how slavery slowly became pervasive in the southern British colonies of North America, colonies founded by a people and culture that not only did not allow slavery but in every way were hostile to the practice.
Conscious Choice
does more however. In telling the tragic history of the Virginia colony and the rise of slavery there, Zimmerman lays out the proper path for creating healthy societies in places like the Moon and Mars.
"Zimmerman's ground-breaking history provides every future generation the basic framework for establishing new societies on other worlds. We would be wise to heed what he says." —Robert Zubrin, founder of founder of the Mars Society.
All editions are available at Amazon, Barnes & Noble, and all book vendors, with the ebook priced at $5.99 before discount. The ebook can also be purchased direct from my ebook publisher, ebookit, in which case you don't support the big tech companies and I get a bigger cut much sooner.
Autographed printed copies are also available at discount directly from me (hardback $24.95; paperback $14.95; Shipping cost for either: $5.00). Just email me at zimmerman @ nasw dot org.