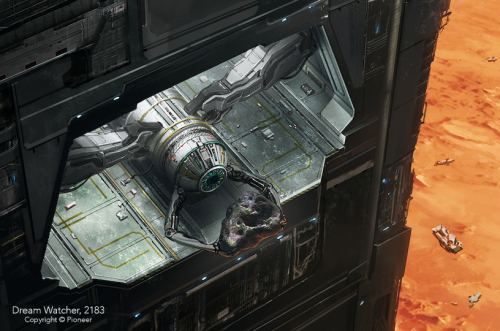 From Pioneer: The asteroid mining ship Dream Watcher docked
on the Mars space station Landville, c2183.
When I first wrote my sole science fiction book, Pioneer, back in the mid-1980s, I strongly believed (and still do) that for the human race to prosper in space and truly build new civilizations on other worlds, freedom, private enterprise, and courage would be required.
It was for this reason there is absolute no mention of NASA in the book. Unlike most modern movies that idolize this mostly dysfunctional government agency and see it as the only solution for accomplishing anything in space (watch The Martian again to see what I mean), I knew that while government will be strongly involved in space exploration for the foreseeable future, for anything to get done quickly those governments will best step aside and figure out how to let their citizens both freely do it and also own what they do.
This weekend's aborted SLS static fire test illustrates my point perfectly. Rather than depend on private enterprise to get this rocket built, both George Bush Jr. and Congress decided to give the job to their government bureaucrats. The result has been nothing for now over a decade.

Meanwhile, in only two years a private company, SpaceX, using private investment capital entirely, has already test flown the upper stage of what will be a more powerful rocket, and more importantly, will be reusable rather than the expendable SLS rocket that NASA and Congress has had Boeing build.
My guess in the 1980s was that freedom and capitalism would make self-sufficient human settlements on Mars possible by the 2170s, with at the same time an independent nation established on the Moon after those colonists rebelled from the hidebound bureaucracies on Earth.
Is that timeline still possible? The present does not look hopeful. Freedom and private enterprise will be essential for building viable and growing settlements on other worlds, and both are now very threatened by the worldwide movement to stronger and more dominant government rule.
A more important factor for delaying the exploration of the solar system might be that third factor, the need for courage. The speed in which almost all of civilization worldwide panicked over COVID-19, and now demands masks, quarantines, and strict shutdowns if there is even a hint of this flu-like virus that only kills less than 1% of those it infects, strikes me as a much more serious impediment to the settlement of the stars.
Space exploration, like all pioneer activity, is dangerous. You have to accept the possibility that it can kill you, at any moment, and still forge on because the rewards are worth it. The settlement of North America for example routinely killed five to ten percent of all settlers, and yet the settlers came, and kept coming. I make this point very clear in the introduction to Pioneer, noting
…that those initial colonies will be harsh places, and as described in Pioneer will produce tough people with harsh exteriors. This is how it was for most past frontier settings, and I see no reason why it should be any different in space.
These tough individuals however had to also be brave. I worry now however whether the present culture of fear and panic can produce future generations with the same bravery. If you are now a young person you must ask yourself this question: Would you have the courage to risk your life on a rocket when you are now afraid to go outside without wearing a mask?
Nonetheless, the future still remains, and I suspect future generations will eventually tire of today's control-freak cowardly culture and rebel. The result will be, to quote Lincoln, "a new birth of freedom."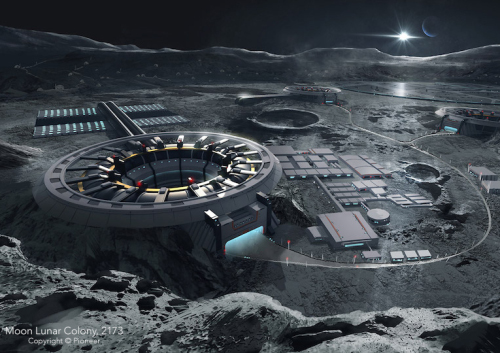 From Pioneer: A United Lunar Moon base, c2173.
I just wish I could be there to see it. It will be glorious.
As for the very near future, very shortly a crowd-funding project will launch, based on the book Pioneer itself. An adventure video game using a graphic novel style has been under development for the past two years and will launch as a crowdfunding project in just a matter of weeks. Both illustrations in this essay come from that project. The producers will be offering some exclusive and limited rewards for supporters, both from themselves and from me personally, so keep an eye on Behind the Black for announcements. You will want to be the first through the door when this project launches.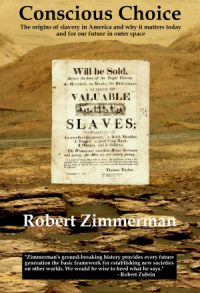 Now available in hardback and paperback as well as ebook!
From the press release: In this ground-breaking new history of early America, historian Robert Zimmerman not only exposes the lie behind The New York Times 1619 Project that falsely claims slavery is central to the history of the United States, he also provides profound lessons about the nature of human societies, lessons important for Americans today as well as for all future settlers on Mars and elsewhere in space.
Conscious Choice: The origins of slavery in America and why it matters today and for our future in outer space
, is a riveting page-turning story that documents how slavery slowly became pervasive in the southern British colonies of North America, colonies founded by a people and culture that not only did not allow slavery but in every way were hostile to the practice.
Conscious Choice
does more however. In telling the tragic history of the Virginia colony and the rise of slavery there, Zimmerman lays out the proper path for creating healthy societies in places like the Moon and Mars.
"Zimmerman's ground-breaking history provides every future generation the basic framework for establishing new societies on other worlds. We would be wise to heed what he says." —Robert Zubrin, founder of founder of the Mars Society.
All editions are available at Amazon, Barnes & Noble, and all book vendors, with the ebook priced at $5.99 before discount. All editions can also be purchased direct from the ebook publisher, ebookit, in which case you don't support the big tech companies and the author gets a bigger cut much sooner.
Autographed printed copies are also available at discount directly from me (hardback $24.95; paperback $14.95; Shipping cost for either: $5.00). Just email me at zimmerman @ nasw dot org.