Today Bob Balaram, the chief engineer for the Mars helicopter Ingenuity, wrote up a short essay summarizing the helicopter's successes on Mars.
This aircraft, very much also a spacecraft, has been on its own on the surface of Mars, detached from its traveling companion Perseverance, for over 500 Martian days or sols. It has operated way beyond its original planned mission of 30 sols, including surviving a brutal winter that it was not designed for. With 33 flights, almost an hour of flight time, over 7 km of travel in Jezero crater, takeoffs and landings from 25 airfields, almost 4000 navigation camera images, and 200 high-resolution color images, it has proven its worth as a scout for both scientists and rover planners. Currently, it is getting ready to use its fourth software update – this one with advanced navigation capabilities that will allow it to safely fly up the steep terrain of the Jezero river delta, scouting ahead of the rover Perseverance as it searches for signs of past life on Mars. [emphasis mine]
I have highlighted the number of flights above because Ingenuity was supposed to do a very short 34th flight on November 10th that would only have the helicopter go straight up 16 feet, hover, and then come straight back down. Yet, I have seen no postflight reports, and Ingenuity's flight log still does not include it as of today. One image from Ingenuity that was taken on November 9th has been released, and shows the ground directly below it. No other recent images of this 34th flight however have been released.
The flight could still have happened, or was scrubbed for a later time. What is important however is all those other 33 flights, and what Ingenuity's overall success has meant for future Martian exploration. As Balaram writes,

Ingenuity's success has led to NASA's decision to take two Ingenuity class helicopters on the Mars Sample Retrieval Lander scheduled for later in this decade. These Sample Recovery Helicopters, with wheels instead of feet, and a small manipulator arm with a two-fingered gripper, will, if needed, carry precious sample tubes from a sample cache depot back to the Mars ascent vehicle for launch back to Earth. A more capable Mars Science Helicopter with the ability to carry almost 5 kg of science payloads is also in early conceptual and design stages.
In June I documented what is likely that early design work, posting links to Mars Reconnaissance Orbiter high resolution photos dubbed "Candidate Mars Science Helicopter Traverse" that focused on an area on the floor of the giant canyon Valles Marineris. The overview map below shows that region.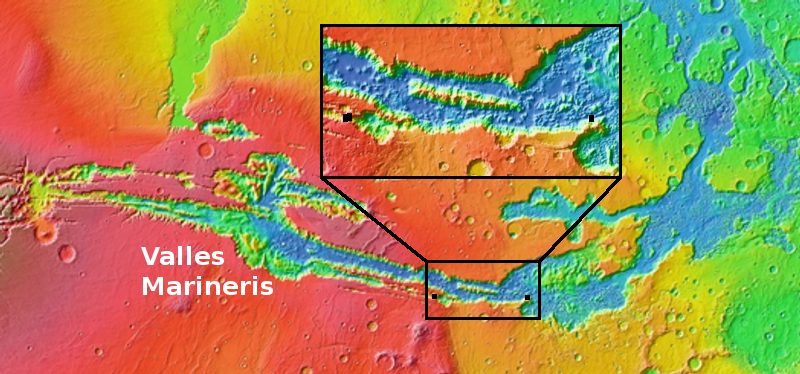 The three black dots in the close-up inset are where those three pictures were taken. It appears that the Mars planetary community is pushing for a big Mars helicopter mission that will explore this vast and rugged canyon.
Nor is this push incorrect. Balaram outlines the advantages of drone helicopters, including their ability to reach difficult terrain and their greater range, both features that make a helicopter perfect for exploring Valles Marineris.
While the mission of the two sample return helicopters to grab Perseverance's sample cores will be quite exciting, a helicopter journey in the solar system's largest canyon will top it by quite a lot.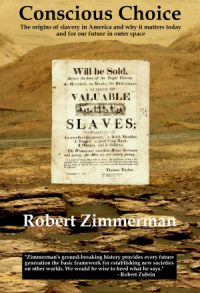 Now available in hardback and paperback as well as ebook!
From the press release: In this ground-breaking new history of early America, historian Robert Zimmerman not only exposes the lie behind The New York Times 1619 Project that falsely claims slavery is central to the history of the United States, he also provides profound lessons about the nature of human societies, lessons important for Americans today as well as for all future settlers on Mars and elsewhere in space.
Conscious Choice: The origins of slavery in America and why it matters today and for our future in outer space
, is a riveting page-turning story that documents how slavery slowly became pervasive in the southern British colonies of North America, colonies founded by a people and culture that not only did not allow slavery but in every way were hostile to the practice.
Conscious Choice
does more however. In telling the tragic history of the Virginia colony and the rise of slavery there, Zimmerman lays out the proper path for creating healthy societies in places like the Moon and Mars.
"Zimmerman's ground-breaking history provides every future generation the basic framework for establishing new societies on other worlds. We would be wise to heed what he says." —Robert Zubrin, founder of founder of the Mars Society.
All editions are available at Amazon, Barnes & Noble, and all book vendors, with the ebook priced at $5.99 before discount. The ebook can also be purchased direct from my ebook publisher, ebookit, in which case you don't support the big tech companies and I get a bigger cut much sooner.
Autographed printed copies are also available at discount directly from me (hardback $24.95; paperback $14.95; Shipping cost for either: $5.00). Just email me at zimmerman @ nasw dot org.