Even as a just published new study has shown once again the utter uselessness of masks to limit the spread of respiratory diseases like COVID-19, the control freaks of our now largely oppressive society are clamping down with new totalitarian rules requiring masks to be worn at all times, no matter what.
First let 's look at the study, which was published by the National Center for Biotechnological Information government website, a branch of the National Institute for Health. From the paper:
The physical properties of medical and non-medical facemasks suggest that facemasks are ineffective to block viral particles due to their difference in scales. According to the current knowledge, the virus SARS-CoV-2 has a diameter of 60 nm to 140 nm [nanometers (billionth of a meter)], while medical and non-medical facemasks' thread diameter ranges from 55 µm to 440 µm [micrometers (one millionth of a meter), which is more than 1000 times larger. Due to the difference in sizes between SARS-CoV-2 diameter and facemasks thread diameter (the virus is 1000 times smaller), SARS-CoV-2 can easily pass through any facemask. In addition, the efficiency filtration rate of facemasks is poor, ranging from 0.7% in non-surgical, cotton-gauze woven mask to 26% in cotton sweeter material. With respect to surgical and N95 medical facemasks, the efficiency filtration rate falls to 15% and 58%, respectively when even small gap between the mask and the face exists.

Clinical scientific evidence challenges further the efficacy of facemasks to block human-to-human transmission or infectivity. A randomized controlled trial (RCT) of 246 participants [123 (50%) symptomatic)] who were allocated to either wearing or not wearing surgical facemask, assessing viruses transmission including coronavirus. The results of this study showed that among symptomatic individuals (those with fever, cough, sore throat, runny nose etc…) there was no difference between wearing and not wearing facemask for coronavirus droplets transmission of particles of >5 µm. Among asymptomatic individuals, there was no droplets or aerosols coronavirus detected from any participant with or without the mask, suggesting that asymptomatic individuals do not transmit or infect other people. This was further supported by a study on infectivity where 445 asymptomatic individuals were exposed to asymptomatic SARS-CoV-2 carrier (been positive for SARS-CoV-2) using close contact (shared quarantine space) for a median of 4 to 5 days. The study found that none of the 445 individuals was infected with SARS-CoV-2 confirmed by real-time reverse transcription polymerase.
There is a lot more in the study. Read it all. It shows, based on extensive research, that even when worn properly masks are relatively useless in stopping viral diseases. And since as mandated no one ever uses them properly, they end up becoming likely collectors of pathogens instead, at the very spot where people breath, thus contributing to the spread of infection.
The study also documented the numerous physiological and psychological costs caused by the forced continuous use of masks, from restricting oxygen to causing people to become socially isolated.
The paper's conclusion:

The existing scientific evidences challenge the safety and efficacy of wearing facemask as preventive intervention for COVID-19. The data suggest that both medical and non-medical facemasks are ineffective to block human-to-human transmission of viral and infectious disease such SARS-CoV-2 and COVID-19, supporting against the usage of facemasks. Wearing facemasks has been demonstrated to have substantial adverse physiological and psychological effects. These include hypoxia, hypercapnia, shortness of breath, increased acidity and toxicity, activation of fear and stress response, rise in stress hormones, immunosuppression, fatigue, headaches, decline in cognitive performance, predisposition for viral and infectious illnesses, chronic stress, anxiety and depression. Long-term consequences of wearing facemask can cause health deterioration, developing and progression of chronic diseases and premature death.
These conclusions by the way match up with more than a hundred years of research into mask use. While their benefit in surgical settings is considered helpful but very limited (merely acting to keep sanitary a patient's surgical site), research for decades has found masks to have of little or no significant benefit in protecting against most viral respiratory diseases.
Do these well documented facts matter? No. The control freaks and petty tyrants of modern America are going to force masks down our throats regardless. For example, St. Joseph's College in Standish, Maine, is now fining its students $50 every time they are caught on campus not wearing their mask's properly.
In Michigan meanwhile the Department of Health and Human Services has expanded its mask mandate, now requiring 2-year-old toddlers to wear face masks in any gathering of "two or more people" from more than one household.
Then there is Oregon, where the state health department wants to make permanent its mask requirements.
In New York, Democrat Governor Andrew Cuomo last week issued a new edict, requiring everyone to wear a mask all the time.in public.
Ironically, only in these states with strict mask mandates and still-stringent lockdown rules has the coronavirus epidemic continues to rage. States like Texas and Florida have seen instead no growth and even a corresponding decline in infections and deaths, following their ending of their mask mandates.
Masks don't work. They are inhuman, and work to destroy the fundamental social interactions that people need. Stop using them. Show some courage. Make businesses aware that if they require them, you will shop elsewhere.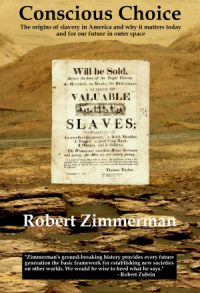 Now available in hardback and paperback as well as ebook!
From the press release: In this ground-breaking new history of early America, historian Robert Zimmerman not only exposes the lie behind The New York Times 1619 Project that falsely claims slavery is central to the history of the United States, he also provides profound lessons about the nature of human societies, lessons important for Americans today as well as for all future settlers on Mars and elsewhere in space.
Conscious Choice: The origins of slavery in America and why it matters today and for our future in outer space
, is a riveting page-turning story that documents how slavery slowly became pervasive in the southern British colonies of North America, colonies founded by a people and culture that not only did not allow slavery but in every way were hostile to the practice.
Conscious Choice
does more however. In telling the tragic history of the Virginia colony and the rise of slavery there, Zimmerman lays out the proper path for creating healthy societies in places like the Moon and Mars.
"Zimmerman's ground-breaking history provides every future generation the basic framework for establishing new societies on other worlds. We would be wise to heed what he says." —Robert Zubrin, founder of founder of the Mars Society.
All editions are available at Amazon, Barnes & Noble, and all book vendors, with the ebook priced at $5.99 before discount. The ebook can also be purchased direct from my ebook publisher, ebookit, in which case you don't support the big tech companies and I get a bigger cut much sooner.
Autographed printed copies are also available at discount directly from me (hardback $24.95; paperback $14.95; Shipping cost for either: $5.00). Just email me at zimmerman @ nasw dot org.