Americans have not simply in the past six months become trapped in terror and fear over a relatively low-level virus, they have compounded that fear with a strong and ever-growing desire to tell everyone else what to do.
The conservative internet has been pushing the term "Karen" to apply to any busybody who wishes out of outrage to wield petty power over everyone around them. I find that term too vague. A much more apropos term would be to call them what they are: control freaks.
And sadly, there now are a lot of them, many of which are downright insane in their demands and willingness to commit violence to impose their will.
Want to hold a small wedding in Hawaii near the beach, with maybe no more than ten people attending? Nope, you can't, because someone will arrive to harass you rudely and demand you be arrested. The Democratic state government there has declared the beaches closed, public weddings illegal, and private enterprise under strict control, all over a virus that appears only mildly more dangerous than the flu.
Want to sing in church and you live in California? Nope, you can't, because Gavin Newsom, the Democratic governor of that state has declared such singing and chanting dangerous. It will spread the Wuhan flu! (He doesn't have a problem with leftist Antifa and Black Lives Matter protesters chanting "Death to America" slogans however. Leftist protesters are immune from the virus.)
It isn't just the rules imposed over COVID-19 however. What if you want to use a picture of President Donald Trump as your virtual background during a zoom class? Nope, no can do, because if you do other students will file complaints against you with the school authorities, claiming they felt
"offended, disrespected, and taunted" by the Trump imagery, according to the complaint report, which did not identify the complaining students. The unnamed students added that the Facebook post in question smacked of racism and potential violence.
The school will then file charges against you, trying to destroy your life.
Want to post a picture of a new gun that you can't wait to take to the range? Nope, you can't do it, and worse if you do you will be arrested and charged with a crime!
The Wuhan virus however continues nowadays to be the prime excuse used by these petty dictators. Consider Albion College in Michigan, which is requiring its students to download a phone application that will allow the college to track their location and private health data at all times.
The school is working to create a "COVID-bubble" on campus, and asking students stay within the school's 4.5-mile perimeter for the entire semester; if a student leaves campus, the app will notify the administration, and the student could be temporarily suspended.

…In addition to downloading the app, students must undergo a mandatory three-day quarantine after they move back to campus. They will be given a list of "approved businesses" to frequent, and must fill out an online form five days in advance if they plan to leave for "approved" activities, such as medical appointments, religious obligations, and "significant family obligations."
The college's administration however is not requiring the same from its teachers or administrators. They can go as they please, because obviously they are immune from the Wuhan virus. Only students can get it.
Then there is the guy who has invented a gun that attempts to shoot a mask on to the face of anyone daring to defy the rules.
It hasn't exactly been easy convincing the American people to mask up, so [Allen] Pan decided to take an approach that leverages one of the things most Americans love above all else: guns. Using parts of a car's brake line, a pistol grip from a spray paint can, some custom electronics, and a solenoid valve for controlling the flow from a pressurized CO2 canister, Pan created a handheld blaster that looks like something straight out a Mad Max film—but hopefully this weapon will help stop the apocalypse.
If you watch the video at the link it is hard to tell whether this guy is serious or making fun. It does appear however that he completely believes in the wonders of masks, and desperately wishes he had the power to make people wear them.
Nor is he alone. The number of snitches in America is rising exponentially. In Houston the fire department had found itself overwhelmed with calls from people reporting violations by businesses of that city's odious lock down rules.
Even so, the fire department is proudly working hard to follow up every call in order to punish any business or person who dares defy its power.
"We don't care if they don't like us," said [fire investigator Eric] Olivares. "We're trying to help somebody. We're in the game of helping people."
They are the government. They're here to help you.
Most of the examples I could cite of people harassing others over their behavior would be of leftists attacking conservatives, but believe me, people on the right are hardly innocent in this epidemic of control-freakism. For example, I have a very conservative friend who also would like to deny billionaires the right to bequeath their wealth to their children. "Why should those kids get a free ride? They should have to earn their own billions." According to my friend, he'd want the law to require that the inheritance go either to the government, or to hand-picked charities determined by law.
We have become a nation of control freaks, whether on the right or the left. The left certainly wins the race, demanding rules of behavior in all things, from requiring what clothes (or masks) we wear, to how much we can earn, how we are allowed to spend our money, and how we will be permitted to live our lives and run our businesses.
The right though is far from pure, as my very very conservative friend above illustrates. It seems if you scratch the surface of far too many Americans these days you will quickly find beneath the patina a fascist screaming to get out, to tell others how to live their lives, but only in different ways.
It used to be different. Americans once thought it utterly shameful to try to force their ideas on others. You had the right to try to persuade others, but in the end you were expected to respect their right to make up their own mind. And if they were not convinced, that was fine, as in a free country people are never all going to agree.
We need to bring some of that shame back. We need to start telling these control freaks, to their face, that they should mind their own business. If more of us did this instead of bowing in fear to these bullies, maybe they might begin to back off and leave us alone again.
More importantly, maybe the culture would shift back to one where control freaks didn't run things, with the right to tell everyone else what to do, or else.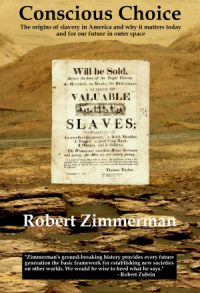 Now available in hardback and paperback as well as ebook!
From the press release: In this ground-breaking new history of early America, historian Robert Zimmerman not only exposes the lie behind The New York Times 1619 Project that falsely claims slavery is central to the history of the United States, he also provides profound lessons about the nature of human societies, lessons important for Americans today as well as for all future settlers on Mars and elsewhere in space.
Conscious Choice: The origins of slavery in America and why it matters today and for our future in outer space
, is a riveting page-turning story that documents how slavery slowly became pervasive in the southern British colonies of North America, colonies founded by a people and culture that not only did not allow slavery but in every way were hostile to the practice.
Conscious Choice
does more however. In telling the tragic history of the Virginia colony and the rise of slavery there, Zimmerman lays out the proper path for creating healthy societies in places like the Moon and Mars.
"Zimmerman's ground-breaking history provides every future generation the basic framework for establishing new societies on other worlds. We would be wise to heed what he says." —Robert Zubrin, founder of founder of the Mars Society.
All editions are available at Amazon, Barnes & Noble, and all book vendors, with the ebook priced at $5.99 before discount. All editions can also be purchased direct from the ebook publisher, ebookit, in which case you don't support the big tech companies and the author gets a bigger cut much sooner.
Autographed printed copies are also available at discount directly from me (hardback $24.95; paperback $14.95; Shipping cost for either: $5.00). Just email me at zimmerman @ nasw dot org.