The tenth anniversary retrospective of Behind the Black continues: This essay was posted originally on July 20, 2010, then reposted on July 20, 2011, to celebrate the anniversary of the Apollo 11 landing on the Moon. It seems fitting to post it again, on this, the 51st anniversary of that landing.
————————–
A flag in the dust
Today, July 20th, is the anniversary of the Apollo 11 landing on the Moon, the first time ever that a human being arrived on another planet. Americans love to celebrate this event, as it symbolizes one of the finest moments in our history, when we set out to achieve something truly great and noble and succeeded far better than we could have imagined. Not only did we get to the Moon as promised, over the next three and a half years we sent another five missions, each with increasingly sophisticated equipment, each sent to explore some increasingly alien terrain. Forty-plus years later, no one has come close to matching this achievement, a fact that emphasizes how difficult it was for the United States to accomplish it.
There is one small but very important detail about the Apollo 11 mission, however, that most Americans are unaware of. In mounting the American flag, the astronauts found the lunar surface much harder than expected. They had a great deal of trouble getting the flagpole into the ground. As Andrew Chaikin wrote in his book, A Man on the Moon, "For a moment it seemed the flag would fall over in front of a worldwide audience, but at last the men managed to steady it." Then Armstrong took what has become one of the world's iconic images, that of Buzz Aldrin standing on the lunar surface saluting the flag of the United States of America.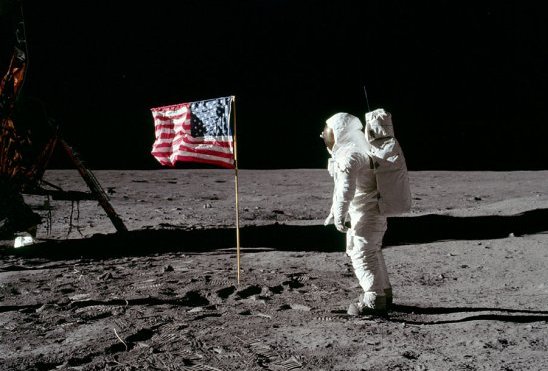 What people don't know, however, is that when Armstrong and Aldrin blasted off from the lunar surface, the blast wave from the Lunar Module's rocket knocked the flag over. As Chaikin also wrote, "Outside, a spray of gold foil and debris from the descent stage flew away in all directions. The flag toppled to the dust."
Thus, for the last four decades this American flag, shown so proudly unfurled on the surface of the Moon, has actually been lying unceremoniously on the ground, in the lunar dust.
It might actually be possible to see this, though the photos at this time remain unclear and quite blurry.

When the United States sent its Lunar Reconnaissance Orbiter (LRO) to the Moon last year, one of the first targets of its camera was an up close look at the Apollo 11 landing site. Those images, including a detailed description and an annotated image, can be found at the LRO website. Below is my own version, pulled from the original data and marked with my own annotations. I have also increased the contrast slightly from the images on the LRO site to bring out a little more detail.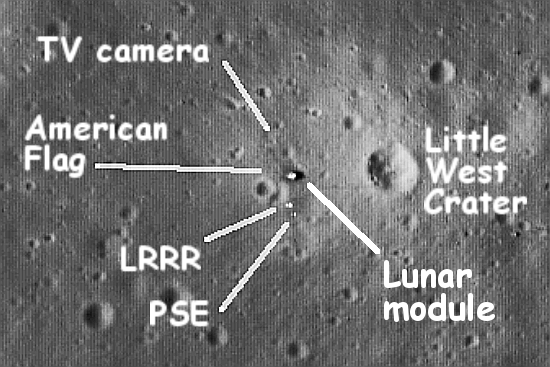 If you look closely at the location where the American flag should be, you can see a tiny horizontal smudge. Is this the flag lying on the ground? I wonder. It would be very interesting to see what a higher resolution image would show us. (Another LRO image here is also inconclusive.) LRO might be able to take a better image, but I'm not sure its camera is capable of resolving this kind of detail. If not, we will probably have to wait until the next manned missions return to the Moon to find out the actual state of the American flag at Tranquility Base.
Sadly, it appears right now that the next manned lunar mission is probably not going to be an American mission. Though the exact outline of NASA's future remains as yet unclear, President Obama has rejected the Moon as a future destination, and Congress appears willing to accept this decision.
Instead, either a Chinese, Indian, or Russian astronaut is likely going to be the next human to stroll onto Tranquility Base, taking pictures and souvenirs. All three nations have expressed a determination to get to the Moon. All three have also demonstrated in recent years the technological know-how for making it happen.
When they arrive at Tranquility Base and see that flag on the ground, what will they do? I expect that they will likely leave it where they find it, photographing its sad state with a certain joyous glee. For they will be standing there over it, while we will be stuck here on Earth, unable to do anything about it.
As an American, I don't like this prospect at all. It seems to me that the political decision to abandon the Moon is foolish and short-sighted. Though I completely support the idea of sending astronauts out to explore the asteroids, I see no reason to exclude the Moon in that journey.
Eventually we are going to want to build colonies on Mars. To make that happen, we will first need to figure out how to build spaceships capable of keeping humans alive in space for long periods of time. Thus, Obama's proposal to go to the asteroids as well as do long term research on the International Space Station is precisely the right approach for gaining this type of engineering knowledge.
However, these things can teach us little about building a human settlement on another world. To gain this knowledge, we need to also build some test colonies. And what better place to do that but on the Moon?
In the final analysis, what I really want is for my own country to be the first to send its astronauts everywhere, not just to the asteroids but back to Tranquility Base as well. And what I also want is for those next American lunar explorers to see that fallen flag at Tranquility Base and to immediately set it upright again, for all to see.
By doing so, we will be declaring unequivocally to all that the United States and its free citizens are here to participate in as well as shape the future. We will be saying, without hesitation or fear, that "Here we stand, here we will stay, and from here we will go forward, for all time. Come with us!"
Readers!
I must unfortunately ask you for your financial support because I do not depend on ads and rely entirely on the generosity of readers to keep Behind the Black running. You can either make a one time donation for whatever amount you wish, or you sign up for a monthly subscription ranging from $2 to $15 through Paypal or $3 to $50 through Patreon.
Your support will allow me to continue covering science and culture as I have for the past twenty years, independent and free from any outside influence.
Your support is even more essential to me because I not only keep this site free from advertisements, I do not use the corrupt social media companies like Google, Twitter, and Facebook to promote my work. I depend wholly on the direct support of my readers.
You can provide that support to Behind The Black with a contribution via Patreon or PayPal. To use Patreon, go to my website there and pick one of five monthly subscription amounts, or by making a one-time donation. For PayPal click one of the following buttons:

If Patreon or Paypal don't work for you, you can support Behind The Black directly by sending your donation by check, payable to Robert Zimmerman, to


Behind The Black
c/o Robert Zimmerman
P.O.Box 1262
Cortaro, AZ 85652


Or you can donate by using Zelle through your bank. You will need to give my name and email address (found at the bottom of the "About" page). The best part of this electronic option is that no fees will be deducted! What you donate will be what I receive.