The tenth anniversary retrospective of Behind the Black continues: Almost my entire family now lives in Israel, or more precisely, in a variety of settlements in the West Bank. I thus periodically go there to visit, and when I do, I have almost always written one or more essays giving my perspective of the situation there in the West Bank, as seen up close and free from the distorted narratives of our bankrupt media.
The following links will take you to all these essays. I strongly recommend that you read them in order, especially because the first five came from my 2013 visit, and form as a group a deeper analysis. The last three, from 2014, 2017, and 2018, provide some more recent perspectives.
I am sure my readers will find themselves very surprised by what I have learned.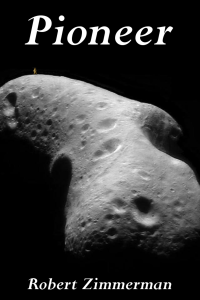 From the press release: From the moment he is handed a possibility of making the first alien contact, Saunders Maxwell decides he will do it, even if doing so takes him through hell and back.
Unfortunately, that is exactly where that journey takes him. The vision that Zimmerman paints of vibrant human colonies on the Moon, Mars, the asteroids, and beyond, indomitably fighting the harsh lifeless environment of space to build new societies, captures perfectly the emerging space race we see today. He also captures in Pioneer the heart of the human spirit, willing to push forward no matter the odds, no matter the cost. It is that spirit that will make the exploration of the heavens possible, forever, into the never-ending future. Available everywhere for $3.99 (before discount) at
amazon
,
Barnes & Noble
, all ebook vendors, or direct from the ebook publisher,
ebookit
. And if you buy it from
ebookit
you don't support the big tech companies and I get a bigger cut much sooner.