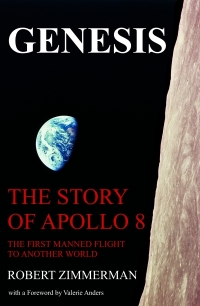 On Christmas Eve 1968 three Americans became the first humans to visit another world. What they did to celebrate was unexpected and profound, and will be remembered throughout all human history. Genesis: the Story of Apollo 8, Robert Zimmerman's classic history of humanity's first journey to another world, tells that story, and it is now available as both an ebook and an audiobook, both with a foreword by Valerie Anders and a new introduction by Robert Zimmerman.
The ebook is available everywhere for $5.99 (before discount) at
amazon
, or direct from my ebook publisher,
ebookit
.
The audiobook is also available at all these vendors, and is also
free with a 30-day trial membership to Audible.
"Not simply about one mission, [Genesis] is also the history of America's quest for the moon... Zimmerman has done a masterful job of tying disparate events together into a solid account of one of America's greatest human triumphs." --San Antonio Express-News
The tenth anniversary retrospective of Behind the Black continues: Last night's midnight repost tried to predict what would happen politically following the big Republican victories in the 2010 midterm election. I was not sure, but worried that the Republicans would not have the courage to do what they promised (cut the budget and repeal Obamacare) and would fold like a house of cards when pressured with government shutdowns by Obama and the Democrats.
They did fold, and the result was that the Democrats were further emboldened, and the Republicans weakened in the long run. Tonight's repost, written on November 7, 2018, illustrates the consequences of this by taking a look at the just completed 2018 midterm elections. There, the American people had rewarded the Democrats for their endless slander campaigns and power grabs. Times had changed, but not for the better.
————————–
Freedom dying
The results of yesterday's election, when taken in the context of the stories below, confirm for me the sad belief that freedom in the United States is steadily dying. Freedom might return, but for the next few decades I think we are headed for oppressive times. Be prepared.
The stories are only a sampling, and are cited because of what they show: In every case they describe attacks against individuals defending freedom of speech and diversity of thought, and all the attacks come from the students, the future of our society.

The election yesterday further demonstrates the bad future we are facing, not so much that the Democrats won the House after two years of repeated and insane smear campaigns against anyone who opposed them, but because a very very large percentage of the population has decided to support them in that behavior. As I like to say, it's the audience that counts. The audience here is increasingly oppressive, intolerant, and eager to exercise power to impose its will.
That audience yesterday decided to give power to those who are equally intolerant, and like to wield that power to impose their will.
I could also cite many personal experiences, in just the past few months. The key is that I as a conservative know that if I express my opinions among friends, I will likely lose those friends, and get ostracized. I must choose my words carefully. My liberal friends however feel no such fear, and routinely spout their political views, always assuming that everyone agrees with them.
Meanwhile, I am also gathering that my willingness to express my political views professionally here on my own website has had a negative effect on the website. In recent months certain space aggregate sites no longer link to Behind the Black. Others have even told me that they will block all emails or communications from me.
None of this will stop me from expressing my point of view. It is my curse. I must say what I believe. However, be warned. Bad times are coming. Be prepared.
Readers!
My July fund-raiser for Behind the Black is now over. The support from my readers was unprecedented, making this July campaign the best ever, twice over. What a marvelous way to celebrate the website's tenth anniversary!

Thank you! The number of donations in July, and continuing now at the beginning of August, is too many for me to thank you all personally. Please forgive me by accepting my thank you here, in public, on the website.

If you did not donate or subscribe in July and still wish to, note that the tip jar remains available year round.
Regular readers can support Behind The Black with a contribution via paypal:
If Paypal doesn't work for you, you can support Behind The Black directly by sending your donation by check, payable to Robert Zimmerman, to

Behind The Black
c/o Robert Zimmerman
P.O.Box 1262
Cortaro, AZ 85652