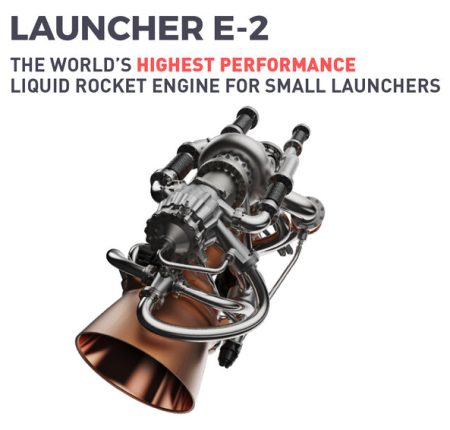 Launcher's 3D printed E2 engine, claimed by the company
to be the highest performance engine for small rockets.
Capitalism in space: Three stories today underlined superbly the robust and steadily growing state of the commercial space industry. Moreover, these stories suggest that this growth will be permanent with almost no limit to its possibilities.
To begin, we have the public appearance of another startup smallsat rocket company, dubbed Launcher.
Small launch vehicle developer Launcher has raised $11.7 million in a Series A funding round, which the company says puts it on a path to reaching orbit with a fraction of the total investment of other launch startups. Launcher said June 2 that the Series A round was co-led by Boost.VC and the company's founder, Max Haot, both of whom earlier provided seed funding to the startup. Haot invested $5 million using proceeds of a camera company, Mevo.com, that he sold earlier this year to Logitech. Other existing and new investors also participated in the round, which Haot told SpaceNews was oversubscribed.

…Launcher is working on a small launch vehicle called Launcher Light, intended to be similar in performance to Rocket Lab's Electron, which can place up to 300 kilograms into low Earth orbit. Launcher Light is a smaller version of Rocket-1, the company's original vehicle, which Haot said in March should speed up development since it will require fewer engines.
The company hopes to launch by '24, and is also planning another fund-raising round next year to raise an additional $40 million.
Considering the large number of new rocket companies raising capital, who knows if this company will make it. Certainly some will grab market share and survive, but more likely in the coming decade there will be a shake-out where many will either consolidate or disappear, similar to what happened in the early days of the automobile industry.
That so many similar new rocket companies are attracting so many investors however shows that people with money are now convinced that space is the place, and the future there is very bright for profit. And what lends weight to this sentiment are the other two stories today, both of which involve new space startups that are not rocket companies but the kind of ground facilities required by the satellites those rockets launch.

First we have LeoLabs, which has just raised $65 million of private capital to develop a global radar ground network to track objects in space.
LeoLabs tracks satellites and debris in low Earth orbit with six phased-array radars at four sites in Alaska, Costa Rica, New Zealand and Texas. The company also offers collision avoidance service and tracks satellites sent to orbit on packed rideshare missions like SpaceX Transporter 1 flight in January with 143 payloads.

LeoLabs originally planned to establish phased array radars at six sites to track objects in orbit. With the latest fundraising round, which brings LeoLabs' total raised to more than $100 million, "you'll see us continue beyond six," Ceperley said. "We've got the process, the team and the procedures all ironed out. We are going to keep producing radars."
Their aim is to track all objects as small as two centimeters, or 3/4 of an inch, and provide that information to satellite operators for a fee.
Next we have Climavision, which just raised $100 million in private capital to build a network of ground radar facilities designed to work with weather satellites in space.
Climavision plans to deploy and operate 50 radars over the next two years to address forecast coverage gaps left by government systems across the United States, co-founder and CEO Chris Goode told SpaceNews. "We're going to augment the existing network with higher resolution X-band radars," Goode said.

It also has an exclusive agreement to use Pasadena, California-based GeoOptics' radio occultation satellites to improve the accuracy of its forecasts for agriculture, insurance, renewable energy and other markets. GeoOptics has three satellites in its operational fleet, which it is looking to expand as the National Oceanic and Atmospheric Administration [NOAA] seeks more of its radio occultation sounding data.
NOAA is presently beginning the transition that NASA has just gone through, following the recommendations from my 2017 policy paper, Capitalism in Space, to change from being the builder of weather satellites, the old model, to being the customer that buys its weather data from privately-built commercial weather satellites. Climavision thus reasonably expects there to be a boom soon in weather satellites, all of which will need more its ground stations for their data.
These companies are only a small sample of the wide range of new space companies that have popped up in the last five years. All are finding investment capital based on a strong belief that profits will be high once operations begin. Many, such as Rocket Lab, have already begun making those profits.
And the foundation on which this burgeoning market rests are the new cheap rockets that companies like SpaceX, Rocket Lab, and others are building. Because the cost to reach orbit has dropped, more satellite companies can now make money in space, which in turn fuels the arrival of even more rocket companies with new ideas that further lower the cost to reach orbit. That in turn fuels the startup of even more satellite companies.
All of which in turn stimulates the arrival of other companies, such as LeoLabs and Climavision, that aim to provide the ground services needed by to these new satellite companies.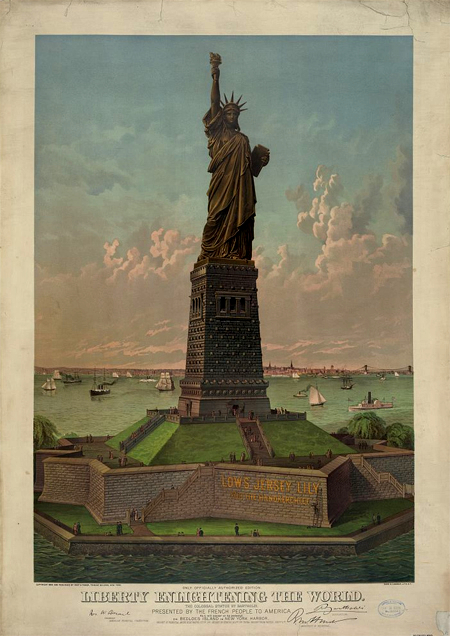 Let the light of liberty enlighten all the world, and beyond.
The possibilities are literally endless. And the cycle can only feed itself and keep growing. Lower cost to orbit feeds more satellites which feeds more rocket companies which feeds more satellite and service companies which feeds more rocket companies which feeds a drop in the launch costs which feeds more satellite companies, and so forth on and on, until the human race is establishing colonies on Mars, the asteroids, and beyond.
And all achieved by encouraging freedom and capitalism while limiting the power of government.
Many things of course can go wrong. A collapse of the economy because of bad government policy could cause a drying up of investment capital. A real plague (not the fake plague of the past year) could shatter the economy. Deadly world war could break out between nations.
But at the moment, the future in space looks exceedingly bright. Get your spacesuits ready because very soon we will all be able to go, if we want to.
Readers!
My July fund-raising campaign for 2021 has now ended. Thank you all for your donations and subscriptions. While this year's campaign was not as spectacular as last year's, it was the second best July campaign since I began this website.
And if you have not yet donated or subscribed, and you think what I write here is worth your support, you can still do so. I depend on this support to remain independent and free to write what I believe, without any pressure from others. Nor do I accept advertisements, or use oppressive social media companies like Google, Twitter, and Facebook. I depend wholly on the direct support of my readers.
If you choose to help, you can contribute via Patreon or PayPal. To use Patreon, go to my website there and pick one of five monthly subscription amounts, or by making a one-time donation. For PayPal click one of the following buttons:

If Patreon or Paypal don't work for you, you can support Behind The Black directly by sending your donation by check, payable to Robert Zimmerman, to


Behind The Black
c/o Robert Zimmerman
P.O.Box 1262
Cortaro, AZ 85652