In the last few weeks the Democratic Party governments that control the state and city of New York imposed new and incredibly oppressive new rules, clamping down hard on the freedoms of their citizens, as well as the ability of visitors and tourists to come there.
The justification used by Democrats Governor Andrew Cuomo and Mayor Bill de Blasio for these new edicts against freedom? Both claimed that an increase to 3% of what they called "the positivity rate" required more restrictions. This increase comes from increased detection of COVID-19 due to increased tests, but it does not mean there has been a significant rise in actual illness.
You need only look at the graph below to understand how unnecessary these new restrictions are.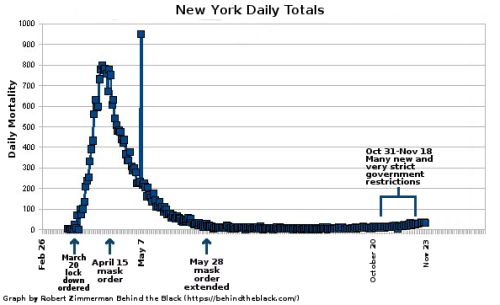 Source here. The May 7th spike is due to suspicious data keeping
in New York, as explained here.
Yes, there has been a tiny rise in deaths in the past month. Nothing however that comes close to a health crisis, or is that unusual for a bad flu season. In fact, the rise is not unusual for a relatively mild flu season either. One just has to compare the recent death toll, averaging about 25-30 per day, to the daily death toll last spring, to recognize there is no justification for such draconian new rules.
And there is certainly no reason to shutter the schools. Even the CDC now admits this, with its director unequivocally stating on November 19th:
"There has been no intra-school transmission and we must make sure not to make emotional decisions when the data strongly supports making sure schools remain open… It is counterproductive to close schools."
This statement came just one day after de Blasio's closure order, and appeared to be in direct response to it. Numerous studies have found that children are not only practically immune from the coronavirus, they do not appear to infect others. To close the schools is imbecilic, especially considered the wealth of knowledge on this subject that now exists.
No matter. People are afraid! Rather than reassure them, we must feed their fear, and stamp that boot down on their face so they will be safe! Safety is all! To hell with freedom, common sense, the Bill of Rights, or the Constitution! Our Democrat Lords and Masters know best. We must obey them!
Readers!
My July fund-raising campaign for 2021 has now ended. Thank you all for your donations and subscriptions. While this year's campaign was not as spectacular as last year's, it was the second best July campaign since I began this website.
And if you have not yet donated or subscribed, and you think what I write here is worth your support, you can still do so. I depend on this support to remain independent and free to write what I believe, without any pressure from others. Nor do I accept advertisements, or use oppressive social media companies like Google, Twitter, and Facebook. I depend wholly on the direct support of my readers.
If you choose to help, you can contribute via Patreon or PayPal. To use Patreon, go to my website there and pick one of five monthly subscription amounts, or by making a one-time donation. For PayPal click one of the following buttons:

If Patreon or Paypal don't work for you, you can support Behind The Black directly by sending your donation by check, payable to Robert Zimmerman, to


Behind The Black
c/o Robert Zimmerman
P.O.Box 1262
Cortaro, AZ 85652