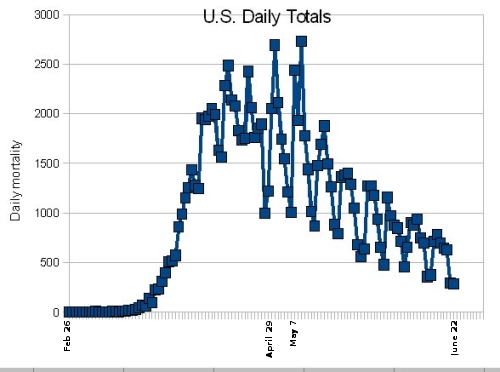 With totalitarian Democratically-controlled cities and states across the nation now imposing odious rules requiring the wearing of masks at all times, based entirely on emotion and symbolism with absolutely no reliance on the actual science that says masks are not only useless against a virus like COVID-19, they could be medically harmful to the user, I think it is time to do a little science journalism and illustrate again the absurdity of this situation.
First, the Wuhan flu epidemic is clearly ending, as shown by the graph above. This graph, based on numbers from this site, shows that the disease reached its peak sometime near the start of May. Since then its threat has been declining steadily, until it reached today the lowest number of deaths since March, only 285.
Right now the chances of you catching COVID-19 and dying from it are practically nil, even if you live in densely populated states like New York, where only 14 people died yesterday from the virus.
Second, as predicted by some scientists, the lockdowns, social distancing, and silly symbolic mask use did nothing to stretch out the epidemic or flatten the curve. These scientists, ignored by politicians and the mainstream press, had predicted it would be a seasonal flu, dying out come summer, and that it would last from six to eight weeks, as it has done in every country where it has arrived, regardless of any government action.
That is exactly what the Wuhan flu has done. After eight weeks it is now fading away, like all such seasonal diseases.
Third, the numbers on this graph are certainly inflated. The total deaths in the U.S. assigned to the Wuhan flu as of today is just over 114,000. Based on numerous reports (here, here, here, here, here, here, here, and here), we can estimate that this number is inflated from 25% o 50%.
The untrustworthiness of these numbers is further illustrated by graph below, outlining the number of Wuhan flu deaths in New York alone.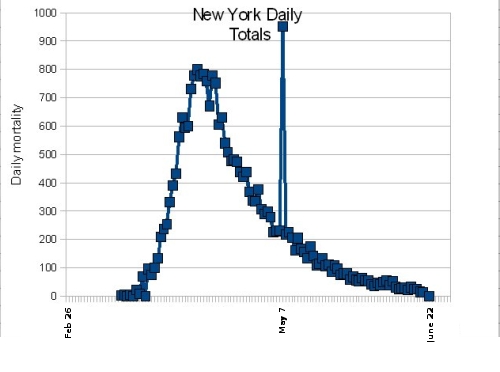 New York's numbers are important because they account for 22% of all U.S. COVID-19 deaths. It was in that region that the epidemic centered.
Note that one big spike. It seems the state didn't like the totals at one point and suddenly reassigned many deaths to COVID-19, all at once. That spike on May 7th also happened to be the same day U.S. recorded its most COVID-19 deaths. What a coincidence!
Such a spike should make anyone suspicious of this data, even if there wasn't other evidence making these New York numbers suspect. And since New York accounts for about 22% of all U.S. deaths, if their numbers are suspect, then it likely means all U.S. numbers have been tainted.
Therefore, let's assume that the numbers are inflated, and use the lower number for that overestimate, 25%. Reducing the total by that amount puts the approximate number of coronavirus deaths at about 85K, higher than the last harsh flu season in 2017-2018 but not unreasonably so.
Yet even this exaggerates the extent of the epidemic. Of the deaths assigned to COVID-19, about 25% occurred in long term care facilities for the elderly, with the average age at death to be 75. (See reports here, here, and here).
The disease was not an equal opportunity murderer. It killed almost no one under twenty, only a handful under forty, and just a few more under sixty. Almost all who died in these age groups as well as in older cohorts were already sick with something else, and like the flu, COVID-19 merely acted as the final sad blow.
The disease was simply not a threat to the general population. Like the flu it was merely an annoying illness, unless you were old and already badly weakened by some other chronic ailment.
And outside of New York and New Jersey, it was even a much smaller threat to the entire population. Those two states account for one third of all U.S. deaths. Subtract those two states and for the rest of the country, the disease looks even less dangerous than the ordinary flu, with about 76K deaths, which is likely not accurate because those numbers were probably inflated by 25%.
Moreover, it appears pretty likely that more elderly died in New York unnecessarily because of blatant government incompetence, where orders by the government forced nursing homes to accept infected patients, thus spreading the epidemic to the most vulnerable part of the population. Had New York government officials protected that population, it is almost certain that state's death toll would have been less, as would have the country's.
Nor am I done. Focusing solely on these numbers does not catch the true context of the disease. If you look at the the overall mortality rate, you find that 2020 is simply not much different then any other year. In fact, in 2020 the death rate per 1000 people, 8.88, is actually lower than every year from 1950 to 1993.
In other words, the Wuhan flu was simply not an unusual threat. Generally the people who died from it would have sadly died anyway, either from their primary chronic illness or from getting another respiratory illness — as generally happens every year routinely.
This last fact might be brutal and heartrending, but intellectual honesty demands we face it bluntly. COVID-19 simply did not significantly change overall death rates, and thus merely replaced other diseases.
Finally, these total numbers once again strongly suggest that — as the initial data soon after the virus escaped from China had indicated — the death rate for the Wuhan flu is really not much different than other similar respiratory diseases. It simply was just another new flu. It did not warrant the panic instigated by politicians and the press.
Now that the disease appears to be tailing off, as expected, the new mantra has switched from focusing on reporting deaths to focusing on reporting an increase in new cases.
The World Health Organization on Sunday reported the largest single-day increase in coronavirus cases by its count, at more than 183,000 new cases in the latest 24 hours.

The UN health agency said Brazil led the way with 54,771 cases tallied and the U.S. next at 36,617. Over 15,400 came in in India.

Experts said rising case counts can reflect multiple factors including more widespread testing as well as broader infection.
O no! The disease is spreading and getting worse, all because we allowed businesses to reopen and people to start living normally again. Time to put everyone under house arrest again!
Just another example of more lies. The number of COVID-19 cases is increasing because we are simply testing more people. Early in the epidemic we didn't have the testing kits and facilities to do it. Now we do, and as a result we are detecting more cases — which by the way are resulting in almost no deaths. The Wuhan flu is not deadly to healthy people. Like the flu, it makes you sick, and then after a week or so you get better.
It has all been a lie, from day one. Social distancing was only going to required for a few weeks, to flatten the curve. It is now required everywhere, for all time.
The lockdowns were only gong to be required for a few weeks, to flatten the curve. For many Democratic bastions, they are now never-ending, and elsewhere many of their odious rules (such as limiting patrons in restaurants) have become permanent.
Masks, a late-comer to this madness, were merely to help flatten the curve and slow the disease's spread. Now they are being permanently mandated by law, even as the disease is fading away.
Millions were going to die in the U.S.. That was a lie. The health system would be overwhelmed. That was a lie. The disease would kill everyone. That was a lie. The disease is about to spike again with the ending of restrictions. That is also a lie.
In fact, you need only do a little digging and research to discover that almost everything we were told by our so-called "health experts" about this epidemic was false, either an outright lie or a clear demonstration of incompetence.
Now those same "health experts" are telling politicians we need to wear masks all the time, and those politicians, drooling at the power such a requirement gives them, are following suit and mandating it. I still won't do it, and am quite willing to be arrested for not doing so. Unfortunately, I have found that am very alone in this. I had thought that such a ludicrous demand would finally cause Americans to revolt. Instead, they are bowing like sheep.
Worse, I am certain that a large bulk of the American population will either not read what I write here, or if they do, will simply refuse to believe it. They are paralyzed by an irrational fear of this disease, fueled by politicians and a media whose only real goal is to defeat Donald Trump in November, and who seem willing to do anything, even destroy the country, to do so.
That irrational fear holds the public, and they can't let go of it. It thus prevents them from processing any facts that might defuse it, and allow them to think rationally again.
The result? An acquiescence to lies and bad policy that leaves us all open to more lies and bad policy, all designed to concentrate power into the hands of the few spouting those lies.
The big lie has won, and because of that American freedom is dying.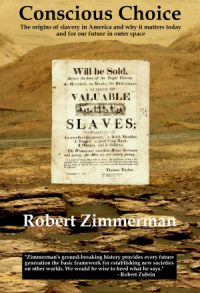 Now available in hardback and paperback as well as ebook!
From the press release: In this ground-breaking new history of early America, historian Robert Zimmerman not only exposes the lie behind The New York Times 1619 Project that falsely claims slavery is central to the history of the United States, he also provides profound lessons about the nature of human societies, lessons important for Americans today as well as for all future settlers on Mars and elsewhere in space.
Conscious Choice: The origins of slavery in America and why it matters today and for our future in outer space
, is a riveting page-turning story that documents how slavery slowly became pervasive in the southern British colonies of North America, colonies founded by a people and culture that not only did not allow slavery but in every way were hostile to the practice.
Conscious Choice
does more however. In telling the tragic history of the Virginia colony and the rise of slavery there, Zimmerman lays out the proper path for creating healthy societies in places like the Moon and Mars.
"Zimmerman's ground-breaking history provides every future generation the basic framework for establishing new societies on other worlds. We would be wise to heed what he says." —Robert Zubrin, founder of founder of the Mars Society.
All editions are available at Amazon, Barnes & Noble, and all book vendors, with the ebook priced at $5.99 before discount. The ebook can also be purchased direct from my ebook publisher, ebookit, in which case you don't support the big tech companies and I get a bigger cut much sooner.
Autographed printed copies are also available at discount directly from me (hardback $24.95; paperback $14.95; Shipping cost for either: $5.00). Just email me at zimmerman @ nasw dot org.