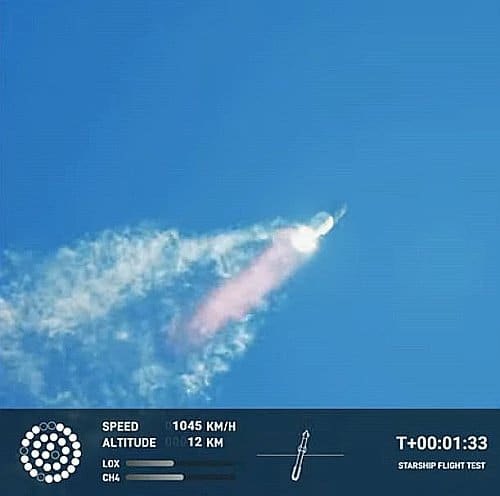 Superheavy still going strong, shortly after Max-Q,
during April test launch
In an email statement released on October 19, 2023 by the Fish and Wildlife Service (FWS) and reported by Bloomberg news today, FWS decided to initiate a " a formal review of the upgrades SpaceX has made to its Starship launch system", beginning on October 5.
Most of the Bloomberg article is behind a paywall, but the second paragraph is really the key quote:
The FWS now has as long as 135 days to create an updated biological opinion about how Starship and its launches impact the local environment, however the agency does not "expect to take the full amount of time," a representative said in the statement.
If FWS does take the full time period, no launch can occur before February. Nor should anyone naively believe its statement that it does not expect to take the full amount of time. For example, SpaceX completed installation of its upgraded Starship/Superheavy launch system, including the water deluge equipment at its base, in early August. Why did Fish and Wildlife wait till now, almost three months later, to begin its review?

The obvious answer, which fits with the entire behavior of the federal bureaucracy since Joe Biden took over as president, is to slowwalk all work in order to hurt SpaceX and Elon Musk. FWS might be able to cite what seem to be justifiable reasons for this delay, but the president could easily cut through this red tape and make things happen, quickly. Biden clearly has no interest in doing so, and in fact all the actions of his administration say otherwise.
I once again must note what I predicted in April. At that time I thought the government would make all future launches from Boca Chica impossible. Though this was too pessimistic, it was essentially correct, since getting permission from multiple government agencies for each launch means months of delays each time. Under those conditions the development of Superheavy and Starship is impossible. I added:
SpaceX should waste as little energy now in trying to fly from Boca Chica. Don't pour good money after bad. Better to quickly shift gears to Florida, and therefore waste as little time or capital as possible.
In May I refined my prediction, and said this launch "we should not be surprised if approval does not come before the end of the year." That prediction continues to be right on the money.
The tragedy of these facts, the result of Biden policies, is that SpaceX might face financial ruin, and NASA's Artemis program faces years of delay. SpaceX needs Starship to complete and maintain its Starlink constellation. Using just Falcon 9 is insufficient, and thus exposes the company to FCC sanctions for not completing the constellation on time. NASA needs Starship as its manned lunar lander. Without these test launches SpaceX can't get it built, and thus the manned return to the Moon must be delayed.
This administration however is not interested in these purely American achievements. Elon Musk has made it clear he no longer supports Biden and the Democratic Party. He is therefore an enemy and must be squashed. To Biden and the Democrats, all that matters is their power.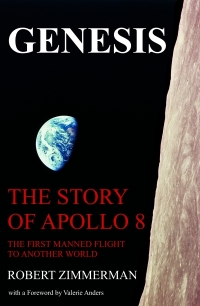 On Christmas Eve 1968 three Americans became the first humans to visit another world. What they did to celebrate was unexpected and profound, and will be remembered throughout all human history. Genesis: the Story of Apollo 8, Robert Zimmerman's classic history of humanity's first journey to another world, tells that story, and it is now available as both an ebook and an audiobook, both with a foreword by Valerie Anders and a new introduction by Robert Zimmerman.
The ebook is available everywhere for $5.99 (before discount) at
amazon
, or direct from my ebook publisher,
ebookit
. If you buy it from
ebookit
you don't support the big tech companies and the author gets a bigger cut much sooner.
The audiobook is also available at all these vendors, and is also
free with a 30-day trial membership to Audible.
"Not simply about one mission, [Genesis] is also the history of America's quest for the moon... Zimmerman has done a masterful job of tying disparate events together into a solid account of one of America's greatest human triumphs."--San Antonio Express-News