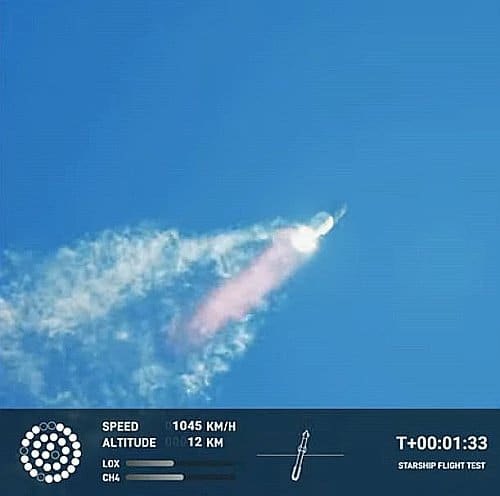 Superheavy still going strong, shortly after Max-Q
The results of the spectacular test launch last week of SpaceX's Superheavy/Starship heavy lift rocket was predictable in almost all ways.
First, everyone knew that it was highly unlikely that the launch would do everything intended. This was the first time ever that SpaceX had fired all 33 Raptor-2 engines at the base of Superheavy, at full power. It was the first time ever that this firing took place with Starship stacked on top. It was the first time ever that the entire stack was fueled. It was the first time ever that this rocket — the world's most powerful (twice as powerful as the Saturn-5 and about three times more powerful than SLS) — had every launched.
The number of unknowns were gigantic, which was exactly why SpaceX needed to do the launch. The company's engineers needed to find out what they didn't know about Superheavy in order to refine their engineering so that Superheavy will be more likely for success in its next launch. They also needed to find out what such a launch would do to their preliminary launchpad, in order to refine its engineering as well so that future launches could take place with little or no damage.
Thus, it is not surprising that there were surprises. The most significant was the actual amount of success. Superheavy functioned far better than anyone could have dreamed, retaining flight control through max-q and then flying for almost three minutes before Starship failed to separate and the entire stack lost control and had to be destroyed. Most of its engines worked, though discovering the reasons for the handful that failed will be a prime question in the subsequent investigation.
The second unsurprising thing about this launch is the reaction of the federal bureaucracy, run by Democrats and the Biden administration. It has quickly moved in to squelch any further launches at Boca Chica, likely for a considerable time. The FAA immediately initiated its own investigation while grounding all further launches from Boca Chica. The Fish & Wildlife Service has now begun detailing, almost gleefully, the amount of ground damage the launch caused, including ripping out the concrete base below the rocket and flinging chunks of debris hundreds of feet away as well as depositing a cloud of sand dust on everything up to 6.5 miles from the launchpad.
This quote however is significant, and tells us the real truth:

No debris was found on lands belonging to the refuge itself, but the agency said debris was spread out over 385 acres belonging to SpaceX and Boca Chica State Park. A fire covering 3.5 acres also started south of the pad on state park land, but the Fish and Wildlife Service didn't state what caused the fire or how long it burned.

There was no evidence, though, that the launch and debris it created harmed wildlife. "At this time, no dead birds or wildlife have been found on refuge-owned or managed lands," the agency said. [emphasis mine]
This lack of harm to wildlife is another event that should have surprised no one, since rockets of all types have been launching from Cape Canaveral for more than half a century with only positive benefits to the wildlife refuge that surrounds it. The launches themselves do no harm to that wildlife, but the launch facility's need to keep a large area around it undeveloped has created a zone of protection for that wildlife that has allowed it to prosper. The same will be true at Boca Chica, and if Fish & Wildlife was at all interested in the facts it would recognize this reality and stand down.
Instead, it appears that both the FAA and Fish and Wildlife are now teaming up to block any future launches at Boca Chica until SpaceX guarantees that the rocket and its launchpad will work perfectly. But since SpaceX must conduct launches to determine how to build and further refine the design of that rocket and launchpad, it can't make that guarantee if it is banned from making launches.
We must therefore conclude that these federal agencies are more interested in exerting their power than doing their real job. They are therefore conspiring to shut Starship and Superheavy development entirely, or at a minimum, they are allowing their partisan hatred of Elon Musk and capitalism itself to delay this work as much as possible. As Lord Acton said in 1887, "Power corrupts, and absolute power corrupts absolutely."
The irony of this whole situation is that another agency of the federal government, NASA, desperately needs Starship built and operational as soon as possible. It is relying on this spacecraft to safely place its Artemis astronauts on the Moon. Without it the entire Artemis Moon program is stymied.
Musk has said that SpaceX could be ready to do a second launch at Boca Chica in one or two months, and there is no reason to doubt him on this. The company already has additional prototypes waiting in the wings. Based on how quickly it built and then rebuilt that launchpad several times in preparing for this first test launch, it should have no trouble getting it rebuilt and repaired again in that time. Musk also noted that this rebuild will include "a massive water-cooled, steel plate to go under the launch mount," designed to absorb the power of Superheavy's engines.
No matter. I personally doubt there will ever be another launch from Boca Chica. There are too many people in the federal government — and in the media — that either hate Elon Musk, hate free enterprise, hate freedom itself, and love regulation and power. They are going to gang up to block further launches there.
It is therefore imperative that SpaceX get its Superheavy/Starship launchpad at Cape Canaveral operational quickly. Install that steel plate there. Design it with the knowledge gained from this one Boca Chica launch.
And launch there as soon as possible. The regulatory situation in Florida is far different than in Boca Chica, since the Cape Canaveral launchsite is so well established. It will be difficult (but not impossible) for these same petty dictators to block SpaceX (though they have already tried). Moreover, SpaceX will have there the enthusiastic cooperation of NASA, the government agency that controls much of what goes on at Cape Canaveral and is also on its side in this war. Moreover, the other government agency that controls Cape Canaveral, the Space Force, has little interest in allowing Fish & Wildlife to grab any control there. It will defend its own prerogatives passionately, and almost certainly in favor of SpaceX.
To put it more bluntly, SpaceX should waste as little energy now in trying to fly from Boca Chica. Don't pour good money after bad. Better to quickly shift gears to Florida, and therefore waste as little time or capital as possible.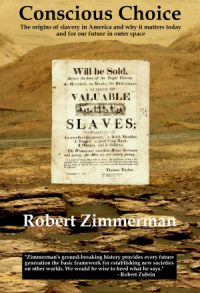 Now available in hardback and paperback as well as ebook!
From the press release: In this ground-breaking new history of early America, historian Robert Zimmerman not only exposes the lie behind The New York Times 1619 Project that falsely claims slavery is central to the history of the United States, he also provides profound lessons about the nature of human societies, lessons important for Americans today as well as for all future settlers on Mars and elsewhere in space.
Conscious Choice: The origins of slavery in America and why it matters today and for our future in outer space
, is a riveting page-turning story that documents how slavery slowly became pervasive in the southern British colonies of North America, colonies founded by a people and culture that not only did not allow slavery but in every way were hostile to the practice.
Conscious Choice
does more however. In telling the tragic history of the Virginia colony and the rise of slavery there, Zimmerman lays out the proper path for creating healthy societies in places like the Moon and Mars.
"Zimmerman's ground-breaking history provides every future generation the basic framework for establishing new societies on other worlds. We would be wise to heed what he says." —Robert Zubrin, founder of founder of the Mars Society.
All editions are available at Amazon, Barnes & Noble, and all book vendors, with the ebook priced at $5.99 before discount. The ebook can also be purchased direct from my ebook publisher, ebookit, in which case you don't support the big tech companies and I get a bigger cut much sooner.
Autographed printed copies are also available at discount directly from me (hardback $24.95; paperback $14.95; Shipping cost for either: $5.00). Just email me at zimmerman @ nasw dot org.