So now that the "global warming" narrative is beginning to fall flat (sorry John Holdren, but I refuse to play your game and call it "global climate disruption"), what do the elite apparachiks worldwide decide to do? They get together in a private meeting in Spain in June to discuss the future threat from global cooling.
What was that? Did I hear you right? Did you say "global cooling?"
Yup. Key quote from the meeting announcement:
The 58th Bilderberg Meeting will be held in Sitges, Spain 3 – 6 June 2010. The Conference will deal mainly with Financial Reform, Security, Cyber Technology, Energy, Pakistan, Afghanistan, World Food Problem, Global Cooling, Social Networking, Medical Science, EU-US relations. Approximately 130 participants will attend of whom about two-thirds come from Europe and the balance from North America. About one-third is from government and politics, and two-thirds are from finance, industry, labor, education, and communications. The meeting is private in order to encourage frank and open discussion. [emphasis mine]
If it's not one thing, it's another. The goal has never been to save the Earth, but to grab power. Now that the public is questioning the reality of the global warming meme, these blowhards have to come up with some other crisis they can use to maintain their positions of power and control. And if it isn't getting hotter, maybe it's getting cooler? Never mind the facts or the science, which remains confused and complex. All they want is some justification, no matter how unjustified, for telling everyone else how to live their lives.
One more thought: How much do you want to bet that a good majority of the participants (the full list) flew in on private jets?
James Delingpole of the Telegraph uncovered this little tidbit, and has some blunt but very true words to say about it.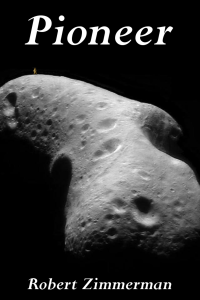 From the press release: From the moment he is handed a possibility of making the first alien contact, Saunders Maxwell decides he will do it, even if doing so takes him through hell and back.
Unfortunately, that is exactly where that journey takes him. The vision that Zimmerman paints of vibrant human colonies on the Moon, Mars, the asteroids, and beyond, indomitably fighting the harsh lifeless environment of space to build new societies, captures perfectly the emerging space race we see today. He also captures in Pioneer the heart of the human spirit, willing to push forward no matter the odds, no matter the cost. It is that spirit that will make the exploration of the heavens possible, forever, into the never-ending future. Available everywhere for $3.99 (before discount) at
amazon
,
Barnes & Noble
, all ebook vendors, or direct from the ebook publisher,
ebookit
. And if you buy it from
ebookit
you don't support the big tech companies and I get a bigger cut much sooner.