Of all of Obama's achievements, probably the one that is going to ring down the decades the longest and maybe do the most to destroy the United States and western civilization was his willingness to either endorse or refuse to condemn the use of slanders and lies to advance the political power of his Democratic Party and the left.
The most obvious example of this were the false accusations by top Democrats that the Tea Party protesters against Obamacare were "racist", despite zero evidence. (I speak from personal experience, as I was involved in Tea Party groups in both the DC and Tucson areas.) Obama was in a position to tamp down this hateful and dishonest rhetoric. Instead, he allowed members of his administration to encourage it.
This political tactic has now become pervasive and dominant throughout the Democratic Party and its minions in the mainstream press. This fact became especially evident to me this past weekend, during a demonstration in Portland by a group called the Proud Boys. This group was formed in 2016 in reaction to the modern political leftist pressure forcing Americans to adhere to leftist dogma. From their own webpage:
The basic tenet of the group is that we are "Western chauvinists who refuse to apologize for creating the modern world." Like Archie Bunker, we long for the days when "girls were girls and men were men." This wasn't controversial even twenty years ago, but being proud of Western culture today is like being a crippled, black, lesbian communist in 1953.

…The Proud Boys confuse the media because the group is anti-SJW without being alt-right. "Western chauvinist" includes all races, religions, and sexual preferences.
I have reviewed their webpages, their videos, statements from their leaders, and can find nothing that suggests they have any links to fascism or white supremacy. Go to their webpage yourself and do the same. If anything, the actual evidence is that this group opposes such things, vehemently.
And yes, I am sure you could find bigots among them, as you can find bigots everywhere. The fundamental principles and goals of the organization however have nothing to do with bigotry. They merely wish to reassert the nobility of western civilization, an idea that all Americans should feel no shame asserting.
This past weekend, during their demonstration, they came with no masks, a lot of American flags, a lot of Trump "Make America Great Again" hats and t-shirts, and the ability to defend themselves if attacked. (The link takes you to a Daily Mail report, with lots of pictures that confirm my description but with text that generally describes the event poorly.)
It appears, from the information at this link, that the Proud Boys finished their morning demonstration after about 90 minutes — with no violence — and then went to have a barbeque.

After about 90 minutes the showdown dissipated and people went on the move. The Proud Boys and their supporters began to march over the Hawthorne Bridge which had been closed earlier in the day.

Police escorted the group across the bridge and prevented counterprotesters from following. "It wasn't planned. It wasn't orchestrated," said Sgt. Brandon White, a spokesman for the Multnomah County Sheriff's Office. "We had a request that they would like to leave the area and so we facilitated."

Later, counter-demonstrators crossed over the Steel Bridge in search of their adversaries. By then, many of the Proud Boys and their supporters had taken off. Some later decamped to Bagley Community Park in Vancouver [Washington state] for a gathering and barbecue.
The "counter-demonstrators" were members of the Antifa leftist group that uses violence against anyone it opposes. This day in Portland was no different. As they went in search of the Proud Boy demonstrators they committed acts of violence throughout Portland.
Most of the news stories, such as this one from USA Today, avoided pinning the violence on the leftists, trying instead to imply that it came from both sides. A more detailed look at the facts suggests otherwise. Eyewitness reports by freelance journalist Andy Ngo (whom Antifa had attacked and sent to the hospital on June 29) and others, along with this news report, show that the lawlessness came from Antifa, and no one else.
Obama's legacy here is that he encouraged political tactics where anyone who opposed leftist dogma or Democratic Party policies could be quickly labeled with any form of hateful slander. Not once during his term did he condemn this "Big Lie" tactic, and if anything, worked to make it mainstream.
The result is that news organizations today routinely label groups that demonstrate in opposition to Antifa as "far right," neo-fascist," or "white supremacists." Look at the links above. The Daily Mail goes out of its way to pin these labels on these demonstrators. So does USA Today.
In fact, the slanders have become so routine that it makes many afraid to defend groups like the Proud Boys, in fear of being linked to them and such ideas. I myself have found myself thinking this, then decided today to take a closer look at Proud Boys, and found these labels to be unfounded.
But Obama's legacy has won. The labels have stuck, and it will likely be impossible to separate them from these Americans. They will be forever slandered as bigots, even though they are a group that "includes all races, religions, and sexual preferences."
More important, the slander and these labels are now being used to justify physical violence against these Americans by jack-booted thugs. As always, mindless hate breeds mindless violence.
The use of the Big Lie by Democrats and their allies has also spread. They used it shamelessly during the Kavanaugh hearings. In the ongoing presidential campaign you now have mainstream Democratic candidates calling all Americans racists (even though those same Americans voted for a black president twice), while other candidates are regularly labeling Trump a white supremacist (even though his daughter is Jewish and he has never said or done anything to suggest any truth to that false accusation).
I fully expect the rhetoric against Trump supporters in the coming election to spread and get more vicious. This in turn will act to encourage more extreme actions, including violence comparable to what Antifa now does with impunity in Portland. Be prepared. When people abandon the truth for emotional labels inspired by hate, they are liable to do anything.
I also must once again pose this question: Are you an ordinary American who is a registered Democrat and has always voted for that party? If so, is this the behavior that you wish to be associated with? Is this the kind of hateful leadership you want to represent not only yourself but your country? Because if it isn't, and you still vote for this party, then it will be on your head when greater evils descend upon us all.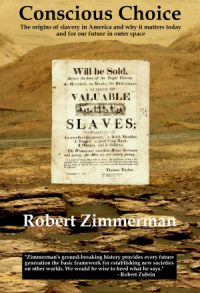 Now available in hardback and paperback as well as ebook!
From the press release: In this ground-breaking new history of early America, historian Robert Zimmerman not only exposes the lie behind The New York Times 1619 Project that falsely claims slavery is central to the history of the United States, he also provides profound lessons about the nature of human societies, lessons important for Americans today as well as for all future settlers on Mars and elsewhere in space.
Conscious Choice: The origins of slavery in America and why it matters today and for our future in outer space
, is a riveting page-turning story that documents how slavery slowly became pervasive in the southern British colonies of North America, colonies founded by a people and culture that not only did not allow slavery but in every way were hostile to the practice.
Conscious Choice
does more however. In telling the tragic history of the Virginia colony and the rise of slavery there, Zimmerman lays out the proper path for creating healthy societies in places like the Moon and Mars.
"Zimmerman's ground-breaking history provides every future generation the basic framework for establishing new societies on other worlds. We would be wise to heed what he says." —Robert Zubrin, founder of founder of the Mars Society.
All editions are available at Amazon, Barnes & Noble, and all book vendors, with the ebook priced at $5.99 before discount. The ebook can also be purchased direct from my ebook publisher, ebookit, in which case you don't support the big tech companies and I get a bigger cut much sooner.
Autographed printed copies are also available at discount directly from me (hardback $24.95; paperback $14.95; Shipping cost for either: $5.00). Just email me at zimmerman @ nasw dot org.