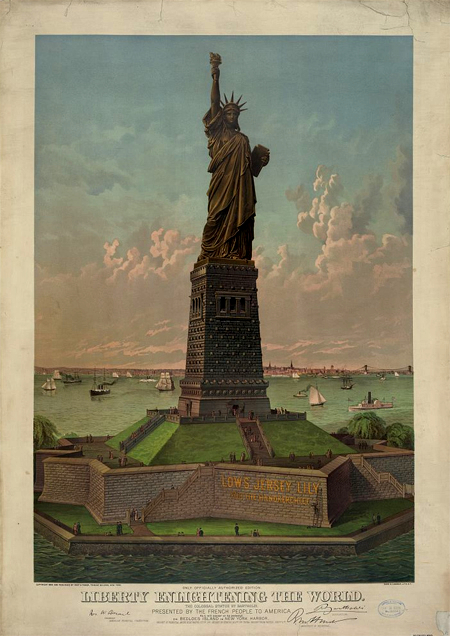 As the August 2nd primary approaches here in Arizona, it is now the time to make some preliminary decisions on who to vote for. Below are my recommendations for statewide office as well as my congressional district, followed by my reasoning behind each choice.
First, however, I must note that I consider the August primary for the Republican candidates to be the real election. No matter who is chosen in the Democratic Party primaries, I would consider that candidate to be captured by the communists and anti-American bigots who now run that party. Thus, I couldn't vote for any, not without seeing some major house-cleaning and change. Since there is no evidence of any Democrats making any effort to do this, the only important decision I see for voters is to decide who is the least likely Republican to lie to us and actually do what they say.
Now for my personal candidate choices. To make these decisions, I did some research, using the links provided by Ballotpedia. With each candidate, I reviewed supplementing my knowledge of them from other reading by reviewing their websites. At a minimum I urge my readers to do the same, in whatever state they live in. Ballotpedia is a magnificent non-partisan resource. It doesn't take long to do this work, and it gives you a better educated basis for making your decisions.
I also fully recognize that there are no guarantees, and that my choices here may change before August 2nd. Right now however, with the knowledge at hand, these picks are the best I can do. And as always I welcome further intelligent and informative comments from my readers below.

Senate: Blake Masters.
Earlier in July I detailed at length why I have chosen Masters. He is an outsider, not a professional politician. He is unafraid to speak his mind, including speaking bluntly about the election fraud from 2020 as well as the disaster of the federal government's border management.
Like Trump, he has shown no fear of the leftist press. He doesn't kow-tow to them, which means he is less likely to fold like a deck of cards once in office and pressured by that press.
Finally, he is endorsed by Trump. To understand why that endorsement carries for me such great weight, read my essay from early July.
Governor: Kari Lake.
Much of my reasoning for Lake is identical to my reasoning for Masters. Lake is an outsider, she is unafraid to speak her mind, and she has been endorsed by Trump. She has also shown a remarkable ability to push back at the press, especially when they challenge her with Democratic Party talking points. Instead of accepting the false premise of many of those questions, she pushes back, hard, and with the truth. (A great example is her answer to a reporter's attempt to trap her concerning the 2020 election at this link.)
Meanwhile, her chief opponent, Karrin Taylor Robson, has received endorsements from the Republican Party establishment that has done all it can to prevent election reform and any investigation into any of the election tampering from 2020. Governor Doug Ducey has endorsed her. So has former Arizona congressman Matt Salmon, after ending his own campaign for governor. She has also gotten the endorsement of former vice president Mike Pence.
All these endorsements only serve to convince me that Robson is NOT my choice. That Republican establishment has proven in the past two decades that it is utterly unwilling to fight. Every time the going has gotten tough, they have run screaming in terror, making the endless foolish compromises that have put us where we are today, on the verge of losing our constitutional government and all our freedoms.
This difference is profoundly illustrated by how Lake has aggressively pushed the need for election reform, while the establishment has generally poo-pooed these concerns. I don't want weak Republican leaders any longer, especially considering the ample evidence of extensive voter fraud in 2020 (see the data here for example).
Lake meanwhile has joined Mark Finchem in filing for an injunction against the use of electronic voting machines in the upcoming elections. She isn't fooling around, and that is something Americans desperately need in their conservative leaders.
Attorney General: Abraham Hamadeh
Like Masters and Lake, Hamadeh is not a professional politician. Instead, he is a former prosecutor as well as a former Army intelligence officer. And most important, he has also received Trump's endorsement.
My choice in this case however is less certain. Several of the other candidates, such as Dawn Grove, Rodney Glassman, and Andy Gould, were similar to Hamadeh in their background and what they considered important. For example, they all made protecting Constitutional rights a major issue, something that most politicians have ignored for decades.
In the end, it was Trump's endorsement that tilted the scale in Hamadeh's favor.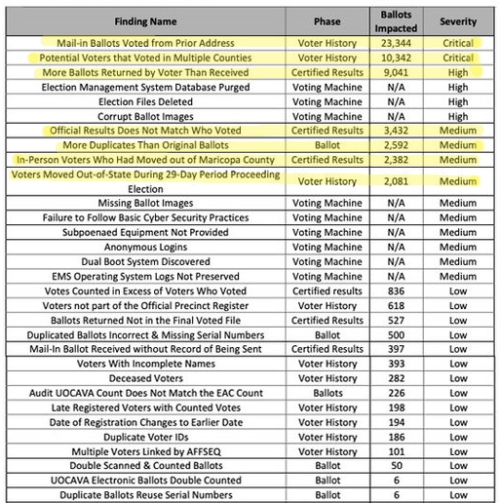 Results of election audit in Maricopa County
Secretary of State: Mark Finchem
Finchem is an easy choice. Following the 2020 election, he — as my own state representative — took the public lead in pushing for the election audit. It was his work probably more than any politician made that audit possible, which documented without doubt that — at a minimum — Arizona's election process in Maricopa County is badly corrupted, and needs major reform. The graphic to the right, summarizing that audit, illustrates this clearly.
As secretary of state, that election process will become Finchem's direct responsibility. Finchem has promised to use that power to fix things.
Finchem has also gotten Trump's endorsement, which only cements this choice.
Treasurer: Kimberly Yee
Though Yee is the only incumbent that I presently will vote for, I will not do it with enthusiasm. The other two Republican candidates, Robert Lettieri and Jeff Weninger, might be as good, and could easily change my mind in the next few weeks, should they garner the right endorsements or make their case better.
Right now however Yee appears a reasonable choice, especially because she has apparently handled the job as Treasurer reasonably well during her term.
I have decided to vote not for Yee but for Jeff Weninger, based on the information in the comment below from Stephen Fleming, who founded the Arizona Space Business Roundtable.
Superintendent of Public Instruction: Shiry Sapir
Though the other two candidates former, Superintendent of Public Instruction Tom Horne and assemblywoman Michelle Udall, would clearly be a vast improvement over the incumbent, Democrat Kathy Hoffman, who has helped introduce critical race theory and the queer agenda into Arizona's schools, Sapir is the only non-politician running on the ticket. She has also been a very public figure in the past year in the battle to overthrow the radical school boards in the state.
Congressional District 6: Brandon Martin
Martin first attracted my interest when I noticed he was willing to identify himself as a Republican on his campaign signs. Most candidates won't do this out of fear they will alienate half the voters. Martin apparently thinks the Democrats have such a tainted brand right now it is better to be up front about his Republican affiliation.
Moreover, when I compared Martin's webpage with the other candidate's webpages, I found it by far the most impressive, not in style but in content. The other candidates appeared to be cookie cutter establishment candidates. Martin focused instead on substantive issues, strongly based on his understanding of the Constitution.
That Martin has also earned Trump's endorsement made this choice easy.
There are other legislative positions up for election, but I think I described the most important. I plead with my readers to do their own research to fill out their choices, especially for their congressional seats. Being lazy now — as we have been for decades — will cost us horribly in the next few years.
Let me close with the words of Tucker Carlson. Carlson gave a keynote speech at a political leadership conference in Iowa last week, talking at length about his criteria for picking who he votes for. He listed three core issues. The first two were related to children and beauty. To understand what he meant, it is well worth your time to watch the full speech here.
His last point, which is cued here to that last part of his speech, began with this line:
You need to be really wary of candidates who care what the New York Times thinks."
He explained that the best way to determine if a Republican candidate is the real thing or merely a Democrat in sheep's clothing is to see how they react when the going gets tough and leftist news outlets like the Times begin to pressure them.
If they respond to that pressure by issuing namby-pamby statements meant to slake the concerns of that leftist media, you then know they are lying when they say they will fight for your conservative values. In truth, they don't care about your conservative values. What they really care about is being treated nicely by news organizations who actually hate them.
Carlson's analysis is spot on, and provides a nice underpinning to many of my own conclusions above. It provides us a useful metric for differentiating between the frauds and liars, and the politicians who are more likely to stand up and fight. Those who are willing to fight the press during the campaign, such as Blake Masters and Kari Lake, are certainly more likely to do it once they are in office.
And above all, it is those fighters we should be voting for.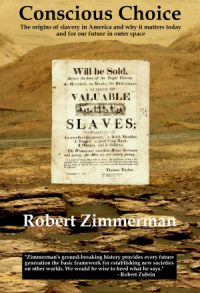 Now available in hardback and paperback as well as ebook!
From the press release: In this ground-breaking new history of early America, historian Robert Zimmerman not only exposes the lie behind The New York Times 1619 Project that falsely claims slavery is central to the history of the United States, he also provides profound lessons about the nature of human societies, lessons important for Americans today as well as for all future settlers on Mars and elsewhere in space.
Conscious Choice: The origins of slavery in America and why it matters today and for our future in outer space
, is a riveting page-turning story that documents how slavery slowly became pervasive in the southern British colonies of North America, colonies founded by a people and culture that not only did not allow slavery but in every way were hostile to the practice.
Conscious Choice
does more however. In telling the tragic history of the Virginia colony and the rise of slavery there, Zimmerman lays out the proper path for creating healthy societies in places like the Moon and Mars.
"Zimmerman's ground-breaking history provides every future generation the basic framework for establishing new societies on other worlds. We would be wise to heed what he says." —Robert Zubrin, founder of founder of the Mars Society.
All editions are available at Amazon, Barnes & Noble, and all book vendors, with the ebook priced at $5.99 before discount. The ebook can also be purchased direct from my ebook publisher, ebookit, in which case you don't support the big tech companies and I get a bigger cut much sooner.
Autographed printed copies are also available at discount directly from me (hardback $24.95; paperback $14.95; Shipping cost for either: $5.00). Just email me at zimmerman @ nasw dot org.