As the state election primaries roll on from state to state, conservative Americans today have a difficult problem: How to determine which Republican candidate is the least likely to stick a knife in our back once we have elected them into office and they have power.
My phrasing here is no accident. Politicians by definition are never to be trusted. Never. The problem is that some can be trusted less than others. To find out who to vote for you need to determine who is least likely to break the promises they make during the campaign trail.
I am also only talking about Republicans, because for me based on the history of the last three decades, there is no Democrat worthy of my vote. That party has become so corrupt and power-hungry that it needs a full house-cleaning before I would ever again trust any of its candidates. Worse, in the past four years it has also begun to endorse and campaign for some downright sick policies, from aggressive blackballing and the arrest of its opponents to including the teaching of the queer sexual agenda to very young school children. Such people must be removed from power, for the sake of everyone.
Let me now show you how I have determined who I will vote for in the Republican Senate primary in Arizona to choose who will run against Democrat Senator Mark Kelly. The primary election is on August 2nd, but early mail-in voting begins on July 6th, so now is the time to start making decisions.
The leading candidates are as follows:

Blake Masters, wealthy businessman and long time associate of Peter Thiel, co-founder of Paypal
Jim Lamon, wealthy businessman, who made much of his wealth from solar power
Mark Brnovich, the state's attorney general
Two other candidates, Michael McGuire and Justin Olson, are running but are very low in the polls.
Both Lamon and Brnovich have demonstrated to me that they are untrustworthy, both in office and during the campaign. As attorney general Brnovich was ideally placed these past two years to properly investigate the election fraud that occurred throughout the state in 2020. Instead, he procrastinated and stalled, and did everything in his power to block any investigation. He might claim that no fraud took place, but he cannot know this as he refused to recognize the allegations uncovered during the election audit and never ran an investigation of his own.
In other words, Brnovich while in office behaved exactly like the established Republican Party in Washington, making big promises during the election campaign but when in office working hand-in-glove with the Democrats to stymie any possibility of reform.
Brnovich has also in his campaign literature been misusing Trump's name to imply Trump supports his candidacy. The dishonest misuse got so bad that Trump's lawyers had to send the campaign a cease-and-desist letter, which stated:
"Your use of President Trump's name, image, and/or likeness is likely to deceive individuals into believing President Trump supports, endorses, or otherwise promotes your candidacy for U.S. Senate in Arizona – he does not,"
As I said, Brnovich and his staff do not appear honest or trustworthy.
Lamon meanwhile revealed his dishonesty by his reaction when Donald Trump endorsed Masters. He began posting ads and mailing out flyers accusing Masters of all kinds of slanderous charges. In one he accused Masters of being an antisemite, a patently false charge. Then, in a flyer that was mailed to my house he accused Masters of being in favor of "unlimited illegal immigration" and no borders, based entirely on a 2005 anonymous online post. Even if that old post had been written by Masters, what he wrote was hardly news. Moreover, all the writer did in 2005 was asking some legitimate philosophical questions about government and its power to control borders. Big deal.
Lamon's campaign staff however took this old and very questionable post and immediately used it to slander Masters, essentially adopting the hateful name-calling tactics of the modern Democratic Party. And they did it by distorting the facts and twisting the words of their opponent.
That leaves me, the voter, with two minor candidates who almost certainly will not win the general election, and Blake Masters, who is presently leading in polls.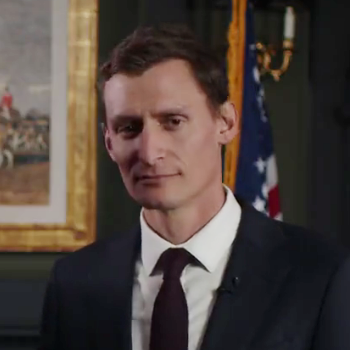 Blake Masters
Who is Masters? First, he is young, only 35. Second, he is not a politician long tied to party politics. To my mind both these factors are good things, as it means he is more likely to act independently. He is also not likely to have gone native and become a part of the uni-party political machine that presently works to block any change of the corrupt status quo.
Third, and most important, Masters won Donald Trump's endorsement. While many people have very legitimate complaints about Trump's term as president, the one thing Trump did that was different from every other politician I have known since I first became aware of politics in the 1960s is that he actually kept his campaign promises. As I wrote in September 2022,
Trump ran [in 2016] making a few basic promises. He would reduce the power and size of the EPA, while squelching the federal government's ferocious appetite for imposing new regulations. He would drain the Washington bureaucracy of its worst actors. He would get us out of the Paris climate accords and the Iran deal, while renegotiating the NAFTA agreement created under Clinton. He would appoint conservative judges to shift the courts to the right. He would move our Israeli embassy to Jerusalem, while cutting off any funding with links to terrorism. He would put an end to illegal immigration.

And unlike any elected official in my lifetime, he followed through on every one those campaign promises, heartily and without fear.
You might not agree with what Trump did, but he did what he said he was going to do. He did not lie like all other politicians.
Thus, his endorsement carries weight. It suggests he thinks Masters will do the same. Moreover, the endorsement indicates that Masters' campaign promises — which align closely to Trump's Make America Great Again program — will be followed through. And since those policies during Trump's term actually worked reasonably well (unlike the policies of the Biden administration today), it seems reasonable to go along with those policies again.
Of course, we do not know if Masters will follow through, and can only find out after Masters takes office. He could be a liar, or incompetent. There is no way to know for certain until he takes office.
However, any change in Washington right now can only be a good thing. Democrat Mark Kelly is certainly a waste as senator, voting in lock-step with the Democratic Party's modern agenda of blacklisting, queer sexual politics, and anti-American hate. Any change can only be an improvement.
Anyway, this is how I have made my choice. I look at the literature of the candidates, I watch what they actually do, and reject the candidates who appear to lie the most and use slander the most. In today's mob culture this is unfortunately the only and maybe the best way to make a choice.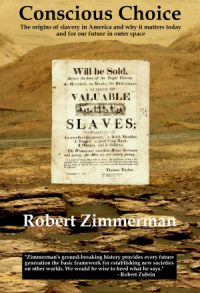 Now available in hardback and paperback as well as ebook!
From the press release: In this ground-breaking new history of early America, historian Robert Zimmerman not only exposes the lie behind The New York Times 1619 Project that falsely claims slavery is central to the history of the United States, he also provides profound lessons about the nature of human societies, lessons important for Americans today as well as for all future settlers on Mars and elsewhere in space.
Conscious Choice: The origins of slavery in America and why it matters today and for our future in outer space
, is a riveting page-turning story that documents how slavery slowly became pervasive in the southern British colonies of North America, colonies founded by a people and culture that not only did not allow slavery but in every way were hostile to the practice.
Conscious Choice
does more however. In telling the tragic history of the Virginia colony and the rise of slavery there, Zimmerman lays out the proper path for creating healthy societies in places like the Moon and Mars.
"Zimmerman's ground-breaking history provides every future generation the basic framework for establishing new societies on other worlds. We would be wise to heed what he says." —Robert Zubrin, founder of founder of the Mars Society.
All editions are available at Amazon, Barnes & Noble, and all book vendors, with the ebook priced at $5.99 before discount. The ebook can also be purchased direct from my ebook publisher, ebookit, in which case you don't support the big tech companies and I get a bigger cut much sooner.
Autographed printed copies are also available at discount directly from me (hardback $24.95; paperback $14.95; Shipping cost for either: $5.00). Just email me at zimmerman @ nasw dot org.