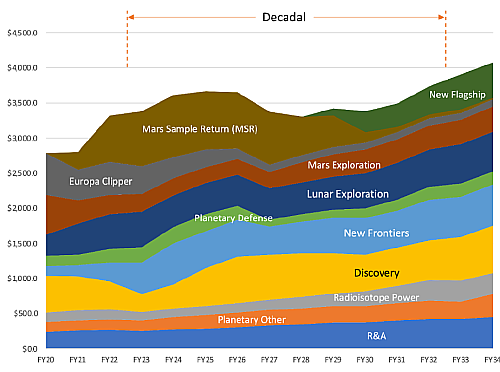 Figure 22.2 from the decadal survey, outlining its fantasy about future
budget allocations.
Let me admit right off the bat that my headline above is a bit too cynical as well as a bit unfair. In releasing yesterday their decadal survey, outlining what they hope planetary missions NASA will do in the next decade, the planetary science community was mostly interested in recommending the planetary missions in the coming decade it thought would provide the best actual science.
The problem is that in recent decades, these decadal surveys, from both the astronomers and the planetary scientists, have evolved into documents designed to encourage a few big expensive missions, rather than a suite of many smaller probes to many different places. For examples, consider this quote from the article in Science describing yesterday's announcement:

It was Uranus's turn. The last decadal report, in 2011, ranked an ice giants mission third, following a set of missions to return rock samples from Mars and a visit to Europa, Jupiter's icy moon—missions that are now underway or in development. So perhaps the survey's biggest surprise is its recommendation for what comes after Uranus: a $4.9 billion mission to Enceladus, the tiny moon of Saturn that spews organic-rich plumes of water out of fissures in an icy cap—ready-made samples of a subsurface ocean that might host microbes.
In truth, most of the recommendations in the 2011 survey were never funded. What did get funded was the rover Perseverance, which was actually an Obama administration proposal not included in the 2011 report, and Europa Clipper, which though recommended in the 2011 survey was really pushed by Congress. Both have been very expensive, though Persevance was actually a bargain compared to what the scientists actually proposed because it was simply a twin of Curiosity, with some relatively minor changes.
Similarly, a comparable decadal survey by astronomers in 2010 ended up getting only its big projects funded, the multi-billion dollar Roman Space Telescope and the ground-based LSST telescope. Very few small and cost effective new space telescopes were proposed, or funded, or even built.
I am therefore very cynical about this new survey's two top proposals, a mission to Uranus and an orbiter to the Saturn moon Enceladus. Both will be reshaped into many-decade, very expensive boondoggles by Congress and the Washington swamp, eating up the rest of the planetary community's space budget so that other smaller missions will fall by the wayside.
And if you don't believe me, consider this fact cited in the decadal survey itself and noted in the linked article:
Although the planetary science budget has grown to accommodate big missions, the scientists who advance that work have not seen the same gains, the report stresses. The share of the budget spent over the past decade on research grants has fallen from 14% in 2010 to 7.7%.
In other words, the big missions have drained money from the scientists actually doing the research.
Worse, the poison of critical race theory is strongly inserted into this survey. One entire section is dedicated to outlining ways to guarantee equal outcomes among races, which thus encourages the government to fund not the best science but to distribute grants based on race, ethnicity, and gender quotas.
Thus, this report will result in only a few big projects, generally determined solely for political ends, with favoritism in hiring and funding given to racial minorities.
What this decadal survey should have recommended as a primary goal but didn't was for the federal government and NASA to shift money away from these big government-run planetary missions to instead fund many small missions designed by many different scientists, who would fly those missions by hiring private companies to build the probes for them. NASA would removed from the equation, except as an agency whose sole job is that of awarding funding to good projects. This would have encouraged a commercial and competitive industry capable of launching science probes to many different targets in the solar system. It would have encouraged competition, and thus innovation. It would have also gotten a lot more done more quickly, for less money.
And it would have laid the groundwork for launching those big missions more effectively and for less cost, and possibly sooner, using the innovations developed by the private competitive private sector.
This is not what was recommended however. Instead, we get another big government program, growing in size while taking ever longer to get anything accomplished. As I say, I have become very cynical about these decadal surveys. And since they are more and more run by our corrupt governmental class, I have even less reason to get excited about them.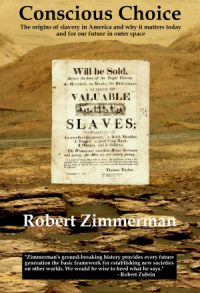 Now available in hardback and paperback as well as ebook!
From the press release: In this ground-breaking new history of early America, historian Robert Zimmerman not only exposes the lie behind The New York Times 1619 Project that falsely claims slavery is central to the history of the United States, he also provides profound lessons about the nature of human societies, lessons important for Americans today as well as for all future settlers on Mars and elsewhere in space.
Conscious Choice: The origins of slavery in America and why it matters today and for our future in outer space
, is a riveting page-turning story that documents how slavery slowly became pervasive in the southern British colonies of North America, colonies founded by a people and culture that not only did not allow slavery but in every way were hostile to the practice.
Conscious Choice
does more however. In telling the tragic history of the Virginia colony and the rise of slavery there, Zimmerman lays out the proper path for creating healthy societies in places like the Moon and Mars.
"Zimmerman's ground-breaking history provides every future generation the basic framework for establishing new societies on other worlds. We would be wise to heed what he says." —Robert Zubrin, founder of founder of the Mars Society.
All editions are available at Amazon, Barnes & Noble, and all book vendors, with the ebook priced at $5.99 before discount. The ebook can also be purchased direct from my ebook publisher, ebookit, in which case you don't support the big tech companies and I get a bigger cut much sooner.
Autographed printed copies are also available at discount directly from me (hardback $24.95; paperback $14.95; Shipping cost for either: $5.00). Just email me at zimmerman @ nasw dot org.