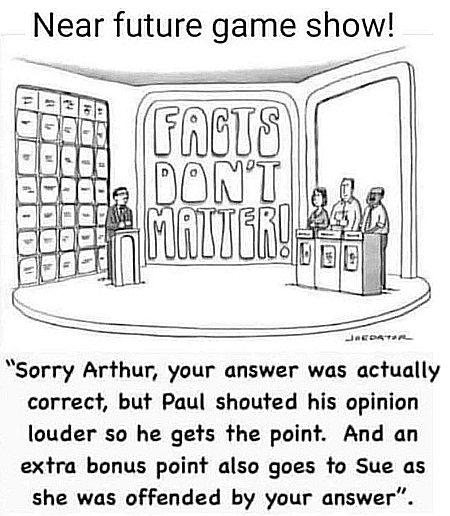 How our governments determined policy against COVID during
the past two years.
Almost two years after the first arrival of the Wuhan virus into the United States, we now can look back at what has transpired and come to some solid conclusions about this respiratory illness as well as the draconian panic-based responses by governments and many citizens.
The most significant take-away from this review is simple: Routinely, government officials, especially those in states controlled by Democrats, lied repeatedly in order to create fear and terror in the general population. Almost every claim they made, edict they declared, or mandate they ordered, was either an outright lie, or designed to obscure the truth. Let's take them one-by-one.
The models
Almost immediately, politicians, health officials, and government scientists began touting a variety of computer models, with the model [pdf] put forth by scientists at Imperial College leading the way, that claimed millions would die if some short-term draconian measures were not taken immediately. Governments and corporations had to impose very temporary two-week lockdowns, social distancing, and mask mandates to slow the spread of COVID in order to reduce the immediate impact and thus avoid hospitals and health facilities from being overrun.
In other words, we were told that by simply under-going two weeks of martial law, the curve would flatten, hospitals would be able to handle the increased but controllable influx of patients, and we could then go back to normal.
This was an outright lie. It was obvious as early as April 2020 that those models had been junk and shouldn't be relied on. This was further confirmed in May 2020 that "two weeks to flatten the curve" was also a lie. Not only was martial law not cancelled after two weeks, at no time during the epidemic were hospitals ever really overrun.
Yet these politicians, health officials, and scientists — almost all of whom were partisan Democrats — continued to lie about the dangers of the Wuhan virus, because by fueling the public's fear of this virus it gave these power-hungry officials a wedge to wield more power.
The virus
The evidence now shows unequivocally that the Wuhan flu was merely another variation of all previous new such respiratory illnesses. It was generally harmless to healthy people under 65 and completely harmless to young people under 20. Its main threat — just like the flu — was to the elderly, the chronically sick, or the obese. Almost all the deaths were confined to those populations. By itself it was practically impossible for COVID to kill you.
These facts were also obvious almost immediately. As I wrote in March 2020 in describing the very significant data coming from the cruise ship Diamond Princess:
One would have thought, if this virus is so virulent and deadly as the press and politicians and too many panicky Americans are claiming, that everyone on the ship would have gotten badly sick, and many many would have died. Instead, 83% of the passengers and crew never got the disease at all, despite being closely confined with infected people for weeks. This despite the fact that the ship's population was heavily skewed towards older people. In fact, older people were just as likely to not get infected as younger people.

The total number of deaths was 7, all over seventy years of age, producing a death rate of 1.2%, once again in the same range as South Korea and China. [emphasis in original]
These facts have been confirmed over and over and over again since then. The Wuhan flu might have been worse than the normal flu, but not significantly so. Even though death rate is higher than the death rate of the flu, it is still confined almost exclusively to those aged and the sick. For the rest of the population, the death rate is practically nil.
Politicians and health officials and many scientists with an ax to grind, however, ignored this data. Instead, they fueled the fear and panic felt by the general public by purposely and repeatedly citing those badly written and flawed models. Millions were going to die! Give us power to save them!
Once again, it must be emphasized that the first politicians to ignore the facts and misuse the models were Democrats. And it has been Democrats who have continued to ignore the facts, sticking with their failed and ineffective policies for as long as possible despite the growing data that we have little to fear from COVID.
The lock downs
Politicians like governors Gavin Newsom (D-California), Gretchen Witmer (D-Michigan), Andrew Cuomo (D-New York), Tom Wolf (D-Pennsylania), Kate Brown (D-Oregon), Tony Evers (D-Wisconsin), and Phil Murphy (D-New Jersey) all quickly demanded extraordinary emergency powers at the beginning of the epidemic, with Newsom in California leading the way. Once they had those powers, they all claimed that, by shutting down all businesses they arbitrarily deemed "unessential" while putting the entire population into house arrest, they could stop the spread of COVID and thus save lives.
These Democratic Party governors all made this claim despite decades of policy that never quarantined the healthy. Instead, since the Enlightenment the policy had been, as the Great Barrington Declaration noted,
to allow those who are at minimal risk of death to live their lives normally to build up immunity to the virus through natural infection, while better protecting those who are at highest risk.
These power-hungry politicians insisted they had to impose these stringent lockdowns because COVID was so dangerous that if they didn't, millions would die. Their fear-mongering instilled so much terror in a large bulk of the population that for more than a year the public eagerly accepted the imposition of martial law on their lives.
Were these politicians right?
All research now consistently shows that the effort to shut down economic activities at all levels did nothing to slow or stop the spread of COVID.
During the last two years I've cited time after time the many different studies demonstrating these facts. A recent review of 34 research papers [pdf] on the impact of lock downs however drives the point home even more dramatically. From the paper's conclusion:
"What does the evidence tell us about the effects of lockdowns on mortality?" We provide a firm answer to this question: The evidence fails to confirm that lockdowns have a significant effect in reducing COVID-19 mortality. The effect is little to none.

The use of lockdowns is a unique feature of the COVID-19 pandemic. Lockdowns have not been used to such a large extent during any of the pandemics of the past century. However, lockdowns during the initial phase of the COVID-19 pandemic have had devastating effects. They have contributed to reducing economic activity, raising unemployment, reducing schooling, causing political unrest, contributing to domestic violence, and undermining liberal democracy. These costs to society must be compared to the benefits of lockdowns, which our meta-analysis has shown are marginal at best. Such a standard benefit-cost calculation leads to a strong conclusion: lockdowns should be rejected out of hand as a pandemic policy instrument. [emphasis mine]
The economic disaster caused by the lock downs was obvious almost immediately. As I wrote in April 2020,
While many state governors across the United States dawdle and hesitate about lifting their panic-induced lock downs on their states out of fear it might cause a few more Wuhan virus deaths, the real devastation from their panic is propagating uncontrolled across the landscape, and will in the end kill far far more people.

Their actions have caused the entire economy to collapse, destroyed entire industrial sectors, prevented untold numbers from getting the proper healthcare when needed, and put millions of people out of work. In the end, this government-imposed depression will do far more harm that the Wuhan flu ever could, and do it for a much longer time spell.
These power-hungry politicians will now claim that the lockdowns were a simple mistake, that no one knew in the spring of 2020 that they would not work. That claim however is just another lie. These recent studies indicating the failure of lockdowns during the Wuhan epidemic are not new discoveries. They merely confirm what was clearly known at the start of the epidemic. Lockdowns and harsh martial law restrictions do little to reduce the spread of an epidemic, while causing great harm to the general economy and population.
Worse, it was clear almost immediately that the lockdowns weren't working and were a mistake. Yet, these governors doubled-down on their edicts, sometimes extending and expanding them arbitrarily and sometimes in direct violation of the federal Constitution and their own state laws.
Their edicts were therefore not imposed to stop COVID, but to oppress the population for the sake of power.
It must be emphasized again that the first politicians to push for lock downs were Democrats. And the politicians who refused to recognize the growing data and thus stick stubbornly to this failed lockdown policy for the longest time have also been Democrats.
Masks
At no time during the entire epidemic has there been any valid research that successfully challenged the more than a century of research that showed masks are a useless protection against viruses. The science here has never changed. All that has changed have been the politically-driven policies of politicians and incompetent government health officials, who from month-to-month reworked their mask rules over and over, without ever citing any research that justified the changes. This video of Anthony Fauci illustrates this incompetence beautifully:
Fauci however was not alone. Democratic Party politicians — with the agreement of their operatives in the mainstream press — are not suddenly abandoning or loosening their mask mandates in the past week in states like New Jersey, Nevada, Connecticut, Delaware, and Oregon because they have new scientific data saying masks don't work. The science has always said that masks were ineffective. What has changed is polling. The public is sick of masks, knows they don't work, and want the mandates gone. The politicians are merely tracking polls.
Or to put it even more bluntly, the demand that everyone wear masks was always a lie. As I wrote in July 2020,
[T]hese mask orders are in general irrational, and involve a whole range of irrational and thoughtless decision-making, by health officials, by governors, and by citizens. If anything, the mask appears to have become not a method for protecting public health but for exhibiting the ignorance of its user.
And once again, the first politicians to act so irrationally were generally Democrats. And it has been Democrats who have continued to demand masks be worn, fighting the end of mask mandates tooth and nail, despite the data.
COVID shots
The general public has been taught to call these shots "vaccines" but that has never been what they are. These experimental drugs have always been more akin to the annual flu shots offered. They might work to protect you or mitigate the severity of the disease, but they will not protect you as a vaccine would. Moreover, like flu shots their effectiveness is very temporary, mere months compared to the years that vaccines work.
Whether you want to call them vaccines or not, the evidence is now quite conclusive that these shots have had only a very limited benefit in protecting the population from COVID. They work for awhile, but then must be boosted, with the boosters being even less effective than the original shots.
In the end, the shots don't seem to have accomplished much at all.
More important, there is ample evidence that the shots cause significant adverse effects, actually causing deaths, especially among the young. And since the data clearly shows that children are essentially immune to COVID, it is an outright crime to give them these shots and cause even a few to thus die unnecessarily.
These facts strong suggest that any decision to get a COVID shot must be left to the individual. No government coercion should be imposed, because the shot carries risks. And yet, it has been the political and corporate world that has demanded that people be forced to get the shots, against their will, or be faced with severe financial and personal punishment.
Those mandates were based on lies, on the claim that the "vaccines" would protect you, when in truth they did not.
And once again, the politicians who have been most wedded to mandating COVID shots have been Democrats. And the politicians who have refused the longest to rethink those mandates have also been Democrats. For them, mandates are good in and of themselves, as it allows them to wield power over others.
It has all been a lie
Since day one of the epidemic practically every policy decision by government and the largely Democratic academic community has been based on lies. And those lies caused the initial response to COVID to be wrong and misguided. It was panicked, thoughtless, based on very flawed models rather than the actual data, and did far more harm than good. The later and continuing mandates requiring the COVID shots and masks to keep one's job, to fly on airplanes, to cross borders, to even go to school or attend public events, are even more insane, based not on the now long-known facts but on lies and fear and the urge by those in power to wield that power corruptly.
It is long past time for everyone to stop buying into these lies.
And it appears the public is finally waking up to these lies. This realization, that the Wuhan panic was based largely on lies, is one of the main reasons these power-hungry politicians are facing larger and larger protests worldwide, protests that are also becoming increasingly determined and defiant. The public is growing heartily sick of the lies they have been fed for the past two years, and are angry at the damage it has done, to their friends, their neighbors, their families, their children, and to themselves.
They want the lying to stop. And they want it to stop, now.
And if that lying doesn't stop, the protests will only grow worse, and more determined. Power-hungry politicians, especially Democrats, had better realize this truth soon. If they don't, they are not going to like the violent outcome that is sure to follow.
Simply ending the lying however will not be sufficient. The endless dishonesty in the past two years has created a great distrust and disbelief worldwide in what politicians and scientists say. More and more, the public does not believe any claims coming from government, whether by elected officials or government scientists, even when those claims are actually correct.
This distrust and disbelief is a cancer on civilization, and must be healed for our society to prosper once again.
For a healing to occur however will likely require a complete house-cleaning of those liars who are in power, both those who have been elected and those within the bureaucracies. The liars have to go, if only to demonstrate that governments are making a sincere effort to regain the trust of the public.
Thus, if elected politicians want to demonstrate their trustworthiness, they had better start removing the liars like Fauci that are found everywhere in our federal government. If they don't — no matter which party they belong to — we shall continue to see rising protests and disruptions, growing more and more violent. The public no longer has good will for their government, and without it no democracy can function.
The writing is on the wall. The question remains whether our leaders will be able or willing to read it.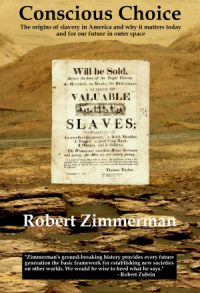 Now available in hardback and paperback as well as ebook!
From the press release: In this ground-breaking new history of early America, historian Robert Zimmerman not only exposes the lie behind The New York Times 1619 Project that falsely claims slavery is central to the history of the United States, he also provides profound lessons about the nature of human societies, lessons important for Americans today as well as for all future settlers on Mars and elsewhere in space.
Conscious Choice: The origins of slavery in America and why it matters today and for our future in outer space
, is a riveting page-turning story that documents how slavery slowly became pervasive in the southern British colonies of North America, colonies founded by a people and culture that not only did not allow slavery but in every way were hostile to the practice.
Conscious Choice
does more however. In telling the tragic history of the Virginia colony and the rise of slavery there, Zimmerman lays out the proper path for creating healthy societies in places like the Moon and Mars.
"Zimmerman's ground-breaking history provides every future generation the basic framework for establishing new societies on other worlds. We would be wise to heed what he says." —Robert Zubrin, founder of founder of the Mars Society.
All editions are available at Amazon, Barnes & Noble, and all book vendors, with the ebook priced at $5.99 before discount. The ebook can also be purchased direct from my ebook publisher, ebookit, in which case you don't support the big tech companies and I get a bigger cut much sooner.
Autographed printed copies are also available at discount directly from me (hardback $24.95; paperback $14.95; Shipping cost for either: $5.00). Just email me at zimmerman @ nasw dot org.