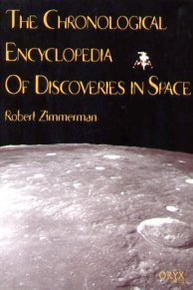 After being in print for twenty years, the Chronological Encyclopedia of Discoveries in Space, covering everything that was learned on every single space mission in the 20th century, has finally gone out of print.
I presently have my last four hardback copies available for sale. The book sold new for about $90. To get your own autographed copy of this now rare collector's item, please send a $120 check (which includes shipping) payable to Robert Zimmerman to
Behind The Black, c/o Robert Zimmerman
P.O.Box 1262
Cortaro, AZ 85652

"Useful to space buffs and generalists, comprehensive but readable, Bob Zimmerman's Encyclopedia belongs front and center on everyone's bookshelf." -- Mike Collins, Apollo 11 astronaut
"The Chronological Encylopedia of Discoveries in Space is no passionless compendium of information. Robert Zimmerman's fact-filled reports, which cover virtually every spacecraft or probe to have ventured into the heavens, relate the scientific and technical adventure of space exploration enthusiastically and with authority." -- American Scientist
On Sunday NOAA posted its monthly update of the solar cycle, showing the Sun's sunspot activity in May. As I have done since 2010, I am posting it here, with annotations to give it context.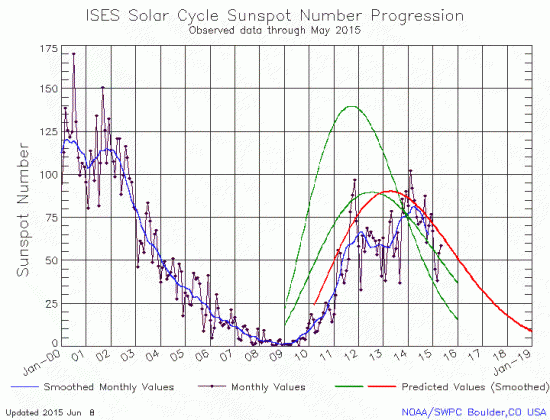 The graph above has been modified to show the predictions of the solar science community. The green curves show the community's two original predictions from April 2007, with half the scientists predicting a very strong maximum and half predicting a weak one. The red curve is their revised May 2009 prediction.
Sunspot activity once again increased in May, though it continues to remain below the 2009 prediction of activity. Though it is still early in the ramp down, a look at the present pattern suggests that (as I also noted last month) sunspot activity is declining much faster than normal. In the past, the ramp down after solar maximum was long and drawn out, while ramp up was much faster. This ramp down seems much more precipitous than past solar cycles.
I should add that in early April Sunspot Index and Long-term Solar Observations (SILSO) had declared that the peak of the solar maximum had occurred in April 2014, and that they could now sum up the overall weakness of this maximum.
Cycle 24 proves to be 30% weaker than the previous solar cycle, which reached 119.7 in July 2000, and thus belongs to the category of moderate cycles, like cycles 12 to 15, which were the norm in the late 19th and early 20th century. Compared to strong cycles, such cycles typically feature a broader maximum, with a 3-year plateau on top of which two or more surges of activity can produce sharp peaks of similar height.
I had missed this announcement when it was first posted. It is worth noting however, especially since their discussion in April is interesting to read in the context of what has happened since.