In a campaign rally Friday in Florida, Mitt Romney put forth his perspective on the state of the American space program, and what he plans to do about it.
The speech is about 16 minutes long. It is worth listening to it in its entirety.
In it, Romney outlined the reasons he thinks a robust space program is important: defense, innovation, exploration, and the ability to respond to potential natural threats from space. Having done so, however, he then refused to outline any specific actions he would take to address these issues, saying instead that once in office he will bring together the right kinds of space experts who will then advice him on the right kind of plan to achieve all these important goals.
I appreciate his refusal to pander. At the same time, his vagueness does not make me enthusiastic. Moreover, he is only offering us the same thing we have seen numerous times before, another blue ribbon panel study outlining a plan. It would make me far happier if he already understood better the problems of the space program, and could articulate the actions he wishes to take, as Gingrich did.

Nonetheless, his past successes both in the private and public sector suggest to me a strong competence on his part, which also suggests that overall he will do better than the President we have now. Sadly, his speech about space also suggests that on this particular issue, I have no idea what he'll do.
In the end, the most important thing that can happen in the next nine months is for the private commercial space companies to succeed in bringing cargo to ISS. If they do that, they will force all these politicians to act in the right direction. As Milton Friedman once said,
I do not believe that the solution to our problem is simply to elect the right people. The important thing is to establish a political climate of opinion which will make it politically profitable for the wrong people to do the right thing.
The more pressure the public and the space industry places on these politicians to do the right thing (shrink the power and size of government, allow freedom and individual dreams of private companies to rule the day), the more chance they will do it, regardless of what they really believe.
One more thought: It is once again clear that it is Gingrich's actions that are defining the terms of this campaign, at least so far as Florida is concerned. Gingrich has taken the offensive, and forced Romney to respond on a subject that he clearly wasn't prepared to discuss in detail. And it is this ability of Gingrich that illustrates his strengths as a candidate and campaigner. This fact should weigh on voters minds' as they enter the ballot box.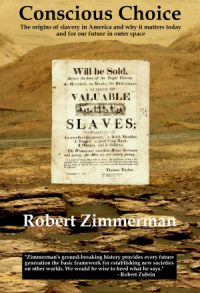 Now available in hardback and paperback as well as ebook!
From the press release: In this ground-breaking new history of early America, historian Robert Zimmerman not only exposes the lie behind The New York Times 1619 Project that falsely claims slavery is central to the history of the United States, he also provides profound lessons about the nature of human societies, lessons important for Americans today as well as for all future settlers on Mars and elsewhere in space.
Conscious Choice: The origins of slavery in America and why it matters today and for our future in outer space
, is a riveting page-turning story that documents how slavery slowly became pervasive in the southern British colonies of North America, colonies founded by a people and culture that not only did not allow slavery but in every way were hostile to the practice.
Conscious Choice
does more however. In telling the tragic history of the Virginia colony and the rise of slavery there, Zimmerman lays out the proper path for creating healthy societies in places like the Moon and Mars.
"Zimmerman's ground-breaking history provides every future generation the basic framework for establishing new societies on other worlds. We would be wise to heed what he says." —Robert Zubrin, founder of founder of the Mars Society.
All editions are available at Amazon, Barnes & Noble, and all book vendors, with the ebook priced at $5.99 before discount. The ebook can also be purchased direct from my ebook publisher, ebookit, in which case you don't support the big tech companies and I get a bigger cut much sooner.
Autographed printed copies are also available at discount directly from me (hardback $24.95; paperback $14.95; Shipping cost for either: $5.00). Just email me at zimmerman @ nasw dot org.