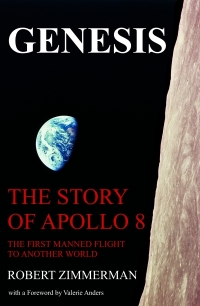 On Christmas Eve 1968 three Americans became the first humans to visit another world. What they did to celebrate was unexpected and profound, and will be remembered throughout all human history. Genesis: the Story of Apollo 8, Robert Zimmerman's classic history of humanity's first journey to another world, tells that story, and it is now available as both an ebook and an audiobook, both with a foreword by Valerie Anders and a new introduction by Robert Zimmerman.
The ebook is available everywhere for $5.99 (before discount) at
amazon
, or direct from my ebook publisher,
ebookit
.
The audiobook is also available at all these vendors, and is also
free with a 30-day trial membership to Audible.
"Not simply about one mission, [Genesis] is also the history of America's quest for the moon... Zimmerman has done a masterful job of tying disparate events together into a solid account of one of America's greatest human triumphs." --San Antonio Express-News
In a campaign rally Friday in Florida, Mitt Romney put forth his perspective on the state of the American space program, and what he plans to do about it.
The speech is about 16 minutes long. It is worth listening to it in its entirety.
In it, Romney outlined the reasons he thinks a robust space program is important: defense, innovation, exploration, and the ability to respond to potential natural threats from space. Having done so, however, he then refused to outline any specific actions he would take to address these issues, saying instead that once in office he will bring together the right kinds of space experts who will then advice him on the right kind of plan to achieve all these important goals.
I appreciate his refusal to pander. At the same time, his vagueness does not make me enthusiastic. Moreover, he is only offering us the same thing we have seen numerous times before, another blue ribbon panel study outlining a plan. It would make me far happier if he already understood better the problems of the space program, and could articulate the actions he wishes to take, as Gingrich did.

Nonetheless, his past successes both in the private and public sector suggest to me a strong competence on his part, which also suggests that overall he will do better than the President we have now. Sadly, his speech about space also suggests that on this particular issue, I have no idea what he'll do.
In the end, the most important thing that can happen in the next nine months is for the private commercial space companies to succeed in bringing cargo to ISS. If they do that, they will force all these politicians to act in the right direction. As Milton Friedman once said,
I do not believe that the solution to our problem is simply to elect the right people. The important thing is to establish a political climate of opinion which will make it politically profitable for the wrong people to do the right thing.
The more pressure the public and the space industry places on these politicians to do the right thing (shrink the power and size of government, allow freedom and individual dreams of private companies to rule the day), the more chance they will do it, regardless of what they really believe.
One more thought: It is once again clear that it is Gingrich's actions that are defining the terms of this campaign, at least so far as Florida is concerned. Gingrich has taken the offensive, and forced Romney to respond on a subject that he clearly wasn't prepared to discuss in detail. And it is this ability of Gingrich that illustrates his strengths as a candidate and campaigner. This fact should weigh on voters minds' as they enter the ballot box.
Readers!
My July fund-raiser for Behind the Black is now over. The support from my readers was unprecedented, making this July campaign the best ever, twice over. What a marvelous way to celebrate the website's tenth anniversary!

Thank you! The number of donations in July, and continuing now at the beginning of August, is too many for me to thank you all personally. Please forgive me by accepting my thank you here, in public, on the website.

If you did not donate or subscribe in July and still wish to, note that the tip jar remains available year round.
Regular readers can support Behind The Black with a contribution via paypal:
If Paypal doesn't work for you, you can support Behind The Black directly by sending your donation by check, payable to Robert Zimmerman, to

Behind The Black
c/o Robert Zimmerman
P.O.Box 1262
Cortaro, AZ 85652