Rosetta has successfully achieved orbit around Comet 67P/C-G and has transmitted its first close up images. More information here and here about the rendezvous and what science the mission scientists plan to do as they orbit the comet.
The image below is looking down and past the comet's smaller component as it casts a shadow on the neck and the larger component beyond. As with the earlier images, the comet's pitted and corroded surface, lacking any obvious craters, is reminiscent to me of a pile of dirty snow that has been dissolving away. In fact, when I lived in New York I would see this kind of look every winter. When the city would get a big snowfall snowplows would push it into large mounds on the side of the road. As time passed these piles would get dirty from the city's soot and grime, and also slowly melt away. After several weeks it would look almost exactly like the surface of Comet 67P/C-G.
The images and data that will come down from Rosetta over the next year and half as it orbits the comet in its journey around the Sun will be most fascinating. Stay tuned!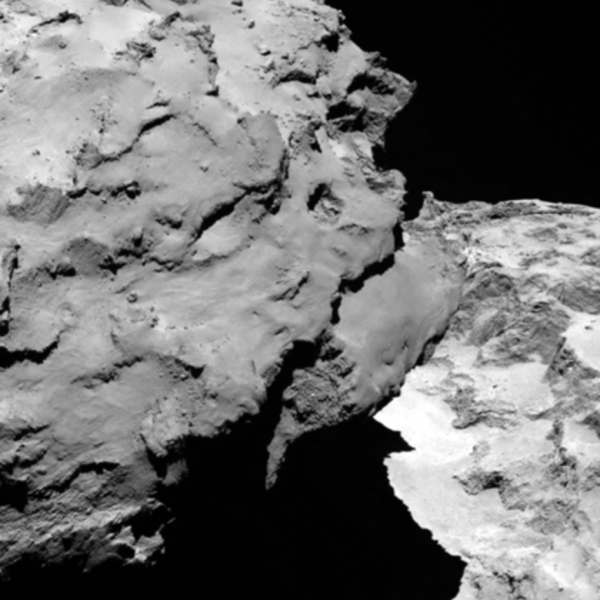 Readers!
In order to remain completely independent and honest in my writing, I accept no sponsorships from big space companies or any political organizations. Nor do I depend on ads.
Instead, I rely entirely on the generosity of readers to keep Behind the Black running. You can either make a one time donation for whatever amount you wish, or you sign up for a monthly subscription ranging from $2 to $15 through Paypal, or $3 to $50 through Patreon, or any amount through Zelle.
The best method to donate or subscribe is by using Zelle through your internet bank account, since it charges no fees to you or I. You will need to give my name and email address (found at the bottom of the "About" page). What you donate is what I get.
To use Patreon, go to my website there and pick one of five monthly subscription amounts, or by making a one-time donation.

For PayPal click one of the following buttons:

If these electronic payment methods don't work for you, you can support Behind The Black directly by sending your donation by check, payable to Robert Zimmerman, to


Behind The Black
c/o Robert Zimmerman
P.O.Box 1262
Cortaro, AZ 85652