In the heat of competition: Russia this week announced new space agreements with both China and Europe.
The first describes a deal whereby Europe will pay Russia to use its Bion capsules to launch life science experiments. In addition, the article notes that Europe will continue its agreement with Russia to launch commercial Soyuz rockets from its Arianespace launchpad in French Guiana.
The second and third stories describe a variety of negotiations between Russia and China, whereby the two countries will work together in a number of ways, including the possibiliity that China will buy the same Russian rocket engine that ULA uses in its Atlas 5 rocket as well as maybe jointly build a heavy lift rocket with Russia. In the second article, Russia's deputy prime minister Dmitry Rogozin, in touting the excellence of the Russian rocket engine, could not help taunting the United States.

"It's on our very successful engine (RD-180), which we deliver even to the United States. You have heard all sorts of speculations on this by American politicians, starting from (Chairman of the Senate Committee on Armed Services John) McCain to Elon Musk, who were trying to prevent such deliveries", Rogozin said.

"However, the pragmatic Americans, being the initiators of the sanctions, continue to purchase our engines, because they simply do not have this kind of engine. They have no equipment to orbit their payloads on. Naturally, the Chinese side is interested in such a powerful engine for launching its payloads into space," the Russian deputy prime minister said.
From my perspective these negotiations with China actually reveal Russia's weakness, not strength, when it comes to space technology. They need the Chinese to build a heavy-lift rocket, because they can't afford to do it themselves. More importantly, China's space technology is in many ways more advanced than Russia's, being newer. Other than small incremental improvements to their 1960s technology, Russia hasn't developed new space technology in decades, while China's new rockets and manned spacecraft were designed and built in the last fifteen years.
Another story today, where Rogozin orders that the first stage of construction for their new Vostochny spaceport be completed by November 2016, also illustrates Russia's weakness. The first launch from Vostochny in April was merely a pr stunt to hide the reality that the spaceport is far behind schedule and way over budget. It was supposed to be completed by the end of 2015, but it won't even be close to operational for several more years.
These articles, all of which are coming from the Russian press which is now closely supervised by Putin's government, are really nothing more than sales pitches by Russia to other countries, trying to convince them to buy their products or work with them to help them develop new technology. They all indicate Russia's continuing economic and technological weakness, and suggest that Russia's ability to compete effectively in the global launch market will continue to shrink in the coming decades. They will continue to have their own government space program, but will be increasingly unable to sell their space products abroad.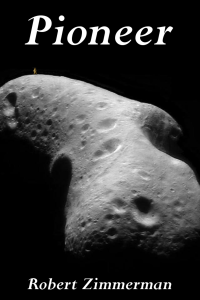 From the press release: From the moment he is handed a possibility of making the first alien contact, Saunders Maxwell decides he will do it, even if doing so takes him through hell and back.
Unfortunately, that is exactly where that journey takes him.
The vision that Zimmerman paints of vibrant human colonies on the Moon, Mars, the asteroids, and beyond, indomitably fighting the harsh lifeless environment of space to build new societies, captures perfectly the emerging space race we see today.
He also captures in Pioneer the heart of the human spirit, willing to push forward no matter the odds, no matter the cost. It is that spirit that will make the exploration of the heavens possible, forever, into the never-ending future.
Available everywhere for $3.99 (before discount) at
amazon
,
Barnes & Noble
, all ebook vendors, or direct from the ebook publisher,
ebookit
. And if you buy it from
ebookit
you don't support the big tech companies and I get a bigger cut much sooner.