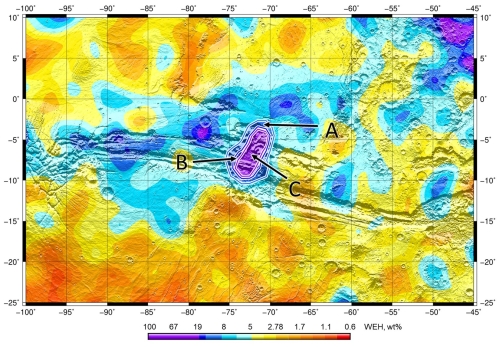 Click for full image.
In what could be a very significant discovery, scientists using Europe's Trace Gas Orbiter (TGO) have discovered a surprisingly large underground reservoir of hydrogen, likely ice, near Martian equator and inside the solar system's largest known canyon, Valles Marineris.
The map to the right, reduced to post here, provides all the important data. From its caption:
The coloured scale at the bottom of the frame shows the amount of 'water-equivalent hydrogen' (WEH) by weight (wt%). As reflected on these scales, the purple contours in the centre of this figure show the most water-rich region. In the area marked with a 'C', up to 40% of the near-surface material appears to be composed of water (by weight). The area marked 'C' is about the size of the Netherlands and overlaps with the deep valleys of Candor Chaos, part of the canyon system considered promising in our hunt for water on Mars.
What the caption does not note is the latitude of this hydrogen, about 3 to 10 degrees south latitude. Assuming the hydrogen represents underground ice, this would be the first detection on Mars below 30 degrees latitude, and the very first in the equatorial regions. Data from orbit has suggested that Mars has a lot of water ice, found near the surface more and more as you move into higher latitudes above 30 degrees and making Mars much like Antarctica. Almost no ice however had until now been detected below 30 degrees latitude. As the European Space Agency's press release noted,

Water ice is not found exposed at the surface near the equator, as temperatures here are not cold enough for exposed water ice to be stable.

Missions including ESA's Mars Express have hunted for near-surface water – as ice covering dust grains in the soil, or locked up in minerals – at lower latitudes of Mars, and found small amounts. However, such studies have only explored the very surface of the planet; deeper water stores could exist, covered by dust.

"With TGO we can look down to one metre below this dusty layer and see what's really going on below Mars' surface – and, crucially, locate water-rich 'oases' that couldn't be detected with previous instruments," says Igor Mitrofanov of the Space Research Institute of the Russian Academy of Sciences in Moscow, Russia; lead author of the new study; and principal investigator of the FREND (Fine Resolution Epithermal Neutron Detector) neutron telescope.
If confirmed as ice, this discovery is ground-breaking, because it suggests that the underground layers of ice that have been detected on Mars down to 30 degrees latitude likely also exists at the equator, though much deeper underground. This discovery suggests that ice table is global, meaning that if you dig down almost anywhere on Mars you will uncover ice.
The ice layer in this part of Valles Marineris appears detectable because the canyon itself has removed the upper layers that normally hide it at the equator, thus putting that layer close to the surface so that TGO could see it.
Readers!
I must unfortunately ask you for your financial support because I do not depend on ads and rely entirely on the generosity of readers to keep Behind the Black running. You can either make a one time donation for whatever amount you wish, or you sign up for a monthly subscription ranging from $2 to $15 through Paypal or $3 to $50 through Patreon.
Your support will allow me to continue covering science and culture as I have for the past twenty years, independent and free from any outside influence.
Your support is even more essential to me because I not only keep this site free from advertisements, I do not use the corrupt social media companies like Google, Twitter, and Facebook to promote my work. I depend wholly on the direct support of my readers.
You can provide that support to Behind The Black with a contribution via Patreon or PayPal. To use Patreon, go to my website there and pick one of five monthly subscription amounts, or by making a one-time donation. For PayPal click one of the following buttons:

If Patreon or Paypal don't work for you, you can support Behind The Black directly by sending your donation by check, payable to Robert Zimmerman, to


Behind The Black
c/o Robert Zimmerman
P.O.Box 1262
Cortaro, AZ 85652


Or you can donate by using Zelle through your bank. You will need to give my name and email address (found at the bottom of the "About" page). The best part of this electronic option is that no fees will be deducted! What you donate will be what I receive.