Capitalism in space: During this week's 52nd Lunar and Planetary Science Conference, one poster [pdf] caught my eye as something significant. It was titled "SpaceX Starship Landing Sites on Mars." The map to the right is figure 1 from that poster, annotated slightly by me based my earlier stories about SpaceX's use of the high resolution camera on Mars Reconnaissance Orbiter (MRO) to research potential Martian landing sites for its Starship spacecraft. The stars indicate MRO images, most of which were described and linked to in my last major post about this SpaceX effort in November 2019.
The red spots covering some stars are the big story: SpaceX has narrowed its choice for its Starship landing site to four prime locations (indicated by the bright red spots) and three backup locations (indicated by the dark red spots). The images under the red spots numbered 2, 4, and 6 were linked to in my November 2019 post. The images under red spots marked by a "D" are earlier images taken by MRO when SpaceX was researching a potential Dragon landing site. The images under red spots labeled 1P and MRO are subsequent images taken by MRO since November 2019, with the 1P image previously linked to in a post in April 2020 entitled "The icy Phlegra Mountains: Mars' future second city."
The poster outlined why the prime candidate sites — PM1, EM16, AP1, and AP9 — were favored. For example, PM-1 in the Phlegra Mountains "…has the lowest latitude and elevation of the group, a clear association with LDAs [lobate debris aprons that resemble glacial features], well developed polygons, and has the highest SWIM [Subsurface Water Ice Mapping] score for geomorphic indicators of ice."
EM 16 "…has a clear association with an LDA with nearby brain terrain and the strongest radar return for shallow ice and the highest combined SWIM score."
AP1 "…appears to be the safest site and has a moderate combined SWIM score for ice."
AP9 "…has the thickest ice from radar returns and geomorphology indicating shallow ice. It has the highest combined SWIM score for ice, but appears slightly rocky and rough."
Below the fold are images, rotated, cropped, and reduced to post here, of the four primary landing sites, as well as links to the full images of all four plus the three back-up sites (AP8, EM15, and PM7).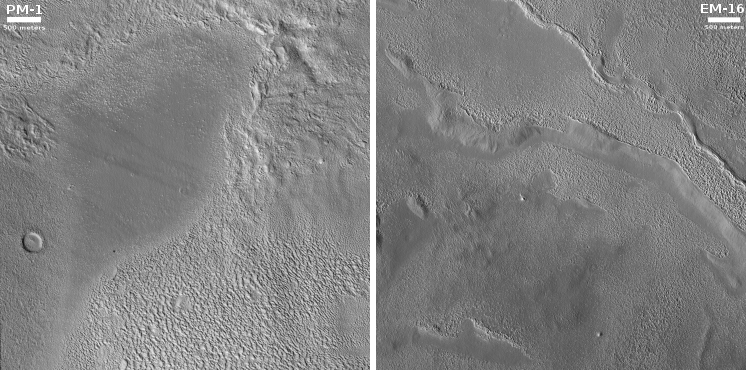 For full images, PM1 can be found here, EM16 can be found here.
These first two sites above are located in the Phlegra and Erebus Mountains, respectively. Thus, there are significant topographical features nearby. Moreover, both sites would land Starship near or on features that resemble glaciers.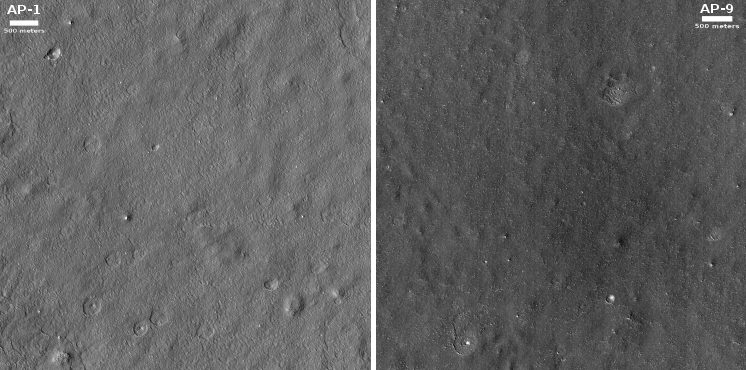 For full images, AP1 can be found here, AP9 can be found here.
These second two sites above are both located in the flat somewhat featureless northern lowland plains dubbed Arcadia Planitia. Though there are no obvious glacial features, there is strong evidence that an ice layer is very close to the surface, as indicated by the bright spots in craters. Radar data has also suggested that there is ample water ice only a few feet underground.
If you wish to see the three secondary sites, AP8 can be seen here, EM15 can be seen here, and PM7 can be seen here.
There is a great deal more research necessary before a final choice can be made. As the poster noted:
To further assess these landing sites' suitability for human missions and persistent human presence on Mars, additional site characteristics should be considered. For each location these include: further understanding the location and safety of the landing sites, the extent and characteristics of the ice deposits, the methods and difficulty by which the ice could be extracted for in situ resource utilization, the proximity and trafficability to the landing site(s), and the near-surface materials that could be utilized for the outpost.
All this data must also tell them whether a rocket ship can safely land at any of these locations, considering that it is thought that ice is so prevalent and close to the surface. It would not do for the ground to unevenly sublimate away from the rocket engine exhaust and cause the rocket to tilt over.
One last note: Back in 2019, when the MRO science team took the first series of images, they labeled each a "candidate landings site" for SpaceX's Starship. When I posted the first news report in August 2019 on these images the story was quickly picked up by numerous other news organizations, riding on the research I had done.
All well and good. Most news organizations credited me for breaking the story. All, however, including myself, could get little comment from SpaceX about what the company's intentions were in connection with the images.
The publicity however apparently caused the science team and SpaceX to rethink how they labeled the images.
Since then I have posted many cool images of a number of MRO high resolution photos throughout this region, including the Phlegra and Erebus Mountains as well as Arcadia Planitia, all of which were given geologically descriptive labels that made no mention of Starship. Based on this poster, it appears that some of those images that I had posted were still part of the company's campaign to pin down a landing site, only they were no longer identifying them as part of that campaign.
Thus, from now on any images from MRO that covers these seven locations are going to be posted here on Behind the Black, in an effort to find out what they are learning about each site, as they learn it. Stay tuned!
Readers!
I must unfortunately ask you for your financial support because I do not depend on ads and rely entirely on the generosity of readers to keep Behind the Black running. You can either make a one time donation for whatever amount you wish, or you sign up for a monthly subscription ranging from $2 to $15 through Paypal or $3 to $50 through Patreon.
Your support will allow me to continue covering science and culture as I have for the past twenty years, independent and free from any outside influence.
Your support is even more essential to me because I not only keep this site free from advertisements, I do not use the corrupt social media companies like Google, Twitter, and Facebook to promote my work. I depend wholly on the direct support of my readers.
You can provide that support to Behind The Black with a contribution via Patreon or PayPal. To use Patreon, go to my website there and pick one of five monthly subscription amounts, or by making a one-time donation. For PayPal click one of the following buttons:

If Patreon or Paypal don't work for you, you can support Behind The Black directly by sending your donation by check, payable to Robert Zimmerman, to


Behind The Black
c/o Robert Zimmerman
P.O.Box 1262
Cortaro, AZ 85652


Or you can donate by using Zelle through your bank. You will need to give my name and email address (found at the bottom of the "About" page). The best part of this electronic option is that no fees will be deducted! What you donate will be what I receive.