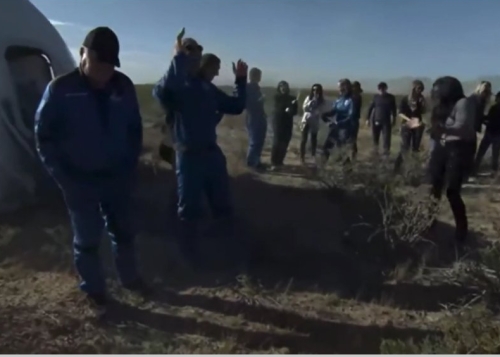 Shatner, on the left, turns away from Bezos and the spray of champagne.
Capitalism in space: The profound, emotional, and thoughtful reaction of William Shatner to his short suborbital flight yesterday on Blue Origin's New Shepard space capsule contrasted starkly with the crass, rude, and shallow response of his co-passengers and Jeff Bezos.
You can watch Shatner's comments right after landing at the video at the link. Watch how he tries to express his thoughts to Bezos immediately, and is almost ignored as Bezos and the others instead want to spritz champagne at each other. Shatner turns away, almost in disgust. The screen capture to the right shows him turning away, not because he doesn't want to be hit by champagne but because he doesn't want that shallowness to steal from him the emotions he now feels.
Eventually Bezos realizes Shatner is going to say his peace, and that he better pay attention. Shatner, almost in tears, struggles to note how shocked he was at the relative thinness of the atmosphere. To him, the rocket so quickly zipped out of a blue sky into blackness. As he said,
"This air, which is keeping us alive, is thinner than your skin. It's a sliver. It's immeasurably small when you think in terms of the universe.

…"What you have given me is the most profound experience I can imagine. I'm so filled with emotion about what just happened … it's extraordinary. I hope I never recover, that I can maintain what I feel now. I don't want to lose it. It's so much larger than me and life."
Shatner is an actor. For him, the emotion is the most important thing, as that is what he has specialized in expressing on screen to others for his entire life. At this moment, however, he was not expressing the emotions of a imaginary character he was creating on screen, but his own personal emotions. He managed to do it, in the best way possible. God speed William Shatner. We shall miss you when you are gone.
That Bezos was so unprepared for this moment from Shatner was very unfortunate. It made him look very shallow and foolish, which is a shame because, as Shatner so correctly noted, Bezos was the one who made that moment possible.
Shatner, at ninety years of age, is of a different more civilized generation that believed strongly in applying thought to one's emotions, rather than letting those emotions rule. The contrast between him and all the younger people in this clip gives us a clear snapshot of an America now gone, replaced by the thoughtless emotional America of today.
Readers!
Please consider donating to Behind the Black, by giving either a one-time contribution or a regular subscription, as outlined in the tip jar below. Your support will allow me to continue covering science and culture as I have for the past twenty years, independent and free from any outside influence.
Your support is even more essential to me because I keep this site free from advertisements and do not participate in corrupt social media companies like Google, Twitter, and Facebook. I depend wholly on the direct support of my readers.
You can provide that support to Behind The Black with a contribution via Patreon or PayPal. To use Patreon, go to my website there and pick one of five monthly subscription amounts, or by making a one-time donation. For PayPal click one of the following buttons:

If Patreon or Paypal don't work for you, you can support Behind The Black directly by sending your donation by check, payable to Robert Zimmerman, to


Behind The Black
c/o Robert Zimmerman
P.O.Box 1262
Cortaro, AZ 85652