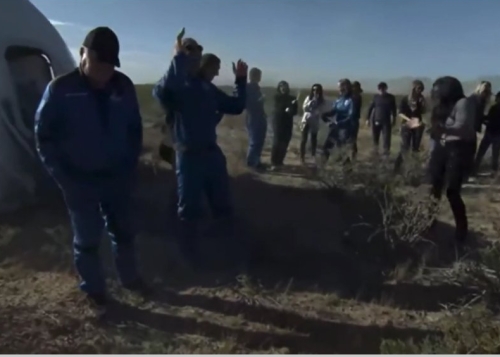 Shatner, on the left, turns away from Bezos and the spray of champagne.
Capitalism in space: The profound, emotional, and thoughtful reaction of William Shatner to his short suborbital flight yesterday on Blue Origin's New Shepard space capsule contrasted starkly with the crass, rude, and shallow response of his co-passengers and Jeff Bezos.
You can watch Shatner's comments right after landing at the video at the link. Watch how he tries to express his thoughts to Bezos immediately, and is almost ignored as Bezos and the others instead want to spritz champagne at each other. Shatner turns away, almost in disgust. The screen capture to the right shows him turning away, not because he doesn't want to be hit by champagne but because he doesn't want that shallowness to steal from him the emotions he now feels.
Eventually Bezos realizes Shatner is going to say his peace, and that he better pay attention. Shatner, almost in tears, struggles to note how shocked he was at the relative thinness of the atmosphere. To him, the rocket so quickly zipped out of a blue sky into blackness. As he said,
"This air, which is keeping us alive, is thinner than your skin. It's a sliver. It's immeasurably small when you think in terms of the universe.

…"What you have given me is the most profound experience I can imagine. I'm so filled with emotion about what just happened … it's extraordinary. I hope I never recover, that I can maintain what I feel now. I don't want to lose it. It's so much larger than me and life."
Shatner is an actor. For him, the emotion is the most important thing, as that is what he has specialized in expressing on screen to others for his entire life. At this moment, however, he was not expressing the emotions of a imaginary character he was creating on screen, but his own personal emotions. He managed to do it, in the best way possible. God speed William Shatner. We shall miss you when you are gone.
That Bezos was so unprepared for this moment from Shatner was very unfortunate. It made him look very shallow and foolish, which is a shame because, as Shatner so correctly noted, Bezos was the one who made that moment possible.
Shatner, at ninety years of age, is of a different more civilized generation that believed strongly in applying thought to one's emotions, rather than letting those emotions rule. The contrast between him and all the younger people in this clip gives us a clear snapshot of an America now gone, replaced by the thoughtless emotional America of today.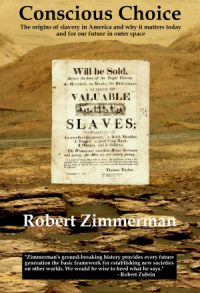 Now available in hardback and paperback as well as ebook!
From the press release: In this ground-breaking new history of early America, historian Robert Zimmerman not only exposes the lie behind The New York Times 1619 Project that falsely claims slavery is central to the history of the United States, he also provides profound lessons about the nature of human societies, lessons important for Americans today as well as for all future settlers on Mars and elsewhere in space.
Conscious Choice: The origins of slavery in America and why it matters today and for our future in outer space
, is a riveting page-turning story that documents how slavery slowly became pervasive in the southern British colonies of North America, colonies founded by a people and culture that not only did not allow slavery but in every way were hostile to the practice.
Conscious Choice
does more however. In telling the tragic history of the Virginia colony and the rise of slavery there, Zimmerman lays out the proper path for creating healthy societies in places like the Moon and Mars.
"Zimmerman's ground-breaking history provides every future generation the basic framework for establishing new societies on other worlds. We would be wise to heed what he says." —Robert Zubrin, founder of founder of the Mars Society.
All editions are available at Amazon, Barnes & Noble, and all book vendors, with the ebook priced at $5.99 before discount. The ebook can also be purchased direct from my ebook publisher, ebookit, in which case you don't support the big tech companies and I get a bigger cut much sooner.
Autographed printed copies are also available at discount directly from me (hardback $24.95; paperback $14.95; Shipping cost for either: $5.00). Just email me at zimmerman @ nasw dot org.