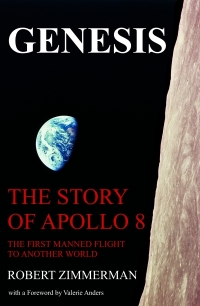 On Christmas Eve 1968 three Americans became the first humans to visit another world. What they did to celebrate was unexpected and profound, and will be remembered throughout all human history. Genesis: the Story of Apollo 8, Robert Zimmerman's classic history of humanity's first journey to another world, tells that story, and it is now available as both an ebook and an audiobook, both with a foreword by Valerie Anders and a new introduction by Robert Zimmerman.
The ebook is available everywhere for $5.99 (before discount) at
amazon
, or direct from my ebook publisher,
ebookit
.
The audiobook is also available at all these vendors, and is also
free with a 30-day trial membership to Audible.
"Not simply about one mission, [Genesis] is also the history of America's quest for the moon... Zimmerman has done a masterful job of tying disparate events together into a solid account of one of America's greatest human triumphs." --San Antonio Express-News
Capitalism in space: In a just completed fund-raising round, SpaceX raised twice the investment capital proposed, $500 million instead of $250 million.
These funds are in addition to the $1.33 billion raised previously. And according to the SpaceX official in charge of their Starlink satellite constellation, most of this money is not for Starlink:
While SpaceX expects it will cost about $10 billion or more to build the Starlink network, [vice president Jonathan] Hofeller said the company's fundraising so far has largely not been directed to the Starlink division, as "we've been able to fund the development of Starlink primarily from our internal businesses." He declared the company is in a "different position" in how it raises funds compared to other companies that are building satellite networks. "That's why, in general, we've been very quiet about what we're doing because we don't need to go out and raise money for this particular venture," Hofeller said.
This means the $1.83 billion raised is almost certainly all for developing Starship/Super Heavy.
Can SpaceX build this new heavy lift completely reusable rocket for that price? Considering that it cost them $500 million to develop Falcon Heavy, and that much of the engineering work from that will be applicable for the new rocket, I am willing to bet that they can.
My prediction is further reinforced by the company's recent activities testing Starship's tanks at Boca Chica, Texas. Only two weeks after a test to failure (resulting in some spectacular fireworks), the company has apparently successfully completed new tank tests on the next prototype.
In other words, they blew up a prototype, were able to clean up the mess, redesign what failed, and test it successfully, in only two weeks. To say such a pace would be impossible for NASA and its big space contractors like Boeing is probably the biggest understatement I've ever made.
This success should not make anyone think that the challenge of building Starship/Super Heavy will be easy or fast. This effort will be cutting edge engineering that in many ways will be beyond that edge. SpaceX is guaranteed to have further test failures along the way. Their pace, management approach, and track record however shows that the company knows how to deal with such issues, and will thus be able to proceed to completion.
Readers!
My July fund-raiser for Behind the Black is now over. The support from my readers was unprecedented, making this July campaign the best ever, twice over. What a marvelous way to celebrate the website's tenth anniversary!

Thank you! The number of donations in July, and continuing now at the beginning of August, is too many for me to thank you all personally. Please forgive me by accepting my thank you here, in public, on the website.

If you did not donate or subscribe in July and still wish to, note that the tip jar remains available year round.
Regular readers can support Behind The Black with a contribution via paypal:
If Paypal doesn't work for you, you can support Behind The Black directly by sending your donation by check, payable to Robert Zimmerman, to

Behind The Black
c/o Robert Zimmerman
P.O.Box 1262
Cortaro, AZ 85652