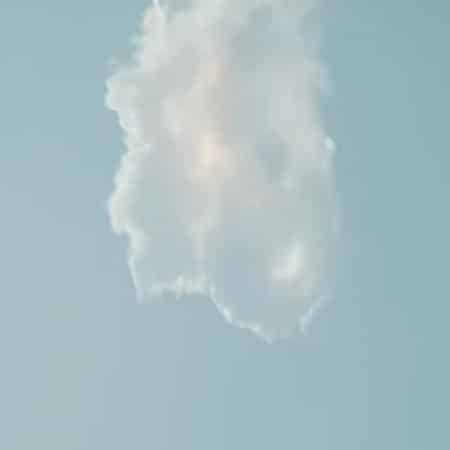 Starship/Superheavy at T+4:02, just after the self-destruct command
was issued
In the past twenty-four hours we have another wonderful demonstration of the utter bankruptcy of the American press in the manner in which it has decided to describe yesterday's first test launch of Starship/Superheavy. Here are just a few headline examples:
Every single one of those headlines implies that the explosion was the launch's failure. If you read the linked articles you find that many repeat that implication in their reports.
None are correct. The explosion was in fact a successful demonstration of the rocket's operation and engineering. Every rocket has what is called a flight termination system, designed to allow mission control to manually self-destruct the rocket should it start to fly out of control. As SpaceX explained in a short post-launch notice,
The vehicle experienced multiple engines out during the flight test, lost altitude, and began to tumble. The flight termination system was commanded on both the booster and ship.
In other words, the failures occurred before the self-destruct command was issued, and the explosion was merely the successful initiation of that termination system. The explosion was not the failure, it was actually proof of working engineering.
What makes these headlines more damning to these news sources that many even described the use of the flight termination system, but still implied that the failure was the explosion. Many didn't even bother to do any research into what happened. Many articles exhibited a complete and almost willful ignorance of the facts. The Verge and the Telegraph articles are a good examples, but they are unfortunately very typical.
This was an engineering test flight of two early prototypes (Starship #24 and Superheavy #7). It was expected that this flight would not go exactly as planned, and in fact it apparently did far better than anyone at SpaceX expected.
SpaceX already has several more-advanced prototypes ready of testing. It was time to fly these early versions, let them get destroyed so that the test data could be gathered and applied to later even more improved versions.
Thus, the explosion at the end of the mission was simply the end of the mission. In fact, it was very apparent during the flight that mission control waited for as long as possible before initiating the self-destruct command in order to collect as much data as possible. It is also likely they waited to make absolutely sure any falling debris would land safely in the Gulf of Mexico.
Furthermore, such self-destruct commands have been issued many times in the same way since Sputnik, including during several launches in only the past two years, including Astra, Relativity, Firefly, and Japan's H3 rocket. For any major news organization to misconstrue these facts is utterly shameful.
But almost all our major news organizations did exactly that. It appears the ability to report the news accurately and correctly is fading faster and faster with every day.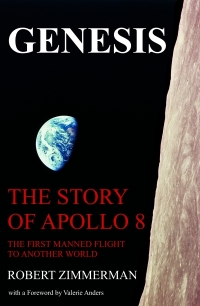 On Christmas Eve 1968 three Americans became the first humans to visit another world. What they did to celebrate was unexpected and profound, and will be remembered throughout all human history. Genesis: the Story of Apollo 8, Robert Zimmerman's classic history of humanity's first journey to another world, tells that story, and it is now available as both an ebook and an audiobook, both with a foreword by Valerie Anders and a new introduction by Robert Zimmerman.
The ebook is available everywhere for $5.99 (before discount) at
amazon
, or direct from my ebook publisher,
ebookit
. If you buy it from
ebookit
you don't support the big tech companies and the author gets a bigger cut much sooner.
The audiobook is also available at all these vendors, and is also
free with a 30-day trial membership to Audible.
"Not simply about one mission, [Genesis] is also the history of America's quest for the moon... Zimmerman has done a masterful job of tying disparate events together into a solid account of one of America's greatest human triumphs."--San Antonio Express-News