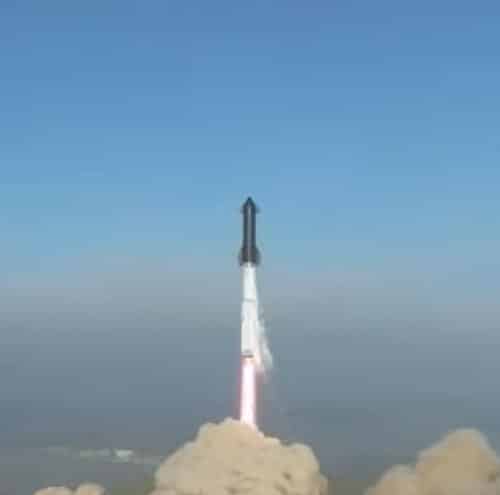 Starship and Superheavy, having just cleared the tower
In a spectacular first orbital launch attempt, SpaceX's Superheavy and Starship successfully lifted off, clearing the tower and continuing through max-Q (maximum dynamic pressure). It then reached about 24 miles altitude when the rocket began to slowly spinn just prior to main engine cutoff and stage separation. At that point, because engine cutoff and separation had not occurred as planned, the engineering team used the flight termination system to destroy it so as to eliminate any risk to anyone on the ground.
As the announcers noted repeatedly, if the rocket simply cleared the tower they would consider this a magnificent success, considering that they had never fired Superheavy before in a real countdown. That Superheavy performed exactly as it should for almost its entire flight means SpaceX is that much closer to getting Starship into orbit than one would think at this stage of testing.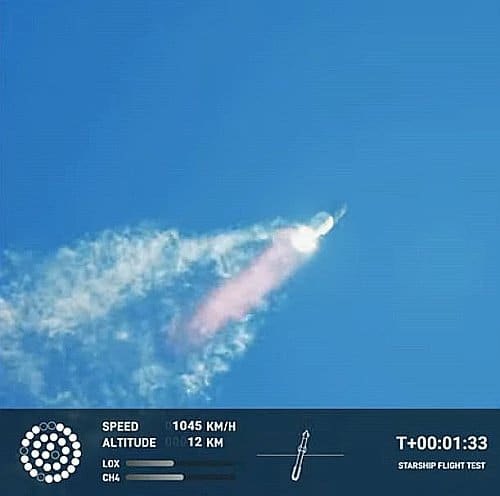 The screen capture to the right shows the rocket soon after passing Max-Q. At this point it was still flying smoothly, though if you look at the diagram in the lower left you can see that five Raptor-2 engines are no longer operating.
Shortly thereafter, at about the moment when Superheavy was supposed to shut its engines down and separate from Starship, the rocket began a slow tumble. No separation occurred, and it appeared that Superheavy was attempting to do its flip for a controlled return to the Gulf of Mexico, with Starship still attached. After waiting for about a minute more as the rocket began to lose altitude, engineers then decided it was time to destroy the rocket.
If you want to watch the live stream of this entire launch, go here.
New prototypes of both Starship and Superheavy are ready to go, but before another launch is attempted the company will have to analyze this data and make engineering changes. It also appears it will have to go through another laborious bureaucratic approval process to get its next launch license. Expect an update within days. Stay tuned for updates.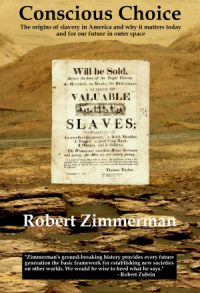 Now available in hardback and paperback as well as ebook!
From the press release: In this ground-breaking new history of early America, historian Robert Zimmerman not only exposes the lie behind The New York Times 1619 Project that falsely claims slavery is central to the history of the United States, he also provides profound lessons about the nature of human societies, lessons important for Americans today as well as for all future settlers on Mars and elsewhere in space.
Conscious Choice: The origins of slavery in America and why it matters today and for our future in outer space
, is a riveting page-turning story that documents how slavery slowly became pervasive in the southern British colonies of North America, colonies founded by a people and culture that not only did not allow slavery but in every way were hostile to the practice.
Conscious Choice
does more however. In telling the tragic history of the Virginia colony and the rise of slavery there, Zimmerman lays out the proper path for creating healthy societies in places like the Moon and Mars.
"Zimmerman's ground-breaking history provides every future generation the basic framework for establishing new societies on other worlds. We would be wise to heed what he says." —Robert Zubrin, founder of founder of the Mars Society.
All editions are available at Amazon, Barnes & Noble, and all book vendors, with the ebook priced at $5.99 before discount. The ebook can also be purchased direct from my ebook publisher, ebookit, in which case you don't support the big tech companies and I get a bigger cut much sooner.
Autographed printed copies are also available at discount directly from me (hardback $24.95; paperback $14.95; Shipping cost for either: $5.00). Just email me at zimmerman @ nasw dot org.