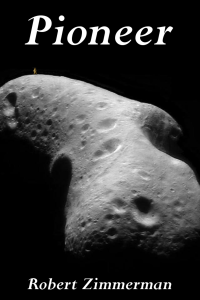 From the press release: From the moment he is handed a possibility of making the first alien contact, Saunders Maxwell decides he will do it, even if doing so takes him through hell and back.
Unfortunately, that is exactly where that journey takes him.
The vision that Zimmerman paints of vibrant human colonies on the Moon, Mars, the asteroids, and beyond, indomitably fighting the harsh lifeless environment of space to build new societies, captures perfectly the emerging space race we see today.
He also captures in Pioneer the heart of the human spirit, willing to push forward no matter the odds, no matter the cost. It is that spirit that will make the exploration of the heavens possible, forever, into the never-ending future.
Available everywhere for $3.99 (before discount) at
amazon
,
Barnes & Noble
, all ebook vendors, or direct from the ebook publisher,
ebookit
.
A variety of state governments, having now enjoyed their first taste of unrestrained power over their citizens, have begun issuing their odious requirements before they will end the shut downs imposed due to the Wuhan virus, shut downs that are imprisoning their citizens in their homes, destroying businesses, and putting millions out of work.
Those requirements as stated are essentially impossible to meet, and will thus cause these shut downs to continue forever.
For example, the fascist Democratic governor of the fascist state of California has now released the six demands that must be met before it will consider lifting the house arrest it has placed on its citizens.
The actual order can be found here [pdf] The demands, all of which insist on heavy future surveillance and odious limits on the freedoms of California's citizens, all violate the Bill of Rights, and all have been imposed by degree, with no election or legislative action. They state that before the government will release its citizens from house arrest, the government must have, to quote:

The ability to monitor and protect our communities through testing, contact tracing, isolating, and supporting those who are positive or exposed.
The ability to prevent infection in people who are at risk for more severe COVID-19.
The ability of the hospital and health systems to handle surges.
The ability to develop therapeutics to meet the demand.
The ability for businesses, schools, and child care facilities to support physical distancing.
The ability to determine when to reinstitute certain measures, such as the stay-at-home orders, if necessary.
All are so vague and open to so much interpretation that the state has essential declared that the Bill of Rights are void. For example, the first basically gives the the state the the right to test anyone, at any time, and to place restrictions on the freedoms of those who test negative. The second allows the state to impose its will and any rules it wishes on any older citizen it deems "at risk." The fourth in turn demands changes in how businesses operate, imposed by fiat by the state.
The document is very blunt. It for example states that "restaurants will open with fewer tables," regardless of whether these restrictions make a restaurant profitable or not. If not, tough, you are out of business. We will shut you down.
Other state governments as well as the federal bureaucracy are also drafting their "plans" for reopening the economy and releasing their citizens from martial law. All that I have read so far are aimed at phasing in the return to normalcy as slowly as possible. For example, Oregon, whose list of demands is similar to California's, will not set a date on ending martial law. Neither will New Jersey.
Meanwhile, the federal proposal, which Trump so far appears to have not endorsed, is equally power-hungry, restrictive, and designed to take effect so gradually that it is likely the shutdowns will never end. For example, once the shut downs have lifted even a little it is very possible we will then see a spike in infections. This will be normal, expected, and will also likely not be very devastating, based on the extend of the virus so far. However, the plans are designed to immediately reactivate house arrests and martial law, should such a spike occur.
Expect more such proposals in the coming days, all designed to prevent the end of these shut downs for as long as possible.
How about using my plan? The restrictions end now.
I know our politicians have conveniently forgotten this (or make believe they have), but these restrictions were not imposed to prevent the spread of the virus. Social distance was going to do that. The lock downs were supposedly imposed to simply slow the virus growth so that the healthcare system would not be overwhelmed. To quote one California official when that state's first home restrictions were put in place (supposedly for only three weeks to cover the peak of the epidemic):
We need to act swiftly to flatten the curve of COVID-19 in order to keep our healthcare delivery system from becoming overwhelmed," said Dr. Sara Cody, Santa Clara County Health Officer. [emphasis mine]
Similarly, note this statement by an Arizona official justifying that state's state-at-home order, shutting down businesses:
The governor said he took the action after the state's top health official said it was necessary to slow the spread of the COVID-19 disease caused by the virus. Dr. Cara Christ, who oversees the Department of Health Services, said the rate of cases being seen in emergency rooms has been steadily rising, as the percentage of positive tests had increased from 2% of samples to about 7%, a rise that triggered her recommendation for people to stay at home. [emphasis mine]
That fear however has turned out to be completed bogus, as I had predicted. The health system was never really strained, with empty beds in almost all states, even in New York where the epidemic has been the worst.
There is thus no longer any reason for these shut downs.
The restrictions should end immediately, with no caveats. And any politician who says otherwise should be considered an enemy of the people, of the United States, of the Constitution, and of the Bill of Rights, and should be out of office as quickly as possible.
I am being very blunt, because I think the time for bluntness has arrived. Our government is clearly telling us it wants to impose a permanent form of martial law, a kind of dictatorship that will never end. It must be told in no uncertain terms this will not stand, and they will face a real revolution if they try.
Readers!
Every July, to celebrate the anniversary of the start of Behind the Black in 2010, I hold a month-long fund-raising campaign to make it possible for me to continue my work here for another year.

This year's fund-raising drive however is more significant in that it is also the 10th anniversary of this website's founding. It is hard to believe, but I have been doing this for a full decade, during which I have written more than 22,000 posts, of which more than 1,000 were essays and almost 2,600 were evening pauses.

This year's fund drive is also more important because of the growing intolerance of free speech and dissent in American culture. Increasingly people who don't like what they read are blatantly acting to blackball sites like mine. I have tried to insulate myself from this tyrannical effort by not depending on Google advertising or cross-posts Facebook or Twitter. Though this prevents them from having a hold on me, it also acts to limit my exposure.

Therefore, I hope you will please consider donating to Behind the Black, by giving either a one-time contribution or a regular subscription, as outlined in the tip jar below. Your support will allow me to continue covering science and culture as I have for the past twenty years, independent and free from any outside influence.
Regular readers can support Behind The Black with a contribution via paypal:
If Paypal doesn't work for you, you can support Behind The Black directly by sending your donation by check, payable to Robert Zimmerman, to

Behind The Black
c/o Robert Zimmerman
P.O.Box 1262
Cortaro, AZ 85652