After almost two years the data continues to confirm the very first data in March 2020, showing the same thing time after time after time after time. COVID-19 is merely a variation of the ordinary flu, and the panic that has accompanied its arrival in early 2020 was never justified, not for one instant. Let me do a quick review of some recent data points:
First, the Wuhan flu is harmless to more than 99% of the population. If you are under 70 and healthy and get the virus, you are going to survive it. Period. And I say this from personal experience, as I am 68, have both asthma and a heart condition, and I just survived COVID. It wasn't pleasant, but after two weeks it is over, and here I am.
More important, the numbers and data prove my anecdotal experience, as I noted in a detailed essay in October 26, 2021 — How deadly is COVID-19, really? — using numbers from the CDC as well as the New York Times. More than 99% of the population survives COVID-19, with no serious long term issues.

Since then the CDC has updated its estimates of the number of people who have been infected by the Wuhan flu, compared to the numbers who have died, as shown in the screen capture to the right. Based on these numbers, 146 million have been infected by COVID (a little less than half the country) and 921,000 have died, resulting in an overall survival rate for anyone who gets COVID-19 as a robust 99.37%.
And that number is deceiving, because the large bulk — almost all — of those in that 0.63% who died were elderly (average age 78) and very sick (with one to three morbidities). A very few were younger, but were generally in very poor healthy (obese or with diabetes).
If you were part of the general healthy population, COVID-19 was harmless to you. In fact, half the country already knows this, as they have been infected and are alive to tell about it. Most had minor symptoms, though many (like myself) got sick for several weeks and then recovered. All however survived, just like the flu.
COVID-19 simply does not merit any special actions, other than to protect that elderly and very vulnerable population. Ordinary people must stop being afraid of it. Take off the masks. Rip down the plexiglass. Hug your friends. Return to normal life.
And most important, stop being afraid!

Second, knowing how relatively harmless COVID-19 is, we also now know that none of the panicked policies imposed by state and federal governments worldwide did the slightest to slow the virus's spread. Like all similar respiratory illnesses, it is contagious, and it is going to spread through the population naturally. We could never have stopped it.
Let me quote Sarah Hoyt from Instapundit today, as she sums up the madness of government policy for the past two years quite succinctly:
[I]n what world — even a candy floss sky one — did it make sense to close local grocery stores but keep Walmart open? In what world did it make sense to direct flow in stores so everyone crammed in through the same door, and everyone walked the same path (thereby a crowded/grimy, etc. path)? In what world did reducing hours of stores make sense? In what world did it make sense to wear a mask to your table then remove it to eat? (Are you less contagious when sitting?) In what world did curfews make sense? In what world did mask mandates outside in botanic gardens and zoos make sense? In what world did it make sense that you were hectored for getting out and driving around, while remaining your car?

In what world did the government stomp on every — no matter how crackpot or inocuous — rumored treatment? In what world, despite all studies to the contrary, do two layers of thin fabric stave off viral infection? In what world are doctors and nurses laid off by the thousands during a supposed pandemic? And finally in what world does it make any sense that a completely ineffective — if not … counterproductive — vaccine is being forced on the population by government mandate?
Only in an insane world do these stupid rules make sense. Or they might make sense in a world where the governments that imposed these insane rules have a different goal, to gain power and to smash its boot into your face forever.
That goal however only can work if the government succeeds in making you afraid. Are you still afraid of COVID?
Then stop being afraid! So what there is a new variant, Omicron, that appears very contagious. It also appears relatively harmless, and besides, you likely already have natural immunity, since at least half of the American population has already been infected with COVID. With natural immunity Omicron is nothing more than a boogy-man monster hiding in the closet that little children cower in fear from.
Are you a child, also cowering in fear? Or are you an adult willing to live life to the fullest, facing the normal risks of life?
Obviously, the college students at the University of Michigan were not cowering in fear last week (November 27, 2021):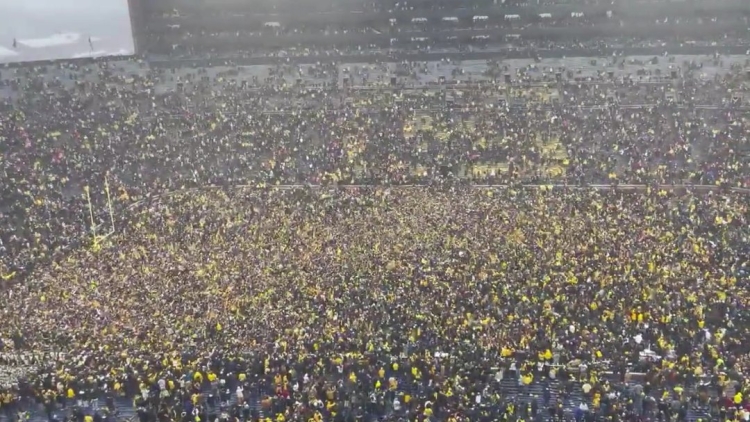 They clearly have had enough, and are not going to pay attention any longer to the fear-mongers in the White House, in the CDC, in the leftist mainstream press, in Australia, in Austria, and Germany. They are going to resume normal life, because they know the fear-mongering is a lie that must be ridiculed and ignored with as much energy as possible.
So I once again plead: Stop being afraid! Get out there and live life, and tell any control freak that tries to stop you to go jump in a lake. Even better, tell them to stop being afraid. We have too much fear right now, and none of it does any of us any good, at all.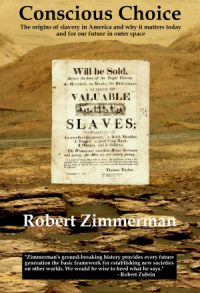 Now available in hardback and paperback as well as ebook!
From the press release: In this ground-breaking new history of early America, historian Robert Zimmerman not only exposes the lie behind The New York Times 1619 Project that falsely claims slavery is central to the history of the United States, he also provides profound lessons about the nature of human societies, lessons important for Americans today as well as for all future settlers on Mars and elsewhere in space.
Conscious Choice: The origins of slavery in America and why it matters today and for our future in outer space
, is a riveting page-turning story that documents how slavery slowly became pervasive in the southern British colonies of North America, colonies founded by a people and culture that not only did not allow slavery but in every way were hostile to the practice.
Conscious Choice
does more however. In telling the tragic history of the Virginia colony and the rise of slavery there, Zimmerman lays out the proper path for creating healthy societies in places like the Moon and Mars.
"Zimmerman's ground-breaking history provides every future generation the basic framework for establishing new societies on other worlds. We would be wise to heed what he says." —Robert Zubrin, founder of founder of the Mars Society.
All editions are available at Amazon, Barnes & Noble, and all book vendors, with the ebook priced at $5.99 before discount. The ebook can also be purchased direct from my ebook publisher, ebookit, in which case you don't support the big tech companies and I get a bigger cut much sooner.
Autographed printed copies are also available at discount directly from me (hardback $24.95; paperback $14.95; Shipping cost for either: $5.00). Just email me at zimmerman @ nasw dot org.