A new study published in the journal Nature has found that people who are either asymptomatic or undergoing a secondary illness of COVID-19 are simply not infectious, and don't give the virus to others.
In other words, it appears that the only time people can infect others is when they have the virus for the first time, and only when they are symptomatic. Lock downs and the use of masks by the healthy accomplish nothing. All you need to do is quarantine the symptomatic patient, as human societies have been doing for centuries and centuries.
To once again emphasize this point, wearing masks if you are healthy and not sick protects no one. Social distancing if you are not sick protects no one. Shutting down businesses, such as reducing capacities at restaurants so they can't make a profit, protects no one. Curfews protect no one.
When you see someone on a hiking trail, it is not necessary to run ten feet off the trail, put a mask on, and bow your head away in fear and terror of that other person. That they are on the trail guarantees they are not sick. They can't infect you. And that you are there also means you can't infect them.
Burn the mask. Smile. Live like a human again. And most of all, stop being afraid all the time.
This very long quote from the study's discussion section, with the important points highlighted, makes these conclusions very clear:

The citywide nucleic acid screening of SARS-CoV-2 infection in Wuhan recruited nearly 10 million people, and found no newly confirmed cases with COVID-19. The detection rate of asymptomatic positive cases was very low, and there was no evidence of transmission from asymptomatic positive persons to traced close contacts. There were no asymptomatic positive cases in 96.4% of the residential communities.

Previous studies have shown that asymptomatic individuals infected with SARS-CoV-2 virus were infectious, and might subsequently become symptomatic. Compared with symptomatic patients, asymptomatic infected persons generally have low quantity of viral loads and a short duration of viral shedding, which decrease the transmission risk of SARS-CoV-2. In the present study, virus culture was carried out on samples from asymptomatic positive cases, and found no viable SARS-CoV-2 virus. All close contacts of the asymptomatic positive cases tested negative, indicating that the asymptomatic positive cases detected in this study were unlikely to be infectious.

There was a low repositive rate in recovered COVID-19 patients in Wuhan. Results of virus culturing and contract tracing found no evidence that repositive cases in recovered COVID-19 patients were infectious, which is consistent with evidence from other sources. A study in Korea found no confirmed COVID-19 cases by monitoring 790 contacts of 285 repositive cases. The official surveillance of recovered COVID-19 patients in China also revealed no evidence on the infectiousness of repositive cases. Considering the strong force of infection of COVID-19, it is expected that the number of confirmed cases is associated with the risk of being infected in communities. We found that asymptomatic positive rates in different districts of Wuhan were correlated with the prevalence of previously confirmed cases. This is in line with the temporal and spatial evolution (especially the long-tailed characteristic) of infectious diseases.

Existing laboratory virus culture and genetic studies showed that the virulence of SARS-CoV-2 virus may be weakening over time, and the newly infected persons were more likely to be asymptomatic and with a lower viral load than earlier infected cases. With the centralized isolation and treatment of all COVID-19 cases during the lockdown period in Wuhan, the risk of residents being infected in the community has been greatly reduced. When susceptible residents are exposed to a low dose of virus, they may tend to be asymptomatic as a result of their own immunity. Serological antibody testing in the current study found that at least 63% of asymptomatic positive cases were actually infected with SARS-CoV-2 virus. [emphasis mine]
The conclusions then go on to spout the required politically correct blather about the need for widespread use of masks and social distancing, even though its own results showed that such measures are only useful in the presence of obviously sick individuals.
Note also, as this article does, that until COVID-19 became a useful political tool that might be used to gain power, specialists in the field of infectious diseases had repeatedly been saying this same thing, that extensive research over many decades had found that, for respiratory illness such as COVID-19, only obviously sick people are infectious. Based on that deep and well documented knowledge, they had strongly advocated that widespread quarantine measures were a waste of time.
MOST IMPORTANT: This is truly wonderful news. It means we can stop with masks and lock downs and social distancing in almost all cases. It means we should go back to normal, even though the number of detections of COVID-19 is going up. That increase is from increased testing, not an increase in sick people. If anything, it is finding lots of asymptomatic individuals whose virus load is harmless anyway.
Unfortunately, I fully expect an effort by many readers to reject these results, digging desperately for any tidbit that might be used to discredit it wholly. Being skeptical is of course absolutely proper, but today too many people aren't skeptical, they are downright hostile to the arrival of good news. They are in love with their fear of COVID-19, and will oppose and reject any data that might mean their fear is mistaken.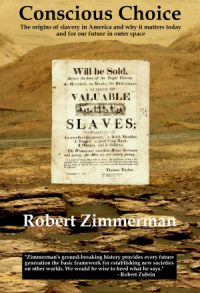 Now available in hardback and paperback as well as ebook!
From the press release: In this ground-breaking new history of early America, historian Robert Zimmerman not only exposes the lie behind The New York Times 1619 Project that falsely claims slavery is central to the history of the United States, he also provides profound lessons about the nature of human societies, lessons important for Americans today as well as for all future settlers on Mars and elsewhere in space.
Conscious Choice: The origins of slavery in America and why it matters today and for our future in outer space
, is a riveting page-turning story that documents how slavery slowly became pervasive in the southern British colonies of North America, colonies founded by a people and culture that not only did not allow slavery but in every way were hostile to the practice.
Conscious Choice
does more however. In telling the tragic history of the Virginia colony and the rise of slavery there, Zimmerman lays out the proper path for creating healthy societies in places like the Moon and Mars.
"Zimmerman's ground-breaking history provides every future generation the basic framework for establishing new societies on other worlds. We would be wise to heed what he says." —Robert Zubrin, founder of founder of the Mars Society.
All editions are available at Amazon, Barnes & Noble, and all book vendors, with the ebook priced at $5.99 before discount. The ebook can also be purchased direct from my ebook publisher, ebookit, in which case you don't support the big tech companies and I get a bigger cut much sooner.
Autographed printed copies are also available at discount directly from me (hardback $24.95; paperback $14.95; Shipping cost for either: $5.00). Just email me at zimmerman @ nasw dot org.