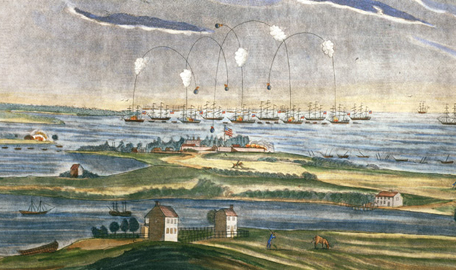 Fort McHenry bombarded by the British in 1812
O say does that star-spangled banner yet wave
O'er the land of the free and the home of the brave?
These two lines are probably the most familiar words to most Americans of their national anthem, The Star-Spangled Banner by Francis Scott Key. When people sing the anthem before sports events, it is these lines alone which everyone clearly knows and sings out robustly. For the rest of the song everyone kind of goes along, mouthing the words based on what they think the entire crowd is singing.
We tend however not to think about what the words mean. That last line especially describes precisely the American nation as Key and his fellow Americans in 1812 saw it, as a land of free and brave people. They understood that they were free, but they also understood that it is impossible to be a free person if you are afraid. You must be brave to be free, because freedom carries risk and danger. The rewards are gigantic, but with those rewards comes the real risk of failure and even death. To be free you need accept that risk and face it boldly.
The results of that courage are evident by what the citizens of the United States of America achieved in the two hundred years since Key wrote these words. We fought a Civil War that killed more than 600,000 people to set everyone in our nation free. We fought two wars in Europe, with the second setting that entire continent free as well because we came not as conquerors but as liberators.
And we built a nation so prosperous, for all its people, that multitudes flock desperately to come here and be part of this great experiment in human freedom.
That noble experiment is now threatened. Within our nation are many people who hate it, and are striving hard to destroy it. Along the way they eagerly long for the day that freedom itself is squelched, a day when they by edict can decide what every citizen is permitted to do, and when they by edict will be able to arrest and destroy anyone who defies them.
It is very simple. They want power. Freedom for everyone denies them that.

Sadly, these power-hungry thugs have achieved many of these goals during the Wuhan flu panic of the last three months. First they were able to put everyone under house arrest, doing so in a manner that in many ways acted to nullify the Bill of Rights, the primary American document for protecting our freedom. Then they encouraged bigoted riots and looting supposedly in response to the death of George Floyd but really prompted by that hate of America. Both actions, the COVID-19 lockdowns and the riots, were designed to instill fear and obedience in all Americans so that they will not oppose these thugs in their power-grab.
These jack-booted actions by these haters of freedom however are not going to be the reason this noble experiment will or will not fail. What will cause it to fail is that fear that Americans now feel, and seem unwilling to let go.
Right now, as I try as a science journalist to document the real scope of the COVID-19 epidemic, I am discovering a remarkable phenomenon. No one wants to hear any good news about the virus.
When I reported, at the beginning of this epidemic, that the early data suggested that (at worse) it will have a manageable mortality rate, not much higher than the flu, and like the flu that mortality will mostly be limited to the elderly sick, few people wanted to hear. "It is deadly! We have to extend the lock downs! We have to social distance! We can't get near each other!"
When I reported, more recently, that this early data has turned out to be mostly right, and that this virus is not the plague that these fear-mongers have claimed, even fewer people wanted to hear. "How dare you minimize the threat!? It is deadly! We need to wear masks! We need to shut down society! We can't return to normal!"
When I reported that the science of masks is uncertain at best, and quite possibly harmful to the wearer, far too many people continued to have their fingers in their ears. "How dare you disrespect the fears of others?! So you want me to die, do you? How dare you question the authority of those telling you do something!?"
When I reported that the death rate is finally dropping to very reasonable levels even as the number of detected infections skyrocket, which further proves the virus's low mortality rate while showing its relative harmlessness to almost the entire population, the fingers in the ears seem to get stuffed even tighter. "Quiet! You will make people stop taking this disease seriously! More people will die! Shut up!"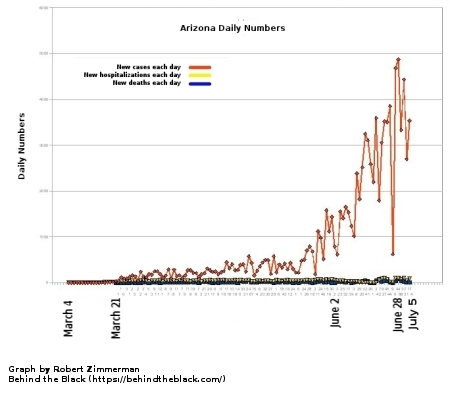 Arizona daily deaths, new cases, and new
hospitalizations due to COVID-19, as of July 5, 2020.
My descriptions above of the reactions to my reporting are not made-up hyperbole. They are actually based on real experience. For example, on one of the Arizona caving listservs I belong to someone whom I respect highly put out a warning notice, noting that because people appeared to be going caving again they need to exercise care and discretion to avoid spreading the virus. I responded by noting that though I agree with her entirely, people should be aware of the recent good news, that the Arizona death rate remains relatively low even as new cases are skyrocketing (as shown in the graph to the right) and that disease seems to be fading as a big risk. I included this graph in my listserv response, and also made reference to my various other reports based on actual data.
I was trying to let people know that there is simply less reason to be afraid.
I was immediately lambasted in exactly the way I describe above, with the clear implication that somehow Bob Zimmerman was irresponsible, that by reporting these encouraging facts he was going to cause careless behavior that thus will cause the virus to spread and kill people. To quote: "It is NOT about just the death rate. It is about stopping the spread."
Since we can't stop the spread (which we originally recognized as impossible) I am not sure what this person was attempting to accomplish except to heighten the fear in everyone that he himself still felt.
This is not an isolated experience. Another friend described to me recently how when he simply tried to communicate the real mask rules imposed here in Tucson, which allow for many exceptions and in fact do not require a mask if you can maintain social distancing, he was confronted with disbelief and horror. How dare he consider not wearing a mask, as ordered!
What I think is happening now is that many people have been emotionally captured by their fear of COVID-19. They have been convinced, on a gut visceral level, that it is very dangerous to everyone, and to reject this conclusion means they have to let go of their fear and resume life with the kind of nonchalant courage that was once taken for granted. We didn't cringe in fear in our homes over the flu, the measles, the Hong Kong flu, pneumonia, or any number of other infectious diseases that are as dangerous, if not more so. We accepted that risk so that we could live our lives freely and boldly, even if that meant taking on a risk we could not control.
I am finding that too many people simply can't do this anymore. Their emotional fear controls them, and they can't let go of it to take a breath and process new data that contradicts that fear.
This marriage to fear carries with it a greater danger. If people are now willing to let their fear rule them when it comes to COVID-19, it means they will likely let their fear rule them in many other circumstances, such as when some government thug (like my Republican governor Doug Ducey) decides to arbitrarily shut down some businesses but not others by edict, because he himself is irrationally terrorized by a virus that presently appears to be fading in strength.
Someday some government thug will decide to silence others, not because of the fear of a virus, but because those individuals simply opposed that thug. Freedom will die, and tyranny will then rule, because now we let fear rule us.
Maybe Franklyn Roosevelt said it best during his first inaugural address on March 4, 1933 when he said, "The only thing we have to fear is fear itself–nameless, unreasoning, unjustified terror which paralyzes needed efforts to convert retreat into advance."
Fear kills the mind. It makes rational thought impossible. And right now too many Americans are paralyzed with fear, of COVID-19, of Black Lives Matter, of Antifa, of all kinds of bigoted fascist thugs. They have let their fear take control of them.
If we wish to remain "the land of the free and the home of the brave," we need to let go of that fear. We need to be brave again, in order to be free.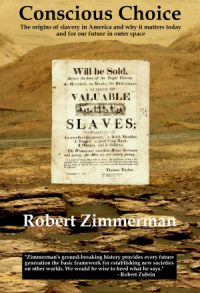 Now available in hardback and paperback as well as ebook!
From the press release: In this ground-breaking new history of early America, historian Robert Zimmerman not only exposes the lie behind The New York Times 1619 Project that falsely claims slavery is central to the history of the United States, he also provides profound lessons about the nature of human societies, lessons important for Americans today as well as for all future settlers on Mars and elsewhere in space.
Conscious Choice: The origins of slavery in America and why it matters today and for our future in outer space
, is a riveting page-turning story that documents how slavery slowly became pervasive in the southern British colonies of North America, colonies founded by a people and culture that not only did not allow slavery but in every way were hostile to the practice.
Conscious Choice
does more however. In telling the tragic history of the Virginia colony and the rise of slavery there, Zimmerman lays out the proper path for creating healthy societies in places like the Moon and Mars.
"Zimmerman's ground-breaking history provides every future generation the basic framework for establishing new societies on other worlds. We would be wise to heed what he says." —Robert Zubrin, founder of founder of the Mars Society.
All editions are available at Amazon, Barnes & Noble, and all book vendors, with the ebook priced at $5.99 before discount. The ebook can also be purchased direct from my ebook publisher, ebookit, in which case you don't support the big tech companies and I get a bigger cut much sooner.
Autographed printed copies are also available at discount directly from me (hardback $24.95; paperback $14.95; Shipping cost for either: $5.00). Just email me at zimmerman @ nasw dot org.