For the fifth month in a row the Sun has produced practically no sunspots, possibly the longest such stretch since astronomers began recording the sunspot cycle in the 1700s.
This flatlining is very obvious in NOAA's October update of its graph showing the long term sunspot activity of the Sun, released yesterday, and posted below, with annotations: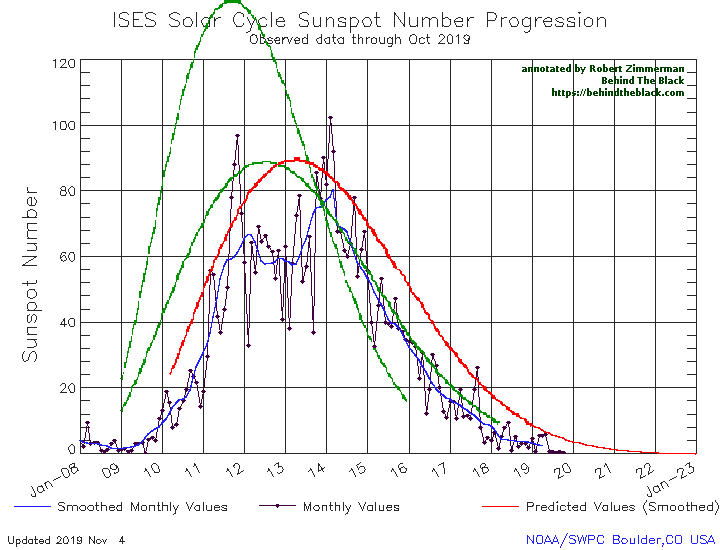 The graph above has been modified to show the predictions of the solar science community for the previous solar maximum. The green curves show the community's two original predictions from April 2007, with half the scientists predicting a very strong maximum and half predicting a weak one. The red curve is their revised May 2009 prediction, extended in November 2018 four years into the future.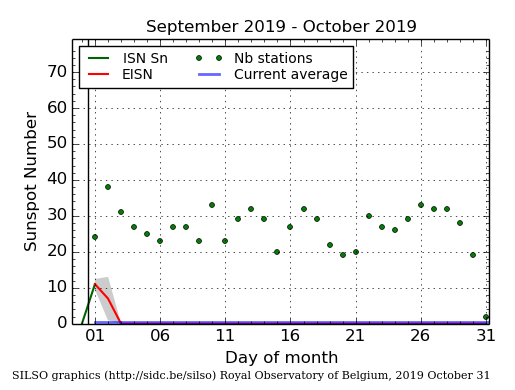 As it has done in previous four months, in October the Sun produced practically no sunspots. The graph on the right, produced by Sunspot Index and Long-term Solar Observations (SILSO), shows only one weak sunspot at the beginning of October.
Even though the previous 2008-2009 solar minimum was one of the deepest and longest ever recorded, the lack of sunspots in the past five months has significantly beaten it for inactivity, as shown on the first graph above. That previous minimum never had a period of even two months with so few sunspots. Furthermore, the Sun has now been blank 74% of the time in 2019, a record of blankness that beats the yearly record of either 2008 or 2009. If the Sun continues to be as blank as it has been for the next two months, 2019 will easily set the record for the year with the fewest sunspots ever recorded.
The big question remains: Are we heading for a grand minimum with no sunspots for decades? We still do not know. Even these unprecedented trends prove nothing, as we really do not yet have a clear understanding of why the Sun undergoes these various cycles of sunspot activity/inactivity. The Sun could still come back to life in the coming years. We can only wait and see. As I noted however in last month's sunspot update, the arrival of a new grand minumum, the first since the 1600s, could have important consequences:
During past grand minimums there is evidence that the Earth also cooled, though the link between the two phenomenon remains circumstantial and unproven. If we see another grand minimum, and the Earth once again cools, then we might be able to finally tie these two phenomenon together.
It is essential that climate scientists pursue this question. Answering it might very well defuse the fears presently expressed by leftist politicians and the leftist press of an oncoming period of global warming.
At the same time, it might also present us with the possibility of an oncoming period of significant global cooling, during which it will be so cold that we might face crop failures (as happened in the previous grand minimum in the 1600s).
We need to know what is going on with the Sun, and its consequences for Earth, as soon as possible. Whether we can find out this solar cycle is unlikely, but a cold hard look at the data would do much to answer the question.
I wonder however if there any climate scientists around willing to do so. Questioning human-caused global warming carries great career risks. In fact, taking any position counter to the prevailing wisdom on any scientific issue appears to carry risks, as demonstrated by the experience recently when a journal decided to publish a paper that questioned modern gender politics:

In a move likely to attract criticism, a peer-reviewed journal has agreed to publish an Italian physicist's highly contested analysis of publications, which concludes that female physicists don't face more career obstacles than their male colleagues. The journal says it will also simultaneously publish critiques of the paper, which one member of the journal's editorial board says is "flawed" and contains "unsubstantiated claims."

Last year, physicist Alessandro Strumia received widespread criticism after presenting a talk at CERN, the European particle physics laboratory near Geneva, Switzerland, where he was a guest professor. During the presentation, he asserted that physics was built and invented by men, and stated on a slide that "Physics is not sexist against women." Thousands of physicists signed a letter voicing concerns about Strumia's views and some researchers published detailed critiques of his findings and methods, which focused on published papers in the field of "fundamental physics" that includes theoretical and experimental studies of fundamental particles, cosmology, and astrophysics. Some of Strumia's critics have argued that such literature analyses are not sufficient to support his claims. Both CERN and Strumia's employer, the University of Pisa in Italy, launched investigations. Earlier this year, CERN cut all ties with Strumia and the university released a statement condemning his comments. [emphasis mine]
For a scientist to lose his job merely because he simply came to a different conclusion from the majority is quite chilling. And the consequences are equally dangerous for any climate scientist who questions the model of human-caused global warming. Claiming that the Sun might have a more significant influence on the climate than carbon dioxide might very well get a scientist's career destroyed, as appears to have happened to this physicist above.
We live in perilous times.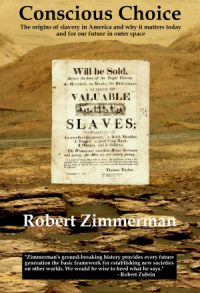 Now available in hardback and paperback as well as ebook!
From the press release: In this ground-breaking new history of early America, historian Robert Zimmerman not only exposes the lie behind The New York Times 1619 Project that falsely claims slavery is central to the history of the United States, he also provides profound lessons about the nature of human societies, lessons important for Americans today as well as for all future settlers on Mars and elsewhere in space.
Conscious Choice: The origins of slavery in America and why it matters today and for our future in outer space
, is a riveting page-turning story that documents how slavery slowly became pervasive in the southern British colonies of North America, colonies founded by a people and culture that not only did not allow slavery but in every way were hostile to the practice.
Conscious Choice
does more however. In telling the tragic history of the Virginia colony and the rise of slavery there, Zimmerman lays out the proper path for creating healthy societies in places like the Moon and Mars.
"Zimmerman's ground-breaking history provides every future generation the basic framework for establishing new societies on other worlds. We would be wise to heed what he says." —Robert Zubrin, founder of founder of the Mars Society.
All editions are available at Amazon, Barnes & Noble, and all book vendors, with the ebook priced at $5.99 before discount. The ebook can also be purchased direct from my ebook publisher, ebookit, in which case you don't support the big tech companies and I get a bigger cut much sooner.
Autographed printed copies are also available at discount directly from me (hardback $24.95; paperback $14.95; Shipping cost for either: $5.00). Just email me at zimmerman @ nasw dot org.