With the release yesterday by NOAA of its September update of its graph showing the long term sunspot activity of the Sun, we find ourselves in what might be the longest stretch of sunspot inactivity in decades, part of what might become the most inactive solar minimum in centuries.
In the last four months the Sun has produced practically no sunspots. There were two in June, two in July, and one in August. The September graph, posted below with additional annotations by me to give it context, shows that the past month was as weak as August, with only one sunspot again.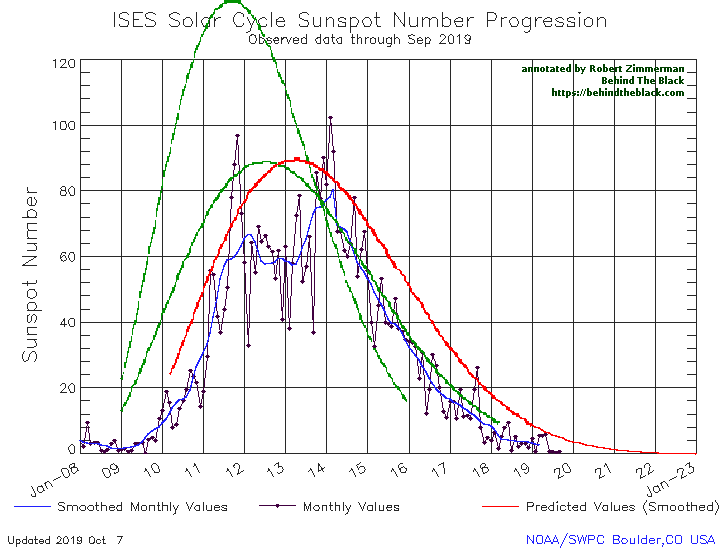 The graph above has been modified to show the predictions of the solar science community for the previous solar maximum. The green curves show the community's two original predictions from April 2007, with half the scientists predicting a very strong maximum and half predicting a weak one. The red curve is their revised May 2009 prediction, extended in November 2018 four years into the future.
The 2008-2009 solar minimum was one of the deepest and longest ever recorded. Yet, it never produced a stretch of four months with so few sunspots, as shown in the graph above. Moreover, during that minimum the Sun was blank 71% of the time in 2008 and 73% of the time in 2009 (a record). Right now, with almost three months to go in 2019, the Sun has already been blank 73% of time, with every indication that it will top that number before the year is out.
Furthermore, the trend continues to suggest we are heading for a period of very few sunspots. Though one of the six sunspots seen since June 1 had a polarity that belonged to the next solar cycle, we have seen no further such next-cycle sunspots since July. There was one active region on October 6 with a next solar cycle polarity, but it was never able to gather enough magnetic energy to mature into a sunspot.
As I noted in my July 8 sunspot update,

[A visible sunspot for the next solar cycle] is very significant. It indicates that we will have an upcoming solar maximum, and are not heading into a grand minimum, when no sunspots are visible for decades. [emphasis in original]
Since then the trend suggests otherwise. Not only have the numbers of sunspots dropped (despite their initially low number), we have seen no further sunspots for the next cycle, other than one active region that was essentially a failed sunspot.
I admit that my knowledge of the solar cycle is incomplete, and that this lack of new next-cycle sunspots at this time in the cycle might be perfectly normal. I am skeptical however. It seems to me that during past minimums the overlap of old and new cycles was more pronounced. And regardless, the overall lack of activity right now appears quite unprecedented.
So, are we heading for a grand minimum with no sunspots for decades? No one knows. We will have to wait and see.
Whether we are or not however is of crucial importance. During past grand minimums there is evidence that the Earth also cooled, though the link between the two phenomenon remains circumstantial and unproven. If we see another grand minimum, and the Earth once again cools, then we might be able to finally tie these two phenomenon together.
In fact, we might already have that evidence but have not yet identified it. Since the turn of the century the Sun's sunspot activity has been the weakest seen in a hundred years. At the same time, the Earth's climate stopped warming. If the two are linked, the evidence for explaining that link might be hidden in the data we already have. All that might be necessary is for a scientist to look for it and see it.
Unfortunately, the corruption that dominates today's climate science community might prevent that important discovery. The culture of that community is so obsessed with man-made global warming and carbon dioxide that it aggressively acts to discourage any scientist from pursuing any other explanation for climate change.
To discover a significant connection between solar activity and the Earth's climate would strike a blow against the theory that global warming is solely caused by human activity, and that cannot be permitted. Little funding will go into such research. Peer review will work to block its publication. And the slander-mill that now permeates our society at all levels will work to destroy any scientist who manages to overcome the first two obstacles.
None of these foolish human political games however really changes anything: The Sun is there. The climate is there. They are tightly intertwined in ways we don't yet understand. It therefore behooves a rational society to find out how and understand it.
At the moment I am not sure we are that rational society. And if we aren't we might very well find that we are blind-sided by climate changes we are unprepared for, including a grand solar minimum that lasts for decades and cools the Earth so much that it makes it difficult to grow enough food to feed us all.
Readers!
I must unfortunately ask you for your financial support because I do not depend on ads and rely entirely on the generosity of readers to keep Behind the Black running. You can either make a one time donation for whatever amount you wish, or you sign up for a monthly subscription ranging from $2 to $15 through Paypal or $3 to $50 through Patreon.
Your support will allow me to continue covering science and culture as I have for the past twenty years, independent and free from any outside influence.
Your support is even more essential to me because I not only keep this site free from advertisements, I do not use the corrupt social media companies like Google, Twitter, and Facebook to promote my work. I depend wholly on the direct support of my readers.
You can provide that support to Behind The Black with a contribution via Patreon or PayPal. To use Patreon, go to my website there and pick one of five monthly subscription amounts, or by making a one-time donation. For PayPal click one of the following buttons:

If Patreon or Paypal don't work for you, you can support Behind The Black directly by sending your donation by check, payable to Robert Zimmerman, to


Behind The Black
c/o Robert Zimmerman
P.O.Box 1262
Cortaro, AZ 85652


Or you can donate by using Zelle through your bank. You will need to give my name and email address (found at the bottom of the "About" page). The best part of this electronic option is that no fees will be deducted! What you donate will be what I receive.