Over the weekend NOAA posted its monthly update to its graph showing the long term trends in the Sun's sunspot activity. As I do every month, I have posted that graph below, annotated to show the previous solar cycle predictions and thus provide context.
In December the Sun's sunspot activity not only continued the pattern of the past two years — whereby sunspot activity has consistently exceeded the prediction of NOAA's solar scientist panel — the amount of activity shot up like a rocket. December 2021 saw the most sunspots in a single month since September 2015, when the Sun was about a third of the way into its ramp down from the solar maximum in 2014.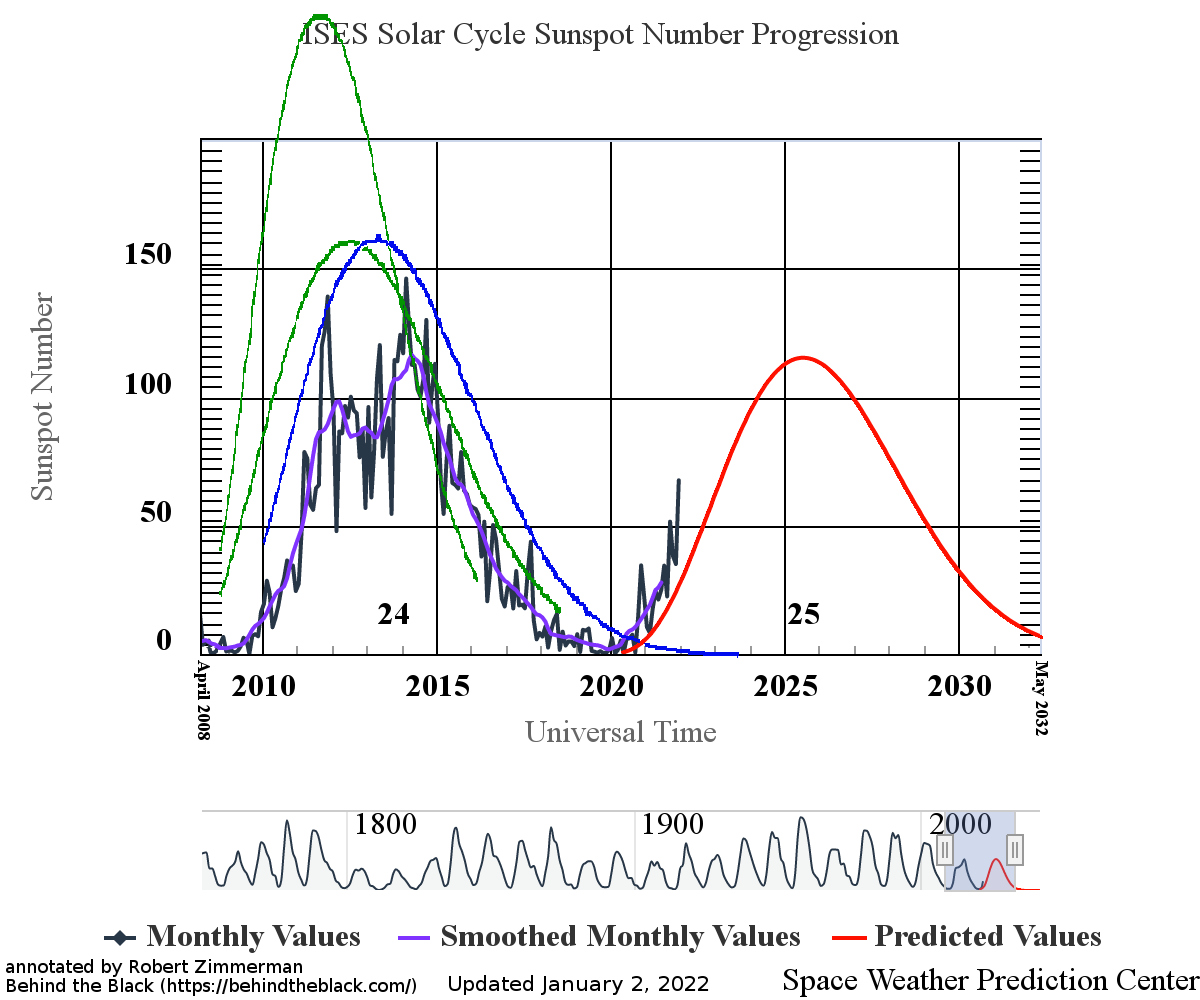 The graph above has been modified to show the predictions of the solar science community for the previous solar maximum. The green curves show the community's two original predictions from April 2007 for the previous maximum, with half the scientists predicting a very strong maximum and half predicting a weak one. The blue curve is their revised May 2009 prediction. The red curve is the new prediction, first posted by NOAA in April 2020.
At the pace solar activity has been increasing in the past two years, the Sun will reach the predicted maximum in 2024, a year and a half earlier than predicted. Based on observations of the solar cycle for the past two centuries, it is unlikely that maximum will be reached at that point and that the activity will begin to decline. Except for the last solar cycle, short cycles have routinely been linked to high activity. The fast ramp up towards the next maximum suggests that sunspot activity will continue to increase, and that next maximum will be a high one, as predicted in December 2020 by small group of dissenting scientists.
Does that mean that dissenting group really knows what is going on? Not on your life. The solar scientist community makes these predictions based on past behavior, not on any fundamental understanding of the underlying processes in the Sun's magnetic dynamo that cause the cycles of sunspot activity.
In other words, they are generally guessing, based on knowledge of only superficial data. This is why they could not initially agree on a consensus prediction for the last maximum in 2007, and only reached a consensus in 2009 when the ramp up to maximum was underway. At that moment their prediction was like betting on a horse race after the horses have left the starting gate and have already completed the first turn. Of course your bet is going to more likely right.
Except that even their 2009 prediction was wrong, overstating significantly the amount of activity at maximum, and missing entirely the unprecedented double peaked maximum with the second peak greater than the first.
The same thing happened in 2020, when NOAA's panel of twelve scientists predicted a weak maximum, while a smaller group of dissenters predicted a strong maximum. There was no real consensus, and even if there had been, it would not have proved anything, as any consensus could have been wrong as well.
What the Sun is really telling us by its recent behavior is that we do not understand it. And it is likely that it will take many more decades, possibly centuries, before we do, since the fundamental causes of the Sun's behavior take many centuries to unfold. Remember, this is a star with a lifespan of billions of years. We have only been studying it with any precision now for a little more than 40 years. It would be the height of arrogance to claim any real knowledge with such a small database.
One last point that bears repeating. In my November 2021 update, I predicted that the higher than expected sunspot activity might cause a rise in the Earth's global temperature. I hold to that prediction, but want to once again quote this important caveat:
Global warming activists will loudly claim that this rise [in temperature] was caused by human activity, and that everyone (but them) must stop using cars and airplanes and fossil fuels to save the planet, even though they will not really know if the two are connected.

It is important to note that I am not doing a similar thing, claiming that the rise in temperatures is definitely linked to higher solar activity. Just as global warming activists have no idea why the temperature rises, neither do I. All I am noting is that changes in solar activity has matched changes in the global temperature, and if we really want to find out what causes those temperature changes, we need to consider all possibilities.

Right now, too many climate scientists dismiss the possible contribution of the Sun. And for them to do good and trustworthy science, they need to stop doing that.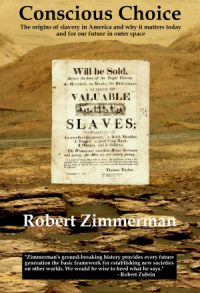 Now available in hardback and paperback as well as ebook!
From the press release: In this ground-breaking new history of early America, historian Robert Zimmerman not only exposes the lie behind The New York Times 1619 Project that falsely claims slavery is central to the history of the United States, he also provides profound lessons about the nature of human societies, lessons important for Americans today as well as for all future settlers on Mars and elsewhere in space.
Conscious Choice: The origins of slavery in America and why it matters today and for our future in outer space
, is a riveting page-turning story that documents how slavery slowly became pervasive in the southern British colonies of North America, colonies founded by a people and culture that not only did not allow slavery but in every way were hostile to the practice.
Conscious Choice
does more however. In telling the tragic history of the Virginia colony and the rise of slavery there, Zimmerman lays out the proper path for creating healthy societies in places like the Moon and Mars.
"Zimmerman's ground-breaking history provides every future generation the basic framework for establishing new societies on other worlds. We would be wise to heed what he says." —Robert Zubrin, founder of founder of the Mars Society.
All editions are available at Amazon, Barnes & Noble, and all book vendors, with the ebook priced at $5.99 before discount. The ebook can also be purchased direct from my ebook publisher, ebookit, in which case you don't support the big tech companies and I get a bigger cut much sooner.
Autographed printed copies are also available at discount directly from me (hardback $24.95; paperback $14.95; Shipping cost for either: $5.00). Just email me at zimmerman @ nasw dot org.